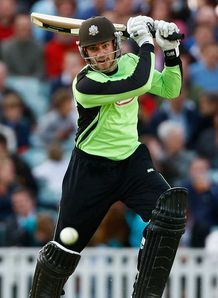 The Middle Stump recently caught up with Surrey and England Lions batsman Tom Maynard for a quick chat. As well as some serious cricket talk, Tom had a chance to settle the score with Glamorgan opener Gareth Rees, who had not been too complimentary when it came to Tom's record with the ladies...
TMS: Tom, thanks for agreeing to put your side of the story across. It must be a huge privilege to be on The Middle Stump?
TM: Yes it is. An absolute pleasure!
TMS: Gareth Rees mentions that you've pulled some shockers in the past. Any truth in the rumour? Weren't you two housemates?
TM: Yes. Me and gums were housemates for a couple of years and may I add you interviewed the tightest man in world cricket. The bloke never buys a drink and if you went into his bathroom you would find an array of soaps and shampoos that he 'collects' from various hotels on the county circuit. Tight arse. On the subject of pulling shockers I would admit that my standards have fluctuated but I've seen gums pull girls with two heads!
TMS: How are you settling in London?
TM: London is going really well, enjoying the range of entertainment available and the crickets not bad either.
TMS: Who on the county circuit can drink the most beers?
TM: Gareth Batty is probably one of the most consistent swillers I've seen. Loves a bottle of red!
Could Gareth Batty drink more than Dizzy Gillespie?
TMS: Do you think playing in Div 1 is going to be a huge step up compared to Div 2? Hope you do well, as we named you in our pre season guide as one of the leading batsmen this year!
TM: Division 1 will definitely pose a tough challenge but it's an exciting time at Surrey at the moment and we're all really keen to see what we can produce against some of the best players in the country.
TMS: Tea is an extremely important part of the game. Where are the best teas on the circuit?
TM: The best tea for me has to be Lords. Superb selection.
TMS: Who is the quickest bowler you have faced? Have you ever literally been bricking it as someone has run into bowl?
TM: The quickest bowler I've faced is probably Shaun Tait. He bowled a couple of balls at me in the nets that I barely saw and I was fairly worried he was going to hit me in the face!
TMS: Name three of the best up and coming youngsters coming through the English system?
TM: Jason Roy, James Vince and Will Bragg.
TMS: What does the next year hold for you?
TM: Next year hopefully holds another trophy, a few good nights out and if I'm lucky some recognition. Oh, and also hopefully overtaking Jason Roy on Twitter followers haha! @tommaynard55
TM: Tom, it has been a pleasure. We hope you have a fantastic season and that's not just because we have money on you being the top bat!