With Ravi Bopara missing the second Test match against South Africa due to personal problems and the fact that Jonny Bairstow is obviously not the man the England selectors want to take it to the frightfully impressive Proteas bowling attack, James Taylor finally gets a chance to show us what he can bring to the middle order. Is he the man for the job though?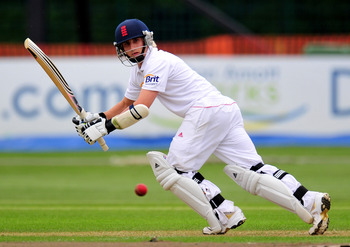 The England Lions captain, Taylor, has been a future England star for some time now, impressing for the Lions with an average of 60 in his ten unofficial tests/first class matches for them. This season however Taylor has struggled to kick on and had fallen down the pecking order. Bairstow, Bopara and probably Nick Compton, the one man Southern rock band, all being favoured instead.
Taylor has turned things around and scored an impressive century at Derby and this week hit his first Championship hundred for his new county, Nottinghamshire, against Sussex. Let's also not forget his superb skippering of the Lions against the touring West Indies back in May.
There is no doubting the lad's ability. Being four foot and a fart he seems to play every ball as it's short, punching deliveries through point and cover and pulling the ball as well as anybody. Add that to a sturdy defence and you can see he will become a good if not great Test match batsman.
My only concerns are that his one-day form has been more consistent and he has made 345 runs at 69 in the CB40. With England seeming to crave an extra bowler and go in with 5 seamers and lets's not overlook we will now miss Bopara's wobblers, I can't help but feel an all-rounder is needed at 7. Matt Prior is no doubt a top class batsman in his own right.
For me it is quite simple. Christopher Woakes. I have been a huge admirer of the Warwickshire man for some time now, ever since he took 6-45 in his second ODI.
While there has been no doubting his ability with the ball, Woakes has been impressing with the bat. A century at Edgbaston this week against a very good attack was his second in as many matches and his fifth in the championship.
Our good friend from Cricinfo, George Dobell tells us: "That means that, aged 23, he has scored as many or more championship centuries as specialist batsmen such as Eoin Morgan (three), William Porterfield (two) or Jonny Bairstow (also five)." He also states that Woakes has a better first class batting and bowling average than both Stuart Broad and Tim Bresnan.
Woakes is an elegant batsman, one who can attack as well as anyone, Taylor included. He can also defend, knows where his off stump is, and can play a turgid innings when required.
All this sounds like the new Ian Botham doesn't it? Praise indeed for a man who bats at number 8.