The cricketing cognoscenti are amazing when it comes down to it, and certain members of the community are proving this by getting on their arses and cycling from Cardiff to the Kia Oval to raise funds for the Tom Maynard Trust.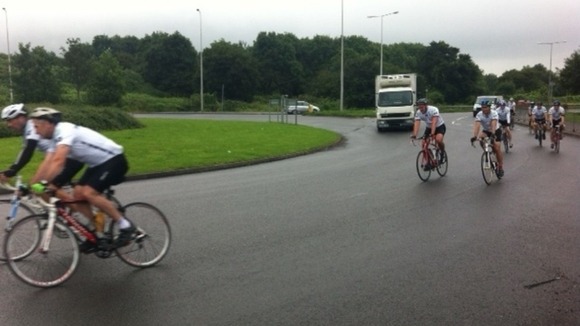 Rumours Steve James is at the back of the pack are completely unfounded

Led by Matthew Maynard, Steve James, Andrew Flintoff, Will Bragg aka Braggley Wiggins, and Ryan Watkins, a team of twenty nine set off from the SWALEC stadium yesterday to Newbury, and today will complete the ride on to Kennington by 3pm today.
Tom was kind enough to give us his time here at The Middle Stump for an interview, as was his father Matthew, and the cycle ride is hoping to raise £20,000 for the trust, a charity helping disadvantaged cricketers. Having played for both counties, the game between them today will be a memorial match in memory of the young batsman.
Matthew said, "Tom was never a quitter and he'd hate to think his old man would quit on something, so I've tried to get the miles in".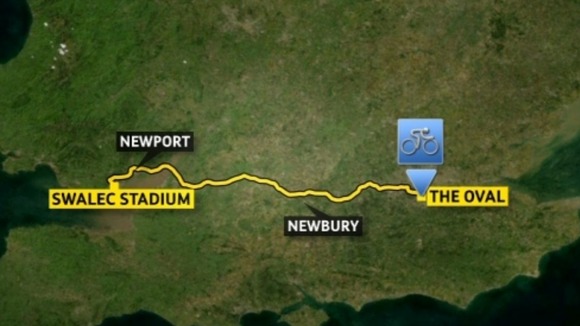 The route the team are taking
If you see these guys on route, please give them a toot, give them your loose change, give them your support and please, please help in any way you can. Remember these guys are going to have arses more sore than a night spent swimming with Michael Barrymore, so they deserve your support!
Alternatively you can donate by getting in contact with;
Jon Rees,
Carston Accountants,
Tudor House,
16 Cathedral Road,
Cardiff
CF11 9LJ
or get involved by clicking on this link
http://www.justgiving.com/teams/TomMaynard