Guest blogger, Tom Huelin, reports on the problems England selectors face leading up to the tour to India...


Oh what it is to be an England selector! For 18 months or so, Andrew Strauss, Geoff Miller and Andy Flower could do no wrong as England won the Ashes down under for the first time in 24 years, a first limited overs title in the shape of the ICC World T20 trophy in 2010, and moved to the top of the ICC test match rankings with a crushing 4-0 home series victory against India in 2011.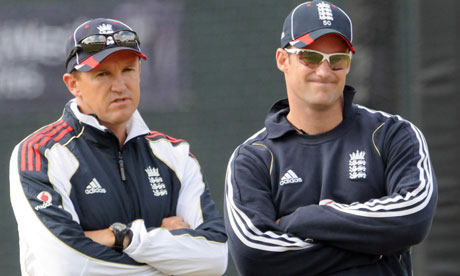 Flower & Strauss - Had it easy
But it's tough at the top and 2012 has been a much more difficult proposition. Test series defeats to Pakistan in the UAE and at home to South Africa along with a tied series in Sri Lanka have seen England relinquish top spot to the Proteas amid retirements, provocative texts, parody Twitter accounts and some pretty ordinary cricket at times it has to be said.
England may have struggled of late but there is no time to dwell on these disappointments, with a busy end to 2012 in store.
England depart on Saturday 15th September to defend their World T20 title before embarking on perhaps their toughest assignment of the year to date, a tour of India encompassing 4 tests, 2 T20's and a five match ODI series to be played between 15th November and late January.
And the selectors have some big decisions to make when they name their squad for the tour. Who replaces Andrew Strauss at the top of the order? Do they kiss and make up with KP and recall him for the India series? Who do they play in the middle order? Do they bowl two spinners? Do they have enough copies of The Middle Stump's new book to go round the whole squad?
Dan and Liam have kindly asked me to explore these very pertinent questions, so here goes:
One Spinner or Two?
Graeme Swann missed England's second test with South Africa this summer because England favoured a four-man seam attack. Swann's form has dipped in the past 12 months or so but in dropping their premier spinner, England sent a signal out to their opposition that they were struggling for ideas against Amla and co. The fact Kevin Pietersen went on to claim career best bowling figures on a turning Headingly wicket underlined the fact that Swann should have been retained.
Swanny
On his day, Swann is one of the best off-spinners in the world, and he will surely regain his form if he is afforded time to do so. He is also vital for the balance of the side. He can take on 30 overs a day in the energy sapping heat of the sub-continent, which will be essential when England are faced with days in the field.
But will England employ their tried and trusted formula of 3 seamers and Swann, or plump for an additional spinner at the expense of a sixth batsman? Samit Patel made his test debut against Sri Lanka last winter and would be an option in India. James Tredwell is another spinner that England like and I would expect both to pip Monty for a place on the plane
The Ravi conundrum
Ravi's form this summer has been as strange as the weather. Awesome with the bat against Australia, desperate with the bat against South Africa to the extent he was Dale Steyn's bunny by the end of it, whilst his bowling seemed to keep him in the side.
Bopara is in danger of going down in the annals of time alongside Graeme Hick and Mark Ramprakash as talented county cricketers that failed to cut the mustard for England. Cook will want his old Essex pal to succeed at the top level but time is running out for Bopara. If he travels to India, it could be in the last chance saloon
Who will open?
England have three real options in replacing Andrew Strauss at the top of the order: 1) Promote Ian Bell or Jonathan Trott 2) invest in youth, in which case Yorkshire's Joe Root would be a great shout, or 3) Go for an experienced county opener such as Hampshire's Michael Carberry.
Joe Root looking 12 years old
Option 2 is perhaps the most exciting, risky, and therefore unlikely to happen. But, following a hugely impressive season that was capped recently by being named the LV= Championship Breakthrough Player award for 2012, Root, 21, who scored a magnificent 222 against my beloved Hampshire earlier this season by the way, is a real talent that will surely be an England star in the future. So why wait, I hear you ask? True, but I'm just not convinced I can see England taking that much of a gamble at this stage.
Carberry has appeared for England before, opening with Cook on the tour of Bangladesh in 2010 when Strauss was rested. He made modest scores of 30 and 34 in the two innings before a life threatening blood clot on his lung resulted in him slipping out of England reckoning. His time sadly may have been and gone with England, although his experience and undoubted batting ability could still be a huge asset to the side
That said, the ECB love continuity and I wouldn't be at all surprised to see Ian Bell open up with Cook in Ahmedabad in November. Bell has formed a successful partnership with Cook at the top of the One Day order and so would seem to be an obvious choice.
Middle Order
Of course Bell's promotion up the order would leave England a little shy in the middle order. Given that Pietersen has not been awarded a new central contract, it's unlikely that he will be named in the squad, which would leave two big holes for England to have to fill. James Taylor and Jonny Bairstow both did well in the South Africa series and will surely be on the plane on Saturday, as will Eoin Morgan, who was handed a central contract last week.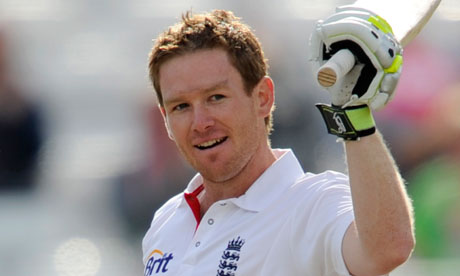 Morgan- In the side?
But with no one tying up the number six vacancy that has been up for grabs since Paul Collingwood retired last year, positions 4,5 and 6 are all still available, so we could see Taylor, Morgan and Bairstow all lining up in the same side,
That would be a huge risk, and we all know that the ECB don't like taking too many risks. A simple solution you might think would be to name the aforementioned Pietersen in the squad, and we all know his presence would make a huge difference to England's chances in India, but are the ECB brave enough to back down to the enigmatic batsman?
All things considered though, my squad for the tour of India would be:
A.Cook, J. Anderson, J.Bairstow, I. Bell, T.Bresnan, S. Broad, M. Carberry, S. Finn, E. Morgan, G. Onions, S. Patel, M. Prior, J. Root, G. Swann, J. Taylor, J. Tredwell, J, Trott