"A week is a long time in politics" said Harold Wilson many years ago, and it seems much longer if you are an England cricketer. The trouncing in Ahmedabad was reversed as England beat India by ten wickets at the Wankhede Stadium in Mumbai. Jonny Bairstow, resplendent in his Movember came into the side, whilst a man with slightly more facial hair who bowls a bit of left arm spin also returned, and proceeded to pick up a mere eleven wickets. Lazarus has made less dramatic comebacks than the Lord of Luton!
The Sikh of Tweak

The Indian skipper MS Dhoni has made no secret of the fact he wants raging bunsens but this one backfired on him, as the English spinners Swann and Panesar out bowled the Indian twirlers. Providing our batsmen play spin well enough and this time we did, but more about them later, this plays into English hands. A few years back at Galle, the Sri Lankans prepared something that hissed and spat like Cheryl Cole at a nightclub toilet attendant, and it allowed Ashley Giles to turn the ball square whilst Murali, who could turn it square on any surface, was just his usual self. The result was an English win, and the Mumbai test had many similarities.
Captain Cook and KP both hit their twenty second Test tons, and their batting was a joy to watch. No Englishman has more test hundreds. Pietersen's was a knock of bravado, machismo, tempo and gusto. It was a fantastic knock and smacked of arrogance. Viv Richards had the same arrogance, in the way he would look the bowler in the eye and say you are not good enough to get me out. Ditto KP.
As for Cook - batting wise he is on fire. He is the glue that holds this line up together and in the form of his life. The amount of time Cook has already batted in this series is almost the length that I have recently spent on hold to one of the local Mumbai call centres! His captaincy meanwhile, needs work. Firstly, skippering from short leg under a lid is a big ask. Anywhere square of the wicket is not ideal, with first slip being the optimum position followed by mid off/mid on should you need a chat with your bowler. This gives you a prime view of what the batsman is doing. Secondly, whilst it was admirable to let Monty have the new ball, we should have got fielders around Sehwag, and under his nose, from ball one in their second dig. On a pitch that is turning and crumbling this would have a) been alien to an opening batsman and b) forced him to defend with soft hands or play shots to remove the fielders. He also let the game drift towards the end of the Indian first innings as well. However, I think I am being a tad harsh here seeing as he has got four tons in a row!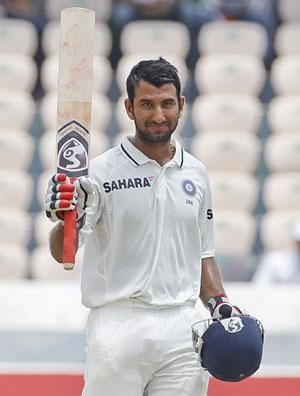 Pujara...wristier than Leslie Grantham
As for India, Pujara got another classy hundred. He looks a quality player and is wristier than Dirty Den actor Leslie Grantham on a webcam! At one point on Saturday his figures in the series were 360 for zero dismissals, whilst the English seamers had 359 runs to their name for just two victims. Ravi Ashwin batted very well to support him too, but Sachin needs to call it a day. Far be it for me to tell a man with 51 Test hundreds to his name when to retire, but he looks a shadow of his former self. I'd rather a legend like him went out on his terms as opposed to being dropped.
India knew the game was up, and whilst their body language attracted a lot of criticism on their tour here in 2011, the first and the last English runs in their second innings came by the way of four byes. Significant? Maybe. Dhoni's glovework has been shoddy all series to be fair.
The star of the show however was Monty. To watch him and Swann bowl in tandem on pitches like these is like the beauty of being in a long term relationship, and whilst there is something to be said for the one night stands of T20 cricket, this is the real deal. Proper cricket. Monty is quicker than all the spinners through the air and still made it bite on a surface that lasted about as long as your average Chelsea manager. The Sikh of Tweak had a great game, and like Tiger Woods tends to seek his satisfaction away from home.
Eden Gardens next...the lion's den
Finally, the umpiring was piss poor. The sooner India and the BCCI get the DRS in, the better. Cook and Compton saw England home by ten wickets in a performance that was brave and showed the spirit that the cricketing cognoscenti of England demand. Now we go to enter the Lion's Den at Eden gardens in Kolkata.
More of the same please...