We haven't visited this regular and popular feature for a while but just to cheer you up in the January gloom we give you some stunningly beautiful grounds in association with our good friends at Kingfisher. You don't just have to have one in your Indian restaurant you know. Crack open a cold one and enjoy...
We start off here with the stunning Queenstown in New Zealand, and apparently the Beige Brigade only get to visit this once every two or three years. I don't know why, because this has to be up there with the most stunning venues in world cricket. The mountains in the background, the sea and one of the most spectacular parts of the world all add to the charm of this amazing ground.
Queenstown in New Zealand
Whilst in the southern hemisphere this little arena in New South Wales is the Oxley Oval in Port Macquarie and looks a delightful place for a game of cricket. Don't they know it is unlucky to keep your Christmas trees up after January 6th? With the sea in the background and the picket fence surrounding it adding to the surroundings, this is a great place.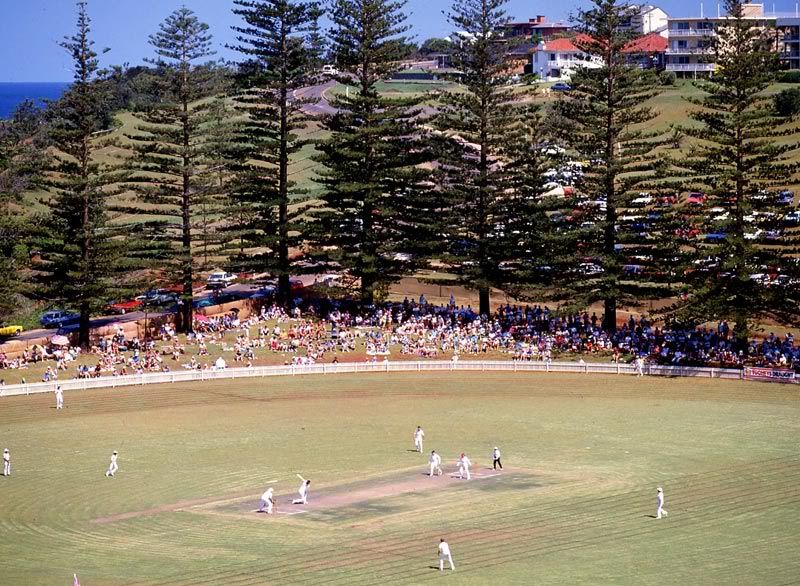 Oxley Oval in Port Macquarie
Next on the list is sadly no longer with us. The old Central Ground at Hastings had atmosphere, charm and was surrounded by housing. Now a supermarket, all Sussex fans will remember John Snow or Imran tearing in here, or Javed battling away to another fifty. Gone, but most definitely not forgotten.
Hastings...gone but not forgotten
Heading west this is the wonderful Instow on the Devon coast. If you think this pavilion is different you should check out the scoreboard hut. You don't get too many of those with a thatched roof! Another by the sea, this is one of the finest venues in Britain.
Instow CC in Devon
Staying in the West Country but further north, and a venue which will be more familiar with county followers. Cheltenham College, home of the oldest festival is well worth a mention in our guide and one of your favourite grounds on the circuit.
Cheltenham College
Keep them coming through to us...