With today's cricketing news that Ricky Ponting is going to play for Surrey this summer, to replace the equally high profile Graeme Smith when he is absent, it is clear that the Brown Hatters are really going for it this year when it comes to marquee signings. Long gone are the days of the seventies and eighties, when your overseas player stayed for years and the likes of Viv Richards were as interwoven into the fabric of Taunton, as he was Antigua...
The best overseas ever?

Other counties in this era had an overseas that would stay and stay and stay. Think Clive Lloyd, Joel Garner, Alvin Kallicharan, Sylvester Clarke, Glenn Turner, Gordon Greenidge, Barry Richards, Imran Khan, Javed Miandad, Wayne Daniel, Peter Kirsten, Malcolm Marshall, Desmond Haynes. The list is endless. Now you get two or three overseas players a year for the different formats and those who arrive fashionably late after a stint having a quick thrash in India to top up their bank balance in the UK.
Don't get me wrong, getting the right person here can win you the County Championship. Mushtaq Ahmed at Sussex springs to mind as does Vintcent van der Bijl at Middlesex, but for everyone of these, there are your Collins Obuya's, your Hugh Page's and your Yuvraj Singh's.
These guys are like falling in love with a mail order Thai bride. The overseas, having arrived to a big fanfare and often after a long wait including visa problems, the men (or Counties) expect countless days of joy in the sun only to result in huge disappointment a few weeks later, bringing heartbreak and having cost the bloke a few quid, as the overseas jumps into bed with another side somewhere else in the world, who will pay them a few quid.
Hugh Page
Certain counties seem particularly afflicted by poor performances from their overseas and Yorkshire in particular have suffered. According to Test Match Sofa's resident Yorkshireman Max Benson, Yuvraj's performance was "unacceptable" in 2003. Three wickets at a shade over 43 and averaging 14 with the bat led to accusations of not being good value for money, although in the land of parsimony this is nothing unheard of. It has to be said though, that this sort of performance led to Yuvraj being about as much use to the White Rose, as an ashtray on a motorbike! Yuvraj even ended up getting dropped to the second team.
Greg Blewett fared no better, and although Ian Harvey was a legend at Gloucestershire, in Yorkshire he proved as useful as the Pope's bollocks. Darren Lehmann however was a superstar and helped bring home their first County Championship for years in 2001. Some Yorkshire folk even say Michael Vaughan was an overseas, as he was born over the other side of the Pennines!
Essex are another county who have had varying success with overseas players. If Mark Waugh's batting would send the lads back home to Romford in a happy mood, Hugh Page in 1985 was no doubt responsible for many incidents of domestic violence. Lonwabe Tsotsobe was another disappointment whilst the money paid out for Dwayne Bravo in T20 for the finals, would have been better spent on a bottle of the watered down champagne on offer in Hollywoods nightclub.
Glamorgan haven't had the best of luck either. Jason Gillespie was a legend down there, but Moises Henriques last year was a disappointment. Cornelius Van Zyl, Jimmy Maher and Sourav Ganguly are three more that disappointed in Cardiff. Even Charlotte Church has had a better success rate of keeping people at the crease than the Dragons!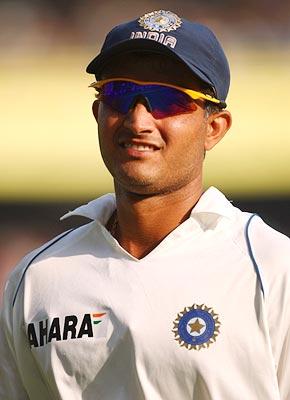 Ganguly
Talking of Ganguly, there was the famous time when he first arrived at Lancashire and asked Mike Atherton to carry his kit. He was politely told to fuck off I believe. Another overseas to play for both counties was Marcus North, and he provided as much success to the sporting arena of Manchester as Garry Birtles and Peter Davenport combined! Danny Morrison was another to disappoint in Cottonopolis.
Damien Fleming whilst being one of the funniest blokes around, limped out of his Warwickshire career after twenty four wicketless balls, but Collins Obuya was quite possibly the most disappointing overseas ever. The Kenyan was the star of their march to the World Cup semi finals in 2003 and on the back of this, the Bears decided to offer him a contract. Let's just say that Nikola Zigic is a more influential overseas player in Britain's second city!
A regular sight in Birmingham in 2004
Others to have had the fans pulling their hair out include "All Hands" Zondecki, Daniel Vettori, Larry Gomes, Bernard Julien, Linden Joseph, Vasbert Drakes, Doug "The Rug" Bollinger, Patrick Patterson. This list I'm afraid is also endless. As one bloke said to me once, "The thing with overseas players is you don't know if you're going to get the next Shaun Pollock or a load of bollocks".
Time will only tell which category Ponting will fall into for Surrey.