A few weeks ago this blog discussed whether Australia were in disarray after the e mail went around claiming Michael Clarke, their captain, talisman and easily their best bat was about as popular in the dressing room as a turd in a swimming pool. Now, with this mornings news that four of their team have been made unavailable for the next Test match we are wondering whether they are not in disarray but absolutely torn apart. Laugh? I've just nearly split my colostomy bag.
Hands up if you hate Mickey Arthur

Shane Watson, Usman Khuwaja, James Pattinson and Mitchell Johnson were all axed from the third Test in Mohali this week, by coach Mickey Arthur. Arthur had asked them to do some homework, a Powerpoint presentation on what they bring to the team, a personal review of the team culture, expectations and how to improve for the next Test.
They didn't bother. Whether Johnson went to Arthur and told him that his dog had eaten his homework is unclear at this stage, but Arthur has put them all on the metaphorical "naughty step" by dropping them for the next Test. Khuwaja, Pattinson and Johnson have all been sent to bed with no jelly and ice cream, without being allowed to watch the favourite version of Peppa Pig or Dora the Explorer, whilst Watto has thrown himself to the floor, kicking and screaming and got the first flight out of India. In mitigation, his wife is heavily pregnant but the chances of seeing him here later on this year must be now slimmer than Bruce Reid!
Questions abound and ex Australian batsman Damien Martyn was flabbergasted on Twitter this morning with the mental attitude of those in the side. If Watson was going to come home for the birth of his child, why not return after the last Test finished, the Western Australian tweeted, as opposed to two hours after he had been dropped. Stuart MacGill was another equally dismayed.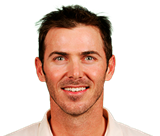 Martyn...flabbergasted
It does make you wonder if average players being rewarded well, are now acting like footballers in the UK - spoilt, petulant and childish? Australian cricketers are the best rewarded in the world these days, with their ability to play in the IPL too, and Darren Gough tweeted, "Financially cricket is great these days, but I'm glad I played when I did, when only runs and wickets mattered".
I can also see Arthur's point in that team spirit and team bonding has to be adhered to, otherwise the culture will fall apart. At the same time, since when has the ability to to a Powerpoint graph, Excel spreadsheet or even spell the words, "crazed South African dictator" been proportional with ones ability to hit a cricket ball hard or to put one in the right place whilst bowling?
Cosgrove...worth a go?
This leaves the shockingly out of form Phil Hughes probably safe in his place, but it seems that the Aussie selectors may need two opening bats to play in England this summer. I'd give Mark Cosgrove a go personally. Although he may not look like your archetypal Aussie sportsman, he has experience of the wickets over here and is a heavy run scorer in domestic cricket, or whatever the Sheffield Shield is called these days. Chris Rogers may be worth a shout too, to add to his (unbelievably!) one cap for the Baggy Greens. I hope not being a Middlesex man, but he scores runs in England.
Whatever, the case whilst most of us north of the equator are pissing ourselves laughing at present, it is obvious there are divisions within the Aussie camp like Kim Barnett's centre parting. A side renowned for their unity and team spirit are a shadow of their former selves and culturally they are as far apart from the Border/Simpson or Waugh/Buchanan teams, as the distance from Brisbane to Perth.
The divide in the Aussie dressing room is this wide Mickey!
Whether dropping these four gets back their sense of team spirit or whether it further weakens their side, time will only tell. The rest of the world meanwhile looks on with interest.
I'd better go and do my homework!