Dean Cosker has been one of the characters of the sport and for Glamorgan, since he burst on to the scene back in 1996 with six wickets on his debut. A stint for England Under 19's followed and the slow left armer has enjoyed a fine career for the county he has so loyally served for the last eighteen years. Not far off a thousand career wickets, his fielding was also fairly tasty at backward point in the one day game, and it was an absolute privilege to have a chat with the man they call Lurks. Here Dean tells us all about getting hit in the throat by Wasim Akram, the aftermath of his wife's Sunday lunches and what life will be like without Robert Croft at the other end.
Lurker
TMS: Dean, firstly thank you for agreeing to do a Q and A with us. As a man who has won numerous trophies in the game, been a professional for nearly two decades and part of the fabric down in South Wales, it must be a massive privilege to be asked to do a Q and A by the Middle Stump?
DC: I'm actually honoured and privileged to be asked, just offended its taken you this long to ask!
TMS: Let's get down to business, how are you going to cope without your spin twin Robert Croft this year?
DC: Well one thing is for sure I will be bowling at the longer boundaries for a change! It will be very helpful having the Earl of Twirl (MBE) passing on his vast knowledge. Now it is my duty to nurture another promising young Glammy spinner called Andrew Salter.
TMS: Does this make you the oldest in the side?
DC: Certainly not.This would be Murray Goodwin, although it's safe to say I have a young looking head on oldish shoulders. I'm the silver medallist though.
TMS: You've been around the game for 15/16 years now. How has the game changed in that time?
DC: Yes it is my eighteenth professional season and we drink far less alcohol nowadays! Our pre season used to consist of two milers and a few star jumps, although the skills sessions were always high intensity. Fielding and flexibility across the whole of the playing staff has vastly improved because of the introduction of T20 cricket and other factors.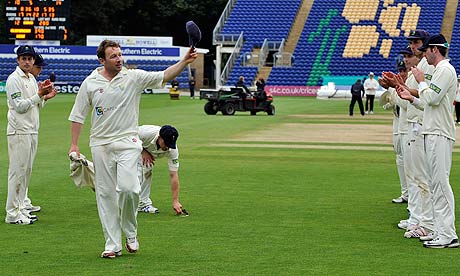 Dean will bowl to longer boundaries without the Earl of Twirl (MBE)
TMS: Has the social side of things changed?
DC: As I said, we used to have three or four beers in the bar after the days play discussing tactics and opposition players set ups.You see a lot of the youngsters now with protein shakes and X-boxes in their rooms. Mainly because they are too tight to spend their meal expenses!
TMS: Ever played with a hangover?
DC: You'll have to ask my previous roomies about that. Charity games certainly, think I spin it more after a couple of Rum and Cokes.
TMS: Who was the best at supping?
DC: My top three thirstiest characters I have had the pleasure to drink with are :
3rd David 'Heston'Harrison.
DC: May I firstly say its not big nor clever to be able to drink a gallon but Ian Thomas and Will Bragg are home time after a couple of babychams!
Dean's home for the last eighteen years
TMS: As a slow bowler, do you ever wish you were a quick who could knock someone's head off after a few words?
DC: Not at all, us spinners are normally far more intellectual so we have to think out the batsmen not blow them away. Plus I am a very placid individual.
DC: Everything that comes out of Gareth Rees' mouth - comedy looking and a genius rolled into one.
TMS: Worst banter in the game?
DC: Extremely easy this one. Ben Wright aka Killer. Has the uncanny knack of killing good stories and conversations dead.
TMS: Is it true when you won the County Championship in 97 (was that your first season), the Manic Street Preachers sent you a dressing room full of champagne?
DC: I believe they passed on a hamper of champers to Matt Maynard and the boys, yes! I also believe that myself and Darren Thomas consumed most of it before we left the ground! Incidentally it was my second full season, debut in 1996.
Manics...sent champagne when Glammy clinched the title
TMS: You got the wicket that clinched it didn't you? Few beers sunk that night?
DC: I did manage to clinch the final wicket of their second inns. An lbw, plum as well! George Sharpe was umpiring and still until this day he says it was outside the line, but that I looked liked a good bloke, so he gave me the benefit of the doubt. I suppose I'm in his debt!
TMS: Funniest story in your career?
DC: A couple happened in 1997, seeing Waqar Younis with a Nelson Mandela mask on singing Glamorgan songs at Somerset when we clinched the title was somewhat surreal but highly amusing. Throw that in with our coach at the time Duncan Fletcher wearing a Welsh rugby shirt whilst watching South Africa v Lions rugby test series that summer... a true Welshman at heart!
Fletcher...a true Welshman at heart
TMS: Slow left armers have a reputation of being mavericks – think Edmonds, Tufnell etc. Any truth in this?
DC: Well I recently dressed up as Maverick (Top Gun) at a Glammy fancy dress party!? Not so much Maverick...perhaps a silent assasin lurking!
TMS: Worst strop when they are out for a duck?
DC: Gareth 'Tusks' Rees, simmers for ten minutes then goes absolutely ballistic punching walls and throwing helmets etc.I normally get a glove on the head as I sit next to him.
DC: Skipper Mark Wallace hands down closely followed by David Harrison. Both individuals pride themselves on Glamorgan club issue.. i.e because it is free. A running trainer/jean combo is not a great look in my eyes.
TMS: What is it like playing in a one day final?
DC: I didn't actually play in the one day final at Lords but was twelfth man. A great occasion, with fantastic Welsh support. It was like being at the Millennium stadium with all the singing. Have been involved in big one day games to win one day titles. Lots of nerves, lots of excitement, and fantastic celebrations and memories.
TMS: Were you taught anything about the dangers of being exposed to the sun earlier in your career?
DC: No, not really but as cricketers we have to be cautious as we do expose ourselves to sun for long periods. Not always in Wales, mind!
TMS: Have you heard of the charity Factor 50 and the work they do educating younger players?
DC: No I haven't actually, but anything that educates our profession in this area is a worthwhile exercise.
Wasim Akram...hit Dean in the throat
TMS: Quickest faced? Ever seriously bricked it facing anyone?
DC: Allan Donald and Wasim Akram, the latter hit me in the throat while trying to hook him at Colwyn Bay...not the most pleasant of experiences.
DC: Easy one, the Wife's Sunday Beef dinner. Superb Welsh gravy...although the pan gets pebbledashed regularly after it!!
TMS: Best three youngsters coming through in England (or Wales)?
DC: James Harris, Mike Reed and Andrew Salter.
Dean, you have been a legend and when we get down to Cardiff we'll buy you a Brains or three!