Graham Lambert, the lead guitarist and founding member of the Inspiral Carpets is a man who simply loves the game of cricket. Having played at some serious venues all around the world, sold millions of records and been an integral part of the Madchester scene in the early 90's, we caught up with the Oldham musician and discussed all sorts from his beloved Lancashire County Cricket Club to his ex- roadie Noel Gallagher's dislike for Graham Gooch. Read on in this brilliant interview with one of the funniest, yet nicest people you could meet.
Graham Lambert

TMS: Firstly Graham, a pleasure to have you do a Q and A with us. As someone who has played in some major global venues to huge crowds around the world, headlined the Reading Festival etc it must be a huge privilege for you to be chatting with The Middle Stump?
GL: Haha! Of all the interviews I've ever done, this will be the most recent!
TMS: What do you think of the site so far? You've been a fan for a while haven't you?
GL: Yeah it looks good. As a cricket enthusiast I like it, and it has a dry, flipside to it. It suits most cricket fans and it is a good site.
TMS: We've got you as one of our fans, as well as Steve Harris the DJ who not only has an encyclopaedic knowledge of indie music, but also who loves his cricket. Any more indie guys you know of who love their cricket?
GL: Johnny Borrell of Razorlight loves his cricket. Lots of roadies and tour managers too. I always used to have a bat and ball in the car, and we used to have a knock up in the studio or on tour, but you have to be careful with the lights. They're expensive and one or two have been known to get smashed. There are a lot of people in the music industry who are passionate about cricket though.
TMS: Noel Gallagher was one of your roadies wasn't he? Did he like his cricket?
GL: Yeah I remember having a knock up with him on a floodlit tennis court once somewhere, but he was never a fan. I remember him once moaning about Graham Gooch's photo on the back of a newspaper one April/May time, as he said it was the end of the football season then. He loves his football but not so much cricket.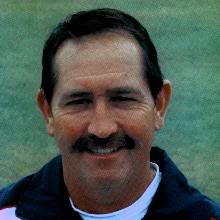 A sign the football seasons nearly over, Noel!
TMS: You've got a tour starting next week haven't you? How are you going to fit in time to watch the cricket?
GL: Yeah we've got 11 dates across the UK including Koko in Camden on Friday 22nd March. The beauty of Sky means that long gone are the days of Long Wave radio. I'd never buy a car without Long Wave in the old days. Or there is always the internet. Saying that I was burying my head this morning when I saw the score! We always start away series really badly for some reason don't we? That is the third time in a row we have been rolled for less than 200 in the first innings of an away series.
(Tickets are still available via www.inspiralcarpets.com and we'd recommend you going to see a great band live)
TMS: You sent us a scorecard from your earlier days and may I say, it was extremely neat and tidy. Very impressive! Do you still score watching the game?
GL: Ha! Yes I do. Other than spending time with my family, there is nothing more I like than taking my shoes and socks off, shorts on with my feet over the seats and just 300 odd people at Old Trafford. People think it is strange that there is this 48 year old bloke sitting there doing the scoring but I have always done it. I love the stats too. It's a great way of relaxing.
Old Trafford...Graham's spiritual home
TMS: You've become good mates with Graeme Fowler haven't you? He's been fantastic helping us with our book and a very funny man. Was he first a fan of your music or were you first a fan of his batting?
GL: I was a massive fan of his batting before I got to know him, when he was at Lancashire. Fowler played some of the best drives through the slips I've seen! Seriously, I loved watching him bat. he was almost punk rock like shall we say, in that he went against the norm. He didn't care if there was only twenty minutes or so left in the day, he wouldn't think about batting for tomorrow, he'd just still go for it, and I loved that about him. I loved watching him and felt for him when he was so out of form, he couldn't spell bat let alone hold one! However, I remember watching the 83 World Cup and I was so proud of him, being a Lancashire lad. He was our pride and joy, and he carried England to victory in quite a few games in that tournament. I was absolutely gutted when we lost to India in the semis. I thought we were going to meet the West Indies in the final. I'm still disappointed now!
TMS: You're a massive Lancashire fan aren't you?
GL: Yes massive. Since 1976 and I watched a Benson and Hedges zonal game v Hampshire. Barry Richards got 80 odd for them. I remember doing a gig once in Paris and racing back through the night, straight to Old Trafford to watch a rain affected Refuge Assurance game too!
TMS: How do you think they will do in Division Two this year?
GL: I hope they will win it. Mad isn't it that they are there having won it in 2011, and then get relegated in 2012? Saying that it has happened before with Surrey who won it in 2001, was it and then got relegated? Having two small leagues as we do, it can happen quite easily. We deserved to go down though. We weren't good enough, we didn't bat well and we lost more matches than we won.Still, there will be some new grounds to visit and I might well pop along to the likes of Northampton or Leicester this year.
TMS: You enjoyed 2011 then?
GL: It was a massive boost. I have seen some great players over the years there - Wasim Akram, Andrew Flintoff, Mike Atherton, Andrew Symonds, Clive Lloyd and even Faroukh Engineer but to win it with home grown lads was fantastic. A great team always beats individuals. My football team Oldham Athletic had a good run in the early nineties and were a great team without stars. Even our Ashes effort in 2005, was a collective one. Everyone chipped in, Vaughan got his ton at Old Trafford but Pietersen at the Oval with his match saving knock...that was the best innings ever. The best I have ever seen anyway, to do it under that sort of pressure.
Happy times for Lancy as they win the title in 2011
TMS: You made an appearance on Cricket AM last year. What was that like?
GL: Amazing. It was like our appearances on Top of the Pops or the South Bank show! We sat with David Lloyd and ended up sitting on his knee! Afterwards we had a bowl at Mark Ramprakash, a great experience.
TMS: Do you ever get to the Test matches?
GL: Bizarrely I would choose a county game to go to or a 40 over match. The Tests are always on tv or the radio, and I think the last time I saw one live was back in the 80's v India. I do want to go to a Test abroad though, definitely.
TMS: Ever had too much to drink after a day at the cricket?
GL: Funnily enough coming from a Manchester band, no. I get drunk really easily, I'm not a big or a good drinker! I might miss some of the cricket too. I know it doesn't fit the bill of being in a band or being a cricket watcher, but don't tend to drink at cricket.
TMS: Funniest thing you have seen in the game?
GL: England celebrating winning the Ashes in 2005 and the after party on the bus! It was mind numbingly, childish behaviour but I loved it. Seeing them all wrecked with Tony Blair, Flintoff pissed out of his head...it was like me after half a glass of red!
Like Graham after half a glass of red!
TMS: So are any of the other Madchester guys into their cricket? I can't really imagine Shaun Ryder or Ian Brown there!
GL: I've never discussed cricket with them. Saying that chilling out in the sunshine watching the match with a spliff would be most appealing to most people in the music industry. Our singer Stephen Holt loves his cricket though.
TMS: If Manchester musicians were cricketers then Johnny Marr would be David Gower, a master of his trade and making it look easy, whilst Liam Gallagher would be Phil Tufnell with a penchant for Cigarettes and Alcohol. Any others you can think of?
GL: Great question! Noel Gallagher would be Ricky Ponting - cocky, but brilliant. Not the biggest in stature physically but the boss and in charge. Clint Boon from the Inspiral Carpets would be Flintoff - a big hitter and a big personality and everyone loves him, even though he does the odd thing where people think, "What did you do that for?" I'm Mike Atherton and I'll let you fill in your own adjectives for that one! Ian Brown would be KP - outspoken, looks good, looks the part and his own man. John Squire, guitarist in the Stone Roses would be Tendulkar - brilliant to watch, a master of his trade and mistake free!
The Inspirals back in 1990...Graham in the centre
TMS: We do a lot of work with Factor 50, a charity who educate a lot of cricketers against being exposed too much to sunshine, and they are behind melanoma research. They are based close to you up in Oldham and at the Christie Hospital. What do you think of them and their work?
GL: I didn't know they were Oldham based. I'll get them some signed shirts they can raffle off if she wants to get in touch. I think they do a great job and there are some unsung heroes behind the scenes. When you are young you don't think about cancer in any form, and it sounds like there are some good people getting stuck in.
TMS: Who are your favourite players at present?
GL: KP. He came to a gig I was working at at the O2. I love watching him bat. Flintoff was another back in the day. I'd like to watch the Lancashire openers bat for ages - Stephen Moore and Paul Horton, although I like Karl Brown too. We've got a long tail and they are good fun to watch too. Glen Chapple coming in at nine, and then Kyle Hogg comes in at ten. He just whacks it and is great to watch.
TMS: Best youngsters coming through in England?
GL: James Taylor, the little lad who went to Notts from Leicester. Can I still call him a youngster? Also Joe Root who is brilliant and getting better since he played for England which is amazing because you have to be decent to get in the side in the first place. I see quite a few youngsters playing locally in the Yorkshire League at a village near me called Delph, although I categorically wish to state that I live in Lancashire! Paul Scholes lives nearby and he is a big cricket fan along with Phil Neville. Both were decent players too!
TMS: Let's hope Scholes timed a cricket ball better than his tackles hey?
GL: Haha! Yeah let's hope so.
TMS: What do the next few months hold for you?
GL: I've got the tour in March, some more gigs in June I think, then we are off to Eastern Europe in July. Hopefully writing and recording a new album in September so keeping busy.
TMS: Graham, you have been a star and see you in Camden on the 22nd!
GL: Thanks and see you there. We'll have a beer afterwards.
And on that note, Graham went off to rehearse for his forthcoming tour. One of the nicest people you could wish to chat to, and someone who obviously loves the game.