There were three games played in each division last week and here we give you the run down on what happened.
Gus Fraser

Angus Fraser at Middlesex must feel like Kim Jong-Un with the firepower at his disposal and Derbyshire were the victims of their arsenal this week as the hosts stormed to the top of the table with two from two. Rumour reaches us that the North Korean leader smiles more often than the Middlesex boss, have not been substantiated yet though! The majority of the field in yesterday's London Marathon completed the race quicker than Billy Godleman took to compile his first innings fifty, with Steve Finn picking up four wickets. Despite runs from Sam Robson and Gareth Berg, Middlesex actually were behind after the first innings. Nuclear weapon Tim Murtagh did the damage and Toby Roland Jones took the first championship hat trick at Lord's for fifty odd years as Derbyshire were dismantled for 60. Only Chanderpaul stood firm, although did cop one in the box! Rogers and Denly saw the hosts home.
Last seasons champs Warwickshire had a similar game against Durham. Despite the lads from the North competing for two days, they couldn't live with the Brummies when they stepped up a gear. Skipper Troughton saw them to a respectable 345 in the first knock and Durham responded with 286 thanks to a ton from Scott Borthwick. He may not be able to stand at the bar for long according to our recent interview with Ian Blackwell, but he certainly shouted them up for a lengthy period at Edgbaston. Tim Ambrose responded with his own ton and a handsome 92 from Rikki Clarke built a good lead before Durham were skittled for 92. Chris Wright is certainly a handful on these tracks and picked up 6-31.
Wright...on fire
At the Oval, the game between Surrey and Somerset, Petersened out into a draw according to George Dobell! Alviro with a ton in the first knock and a 91 in the second became nearly the first man to score two tons on debut for the Cidermen. Responding to a knock of 384, Mr Burns, in this case Rory churned out the runs in his factory, whilst Steve Davies played the Waylon Smithers role with a ton of his own. Dernbach and Meaker picked up a 'Michelle' in each innings for the South Londoners, in a game where Graeme Smith made his debut. Although a draw, the quality of the cricket here was high and happier times are no doubt ahead at The Oval.
In Division Two, Jim Allenby had a fine match, as Worcester enjoyed their visit to Cardiff as much as the English rugby team did a few weeks ago. Inserting the visitors, Hogan and Reed got stuck into the Worcester top order and thanks to Allenby had a commanding first innings lead, so commanding my fellow Stumper Liam who is a Glamorgan fan, to command his surprise. Worcester fared not much better in the second dig despite Samaraweera holding the hosts up for a bit, before Allenby did the damage with the ball.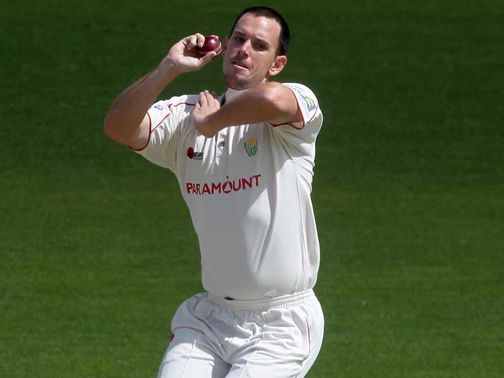 Allenby...starred with bat and ball

Northants spanked Essex so much that coach Paul Grayson shut that door on the media afterwards, refusing to speak about Essex woes. Whilst Graham Napier had a fine game for Essex, Steve Crook usurped him fro Northants. Batting first Essex were indebted to Napier's 73 as they achieved a sub standard 183. The Shoemakers were 171-8 in reply but David Willey, Crook and Copeland all scored 70's or 80's from number 8, 10 and 11. Essex responded with a feeble 203 as Northants stormed to the top of Div Two. Questions abound at Essex such as why Bopara isn't higher up the order, and why Saj Mahmood is only in the 2's. Hmmm.
Finally Leicestershire and Kent played out a high scoring draw at Grace Road. Everyone got runs for Kent in their first knock of 406, before Max, sorry Matthew Boyce sang the hymns and arias for the Midlanders. Shiv Thakor, our tip as one to watch this year also got a ton. There was just enough time for Rob Key to improve his batting average as the game petered out into a draw. On a different note, we received a lovely response from a Kent member regarding the hospitality and stewarding at Leicestershire, and may we applaud all at Grace Road for helping make County Cricket a better experience for this chap! Well played.