On Monday while nursing a hangover of epic proportions I sat down and watched Ronnie O'Sullivan blow away Barry Hawkins and claim his fifth world title. A mean feat indeed but made even more impressive considering he had a whole year off. What struck me in his post match interview was of an Essex man capable of anything- annihilating opponents, magical breaks- you name it.
There was a look in his eyes that told a thousand stories, a look that knew how good he was and how he wished that it had come earlier in his career rather than in his autumn years.
One cricketer who could epitomise this for me would be fellow Essex man, Graham Napier. A true talent and one of the most naturally gifted all-rounders this country has ever produced.
He may not have the demons that O'Sullivan had/has but at 33 years-old he is now maturing into the player we hoped he would become.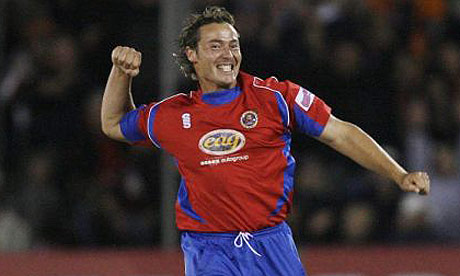 Making his debut in 1997, it was not until 2004 when he started to turn heads making the 30 man squad for the Champions Trophy. The year before he claimed the most wickets in a one-day league campaign for Essex (33) and made the academy tour in the winter.
2008 was when he made the headlines the world over. An extraordinary knock of 152 against Sussex in a Twenty20, which included a world record 16 sixes, drew the attention of England and also Mumbai Indians, the IPL franchise, and in 2009 he was named in England's World Twenty20 squad.
After missing out on the 2010 Twenty20 squad after playing some cricket in New Zealand for Central Districts, he got injured – a stress fracture to his lower back – ending his season.
On his return he walloped a huge 196 against Surrey at Whitgift School - a knock which equalled Andrew Symonds' world record for the most sixes in a first-class innings with 16 bludgeons.
This may have been the turning point in a career that was one-day-orientated. A cult hero at Chelmsford he enjoyed a benefit at Essex last season. It also proved his best first-class season yet, averaging 33 with the bat and 23 with the ball.
This season he started on fire. After the first innings 102* against Lancashire yesterday he is averaging 170 with the bat and under 30 with the ball. He is Essex's go to man with the cherry and the man to get them out of a hole with the willow.
Still coming in at seven or eight it may be time to give Napier some responsibility that he deserves. Essex are not in great shape right now and he could be the man who can finally start to steer the ship. A lot of weight on shoulders that can still produce 85mph deliveries but I think now is the time that he blooms into a genuine all-rounder we all now he can be.
I bloody like Graham Napier, you should too.