Yesterday Dan and Thorpster, along with his brother and a workmate went to Lord's for the day. It was my first visit to the Home of Cricket for a while and quite possibly, the worst day's Test cricket I have ever seen in my life. New Zealand aren't a poor side, England aren't a great one either. Strauss is being missed for his leadership skills, KP is being missed for his aggression and I was missing from the office for the day, getting smashed.
Yesterday at Lord's

The day started with a breakfast at Liverpool Street in the City, and the purchase of beer, sandwiches, relentless scotch eggs, chilli beef cornish pasties and pork pies. The thought of paying the prices at Lord's filled me with dread, although I didn't know how extortionate the prices would be. To plagiarise a saying from my co-editor Liam, at least Dick Turpin wore a mask!
We arrived at a reasonable hour and having got my four cans in, and having been through a search at the Nursery End of the ground, had our very own search, this time for a bar. These didn't actually serve beer until 11am, and when we baulked at the price of £4.60 for a Foster's, we were told by a barmaid that they had a special offer on of four beers for £20 which included a bottle of water!!!
We sampled a couple in the sun at 10.30 in the morning outside the media centre. The crowd built up, although there were numerous twattish blazers on show, and a disproportionately high amount of red jeans also on display, sometimes combined with said twattish blazers. I thought I heard one of these gents call his mate Hugo at one point as well! The New Zealand fans meanwhile were walking around in their retro beige one day kit. I don't know who had worse attire - our Hooray Henry's or their Beige Brigade? At least they are just taking the "puss" as they say in that part of the world!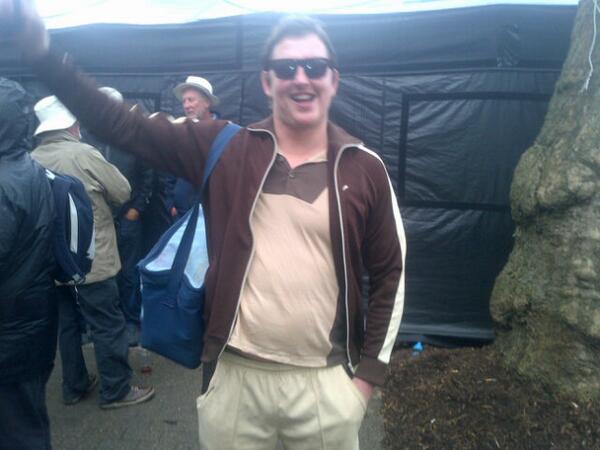 The Beige Brigade
We took our seats in the Edrich Lower, priced at £45 and Lord's in the sunshine looked splendid. There was even a baby in its mothers arms a few seats down from us, as well as a man who looked like a cross between Gerry Adams of Sinn Fein and Rolf Harris, along with Emile Heskey's spitting image stewarding in front of us. Cook and Compton were batting in the spring sun, and Boult and Southee opened up for the Black Caps. The ball was doing a bit, both openers were getting beaten outside off stump a lot, and the outfield was the longest, and therefore slowest I have ever seen it. Normally on the Tavern side when a shot beats the field it runs down the hill for four...not yesterday. The bars outside offered better value than the outfield!
Swann, Flower, Broad and Prior walked around the Nursery End having been for a net to much applause. It was quite possibly the most interesting part of the day.
Batting wasn't going to be as easy as we thought it would be. The Kiwis aren't as bad a side as we thought they would be either. New Zealand's bowlers were bowling a long way outside off stump and our lads were leaving it. Just before lunch, Compton got bored and had a wipe. The ball turned and took the outside edge looping up into the covers where a good catch was taken. Apparently whilst Geoffrey Boycott was doing his biscuits on the radio, my view is that at least Compo had a go. A few balls later Trott smashed back a caught and bowled chance which was grassed.
At lunchtime, we met up with a couple of Kiwi friends of ours, and seeing as the cans had run out, we decided to sample the piss water lager at nearly a fiver a pop! Luckily I had bought my lunch with me or I would have been forced to buy a burger at £8.50 or a tenner if I had wanted it with fries. Now I know they have to make their money, but a family of four would be shelling out over £50 for lunch with a couple of drinks. One of the Kiwi's made his own entertainment by chatting up one of the promotions girls. He told her, he was a penguin breeder at nearby London Zoo and she believed him.
Dan meets the Kiwis...the penguin breeder is on the left!
In the afternoon session, the ball continued to swing and Cook soon nicked off. This brought Ian Bell to the wicket. This was his chance, his opening and to show that he is the top man in the side when KP is not around. What did he do? Fucked around for 130 balls that's what, and watching him and Trott pat it back for ages was starting to get to the crowd. Even the name, Chris Tavare was being bandied about. England are missing KP badly as someone who takes the game to the opposition. The 2005 Ashes were discussed and one of the reasons we won that series was because Michael Vaughan asked his side to take it to Australia. Anyone remember 400 all out after Day One at Edgbaston?
At tea we bumped into more friends, and drank more beer. Trott got out to a fantastic catch by Brownlie, and Bell patted more deliveries back. Watching paint dry is more entertaining and soon the Rolf Harris/Gerry Adams lookalike became the butt of many of our jokes. Even Emile Heskey gave us a wave which was the first time we had seen him move all day. Just before the end he, Bell that is and not the Emile Heskey look a like steward, followed a wide one and put us all out of our misery. Root looked a good player, the most fluent of the day and then it pissed down with rain.
160-4 from 80 overs was the sum of our fayre. Two runs an over is not good entertainment. I know we have been spoilt in recent years with T20 and the like, improving the longer aspect of the game but England should have at least taken the initiative. Jenson Button's McLaren is quicker this year!
The boys get tucked in at The Nursery End
This current line up is not working for me. Basically, I spent over a hundred and fifty quid and the entertainment provided amongst ourselves was far better than what was happening on the pitch. England provided poor value, and the feeling of being ripped off at Lord's was overwhelming.
Still at least they are stocking our book Cricket Banter in the club shop by the Pavilion End.
It was still a great day and we re-joined our Kiwi friends in the pub afterwards, along with having a chat with a number of players from local clubs we knew. If England can get 300 it won't be easy for the Kiwis, especially with the prodigious turn on offer from Day One.
The stage is set.