A few months back we wrote in these pages about when the professionals play against the clubbies and generally take the pee. Stories of the likes of John Inverarity smashing double hundreds against Kent club sides, and our followers on Twitter gave us many instances of their own. Here is a story from the 1970's, of when Vivian Richards played a benefit game in Somerset, and got a first baller against the might of Cheddar CC.
King Vivi

My uncle, a chap by the name of George Berry was playing in this game and he recalls that Cheddar, far from the days of having the likes of Jos Buttler in their side as they were to have in later years, were a mixture of farmers, school teachers and the odd local solicitor. Somerset meanwhile sent down a side including Botham, Richards, Denning, Dredge, Moseley, Kitchen and Close amongst others.
The day was a benefit game for Graham "Budgie" Burgess and the locals had to guarantee him £750, which was quite a sizeable sum back in those days. Not that it would get Beefy a replacement Saab, but it was still a decent amount of dosh. The whole village more or less turned out and a sizeable crowd waited to see the internationals like Close, Botham and Richards smash it all over the place at the scenic Sharpham Road ground.

Dasher
My uncle had a bowl early on at Dasher Denning and Ian Botham and they nurdled him around for a couple of two's, no doubt troubled by his away swing. After a while, Viv came in to a hushed excitement from the sizeable following. Remember this was a man who had taken England for a sparkling 291 a few years previously.
The first ball and Cheddar had an off spinner by the name of Ron Owen who was no doubt, about to have his bowling figures seriously ruined. The first ball was just short of a length, and Viv made out to hit it for a huge six. He stopped mid shot, which as we all know is a fatal mistake and the ball dollied up into the air straight back towards the safe hands of Ron. It was safely pouched much to Ron's obvious delight!
As it was up in the air, the whole ground shouted for him to drop it, but as Ron said later, "Do you think I could tell my grand children I deliberately dropped Viv Richards?"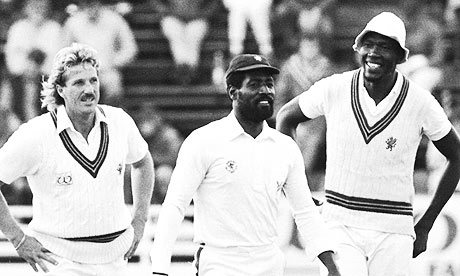 Beefy, Smokey and Big Bird!
A few years later Viv was being interviewed by the wonderful Brian Johnston during a lunch break and the subject of the Primary Club arose. The Primary Club is an organisation for all those who have suffered a golden duck at some point in their career. Johnners asked Viv if he would qualify as a member of such a fine establishment, and the great Antiguan replied that "Yes, it was against some minor club or other".
A few moments later someone phoned through recalling the above story and giving full details. Ron denies it was his handiwork!
Viv no doubt, still remembers his visit to Cheddar back in the 1970's, but I bet not quite as much as Ron does.