Liam Plunkett is a top man. A recent convert to The Middle Stump on Twitter, he has represented his country nine times to date. A bowler who bowls at a decent rate of knots, he is also a very useful batsman and is part of the record 8th and 9th wicket stands for England in a One Day International. Having won the title with Durham, we caught up with him recently after his move to Yorkshire and he told us all about Jack Brooks' socks, what it is like to face Shoiab Akhtar and tells us never to throw your bat at Trent Bridge! Read on for more...
Liam Plunkett

TMS: Liam, as a man who has represented his country, blitzed the Aussie top order in the final of the ODI tournament out there, won county titles etc, it must be a huge privilege to be interviewed by The Middle Stump?
LP: Absolutely. It's an honour.
TMS: How's life having moved down south to Yorkshire?
LP: Good mate. I spent ten very happy years at Durham, so it is a good move for me and refreshing.
TMS: Let's cut to the chase...Is it true that you are the man who cut Jack Brooks socks up and are therefore the Yorkshire Snipper?
LP: Haha! No not me. I live with him and use his socks too, so I wouldn't cut them up!
Brooks...still no nearer finding the Yorkshire Snipper!
TMS: Where does the nickname Pudsy come from?
LP: I got it when I was younger. I was a bit chubbier and had floppy hair, and it just stuck.
TMS: Do you think the game has changed since you started out ten years ago with regards to socialising afterwards?
LP: Yes it has. Every year gets harder. Back then we had a few more beers most definitely, but now it is more about fitness and recovery, so there is less of that.
TMS: Who could drink the most and the least in your experience?
LP: The least was Mark Davies. He couldn't drink and got the nickname of "Back Door Bob" because he would slide away in the early evening. The most was Ian Blackwell.
TMS: Best sledge you have heard?
LP: When I was at Durham and we were playing Kent. Charlie Shreck was bowling and he had big, black curly hair, and was bowling to Mark Davies who had long, blond hair. Mark Ealham pipes up with, "Come on Starsky, let's get Hutch out" to which we all fell about laughing.
Back Door Bob or Hutch?
TMS: What was it like to represent England against Australia?
LP: It is what you dream of as a kid. The best moment of my career and to win the One Day competition after getting done in the Ashes 5-0 was amazing.
TMS: How vocal or partisan are Aussie crowds?
LP: Standard. Aussies love getting into you. They see one little weakness and they get stuck in and the crowds are no different.
TMS: Who was the quickest you have ever faced?
LP: Shoiab Akhtar.
TMS: He was your team mate at Durham wasn't he?
LP: Yes he was. This was in a Test match and he was coming through quick. I was absolutely bricking it, especially when he told me, "I'm going to kill you"!
I'm going to kill you!
TMS: Who do you need to look out for when they are out for a low score?
LP: Ben Stokes. He chucks bats, he even broke a bat once. Saying that, I did it once at Trent Bridge. We needed only a few runs for a bonus point and I got a short one which I have hit straight to square leg. I got back in the changing room and threw my bat, which bounced off the bench and hit me straight back in the eye! It cut my eyebrow and I had to have six or seven stitches, so I don't do it any more!
TMS: Worst dressed?
LP: Jack Brooks. Stinking.
TMS: Favourite ground?
LP: Lord's or SCG.
TMS: Were you taught anything about sun protection when you were a kid?
LP: Yes. My mum unfortunately had melanoma and skin cancer, so I have always been careful.
TMS: And have you heard of the charity Factor 50 and the work they do educating young cricketers?
LP: Yes. I have heard of them a little bit.
TMS: Best food?
LP: Lord's. Derby was good too. You could get whatever you wanted there, fajitas and the like.
TMS: Best three youngsters coming through?
LP: Alex Lees, Dan Hodgson and Moin Ashraf.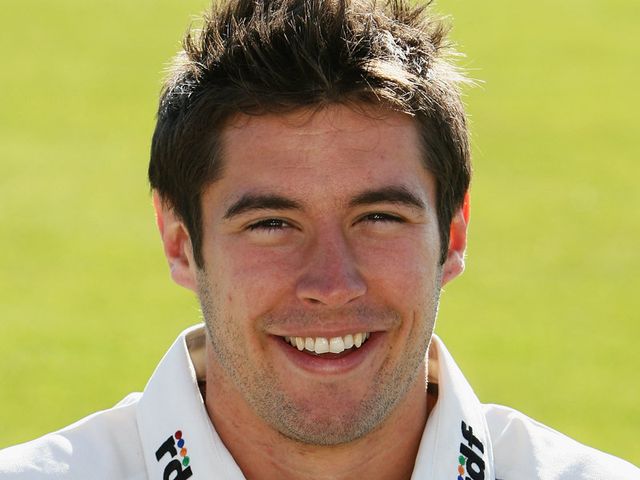 Hodd...good banter!
TMS: Best banter on the circuit?
LP: Andrew Hodd. Although he is sat next to me, so I'd better say him hadn't I? No seriously, he has good chat.
TMS: What are the plans for the future?
LP: To keep fit, to keep playing and do my best for Yorkshire. We'll be there or thereabouts if we continue. As for England, if I can back to near my best then you never know?
TMS: Liam, it has been an absolute pleasure and I look forward to seeing you soon at Radlett at the end of May for the Middlesex game.
LP: Thanks mate, and see you there.
With that, we left him to banter more with his mate, Andrew Hodd.