A sunny summer's afternoon in June and two sides containing good standard Saturday league players, hungover Saturday league players, ex players and even a taxi driver - selected whilst giving the home team skipper a ride home at 4am – are playing in a Sunday league 40over competition.
On a green top, the bowlers are nipping it about and the openers are dropped in the slips no less than five times until a wicket finally falls. This young Middle Stumper is in at first drop...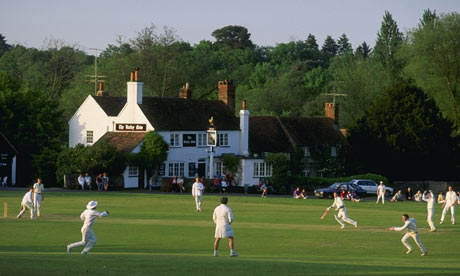 Village Cricket
After surviving the first couple of overs in which the ball was nipping about and hooping around and trying to play their off spinner with everything apart from my bat – to which my batting partner asked: "Who's bowling to you, Murali? He's all over you like a wetsuit" – the moment came which changed the game and more than likely my season.
The opening bowler, still nipping it about, forced me into a waft outside off stump. A noise was heard by almost everyone in the village and the appeal came from the opposition. As a young player I was told by a senior teammate to never follow the ball when you nick it, to this day I still haven't done so.
The umpire answers the question from the fielding side and gives me not out. I do not walk.
At drinks I was asked by a teammate if I hit it. I confirmed. This was overheard by the league chairman and as a result my side do not have my services for the next three games and I have my name in the local rag.
Now even my own mother would not believe me but what wasn't heard was me saying that as I didn't follow the ball, I was not sure if the ball carried. After all it was quite a big nick and I was sure the umpire would have sent me on my way otherwise (the ball incidentally was taken at hip height).

So is not walking cheating? Former Australian wicket keeper/batsman, Adam Gilchrist is a famous walker but when he was a young man playing club cricket over here in blighty he nicked one and walked. His team then lost by a couple of runs and he felt so bad he wrote a letter to his parents back home stating that he felt bad for letting his side down. He then did not walk while playing for NSW and scored a century, to which he said he doesn't really count as he was out 'cheaply'.


Gilly
Lord Harris, who is possibly the most establishment figure the game has ever known, admitted in his autobiography to have stood his ground when he knew he was out. "This is a case when the umpire on appeal has decided that a batsman is not out," he wrote. "The batsman, although he knows he was out, has no business to retire from the wicket."
WG Grace was another who people came to watch bat not the bowlers bowl. Bill Lawry also said that: "the umpire has a job and I have mine. I will not walk."
Not walking is unlike trying to claim a grounded catch or appealing for a bat-pad when you know the batsman has not hit it. In one instance you are letting the umpire make a decision and in the other you are trying to deceive the umpire.
Another view point is: how many bad decisions go against a player during a season? The amount of LBW's that I have had to walk for after hitting it and being given out caught behind when I have been miles away from it are high.
The day before the original incident, while playing in an important league game, our opening batsman got a horrid LBW decision that even their wicket keeper, at tea, said wouldn't have hit another set of stumps; the keeper still appealed and the batsman had to go. If then another batsman did not walk after an edge, would that be justice?
Like Mr Lawry, I will continue to let the umpire make the decisions. Who am I to tell him he is doing his job incompetently? Actually I think we should let the umpire make all the decisions.
I may be wrong but at least I have three weeks off to reflect!