This Test was a classic. If you thought 2005 and 2009 could not be beaten then 2013 has already started off in more of an explosive fashion than the toilet of a Cardiff hotel shared by the Middle Stump lads, the morning after twelve pints of Cwrw and a kebab from Caroline Street on Friday. Let's say the pan was in the same sort of state as Jonathan Trott's stumps after he had dragged one on in the first knock.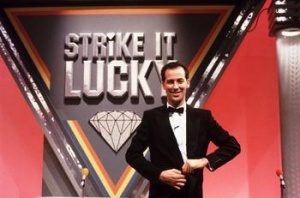 This man knew all about a Hot Spot

It started off with a surprise with the Australian inclusion of Ashton Agar. The man who started off this season playing for Henley in the Home Counties Premier League, just four divisions above the standard where us chaps last donned our whites, had a debut, or for those in the southern hemisphere a 'dayboo', that he will never forget. He looked like he had been pulled out from behind a bar in Earl's Court as Glenn McGrath handed him his Baggy Green.
England batted first and were skittled for a paltry 215. Siddle didn't bowl very well to be honest but still picked up a Michelle. Pattinson bowled with hostility and isn't shy of a stare or a word, Agar didn't set the world alight but I thought Starc looked a very good bowler indeed.
In response the Aussies were 75-4 at the end of day one, but then collapsed alarmingly and looked as if they were going to give England a lead of 80-90 runs, as they were nine wickets down. Enter AA, and his knock was triple AAA rated. Saying that, the way England bowled at him it was enough to drive anyone to drink so much that they would be dialling the AA hotline. Credit also to Phil Hughes, much maligned on these pages as not being of the standard required, who batted very well for an eighty, but it was Agar with 98 from number eleven who stole the headlines. I'm sure even the most one eyed Englishman wouldn't have minded, should he have reached three figures. Australia led by 65.
AA...take a bow son
In England's second knock the use of DRS came to the fore. Let's say the BCCI would have been rubbing their rupees together at such decisions, incidentally on a pitch not unlike those prepared back in India. The weather wasn't too dissimilar either.
Trott got a shocker first ball as Sky were too busy showing replays of Root's dismissal. I find it very strange that with the amount of money pouring into the game at the elite level that we rely on an outside tv company for major decisions. Let's just say that he got a more of a solid hit on it than Warner did in a Birmingham bar the other week. Talking of which, Warner looked like some sort of throwback with his shocking moustache when he came on as twelfth man. I know the Aussies have never been at the cutting edge of fashion, but both he and the bespectacled Chris Rogers looked like players from the 1930's!
Cook and KP both ground out fifties, and Ian Bell played the best knock I have ever seen him play. Bell silenced his critics, me included, who said that he never produced when it mattered. His hundred was a fantastic, disciplined innings, cutting late when he needed to and playing with soft hands on a slow pitch. As I watched it in a Cardiff Walkabout next to some rather attractive young Antipodean ladies, I was man enough to eat some humble pie, although would have preferred the fur pie of the Sheila's next to us! Broad stayed with him, but produced the most controversial moment of the game.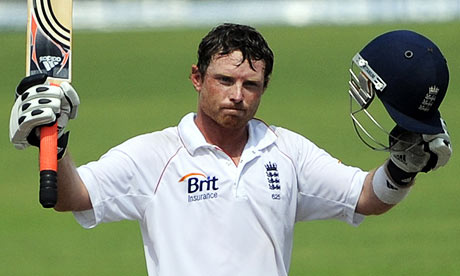 The Sherminator...his best knock for England
Batting well at the time, he has hit the cover off of the ball to Brad Haddin, who then palmed one to slip and stood there. Christopher Reeve, Stephen Hawking and Heather Mills have all walked with more fluency than Broad did on his home ground, and how Aleem Dar didn't give it, I don't know? The language that emitted from the Australian mouths was hardly Shakespearean! My fellow Stumper Liam, was given a three week ban the other week for doing the same which went against the Spirit of Cricket. I am of the opinion that you are entitled to stay there but next time Broad gets a rough one, my advice is to depart the crease and say nothing old son!
So the Aussies needed 311 for an unlikely victory. Despite the best efforts of James Anderson, the best bowler in world cricket right now, their tenth wicket were unmovable and slowly but surely they looked like they were going to win. When Steven Finn dropped a catch, I thought that we has been shafted by the Aussies a la Paula Yates. Enter DRS, and Brad Haddin had feathered the faintest of catches through to Matt Prior. The tension was immense as we watched it on the phone of a very kind gentleman behind the old pavilion, in the car park at Taunton, where we were signing books yesterday. You'd have thought Haddin would have walked wouldn't you?!?!
I was so relieved to see a Hot Spot that I would have gone to any swimming gala that Strike it Lucky host Michael Barrymore had organised, and Taunton erupted. England had won by 14 runs and Anderson had picked up ten in the match.
Let's hope England's ten wicket hero isn't about to dive into Barrymore's pool!
An absolutely outstanding game of cricket and both sides should be applauded. The Aussies have taken a load of stick but pushed England all the way. Rogers at the top of the order gives the stability they need, and should Watto go on and 'go big' instead of throwing it away after a decent start, then they will build a big platform. Haddin gives them experience, and their bowlers took twenty wickets. As mentioned earlier, Starc impressed. Clarke needs to get his head around the review system as well. England utilised it better than the Aussies.
England remain unchanged for Lord's. Finn is attracting the critics but you have to persevere with him, especially on his home ground.
Whatever happens, this was a classic Test and in a summer of sport that makes you proud to be British, there will be some names of cricketers to add to those of Andy Murray, Justin Rose and the British Lions.
The show rolls on to St. John's Wood.