We spoke recently with John Barclay, the ex Sussex batsman, captain and England Tour Manager in the 90's. A lovely chap, he was named in our Poshest Named XI recently for having the name Troutbeck, and was feted as one of the finest captains in county cricket back in the 1980's. The Old Etonian and ex President of the MCC took time out of his hectic schedule whilst commentating on Test Match Sofa to have a chat with us, and waxed lyrical about smuggling champagne, Imran Khan and his cunning tactics to stop Viv Richards and Ian Botham scoring runs!
Barclay in his Sussex days

TMS: John, as a man who has achieved much in the game, regularly scoring over a thousand runs in a season, captain of Sussex and being an ex President of the MCC, it must be a massive privilege to be interviewed by The Middle Stump?
JB: Ha! I wondered where you were going with that. It's a marvellous thrill. I'm very honoured.
TMS: We recently put you in our Poshest Named XI for having the name Troutbeck. Where does that name come from?
JB: It was my mother's maiden name, Claire Troutbeck. I believe it derives from a village called Troutbeck up in Cumbria, in the Lake District.
TMS: What's this we have heard about you smuggling champagne?
JB: Where have you found that out from? I'm impressed. It was the first Test in New Zealand in 1997 when Athers was skipper. We only needed two wickets at the start of play and were on the verge of winning, so I got some champagne and put it in the fridge for our impending victory. Unfortunately, Danny "The Duck" Morrison, one of the worst number elevens ever held us up and the game finished in a draw. I then had to try and smuggle the champagne out of the dressing room and put it in the boot of my car, without the players seeing it!
Danny the Duck...ruining someone else's champagne!

TMS: You were England Manager on quite a few tours weren't you?
JB: Yes I have managed tours at under 19 level, then A tours to India and Bangladesh. I was assistant to Illy in South Africa, India and Pakistan then tour manager to Zimababwe and New Zealand.
TMS: Any scrapes or escapades on those tours?
JB: Probably, not that I can remember off hand. There was a lot more involvement on an A tour and the Under 19 tour was much more relaxed than a full tour.
TMS: When you were skipper of Sussex, I understand that you had a special plan for dealing with the hard hitting of Viv Richards and Ian Botham?
JB: Slightly apocryphal but yes a good story I tell on the after dinner circuit, although it is a combination of a couple of stories. Somerset had Viv coming in at three and Both at five, so we wanted to keep the openers in. Unfortunately it didn't come off because someone ended up getting them out!
TMS: What was it like facing the likes of Imran and John Snow in the nets?
JB: Both great bowlers, fantastic.They really were tip top, first rate exponents of their trade. Snow used the seam more, whereas Imran used to swing it both ways at pace, which is how he got all of those Test wickets. Snow was more menacing and hostile, and Imran was a very fine all rounder. Both had pedigree though, you know proper Derby horses like the Queen's horse, Estimate. Neither of them would be running in the 2.30 at Plumpton if you get my drift?
Imran...a thoroughbred
TMS: Who was the quickest that you faced?
JB: Andy Roberts when he was at Hampshire I would say. Holding and Marshall were also up there. You can't say with pace, when it is over a certain level it is all bloody fast but I would say Andy Roberts just shades it.
TMS: Best sledge received?
JB: There was so little of it in the 70's and 80's to be honest, just good natured banter. The concept of sledging arrived later, and there was more fun between players back then. There really wasn't much unpleasantness or nastiness to be honest.
TMS: Best food on the circuit?
JB: Lord's. Nancy was in the kitchen back then so the more experienced players would get out just before lunch!
TMS: Who had the worst strop when they were out?
JB: Couldn't say really. I wasn't entirely placid. That moment when you get out is like a period of mourning that you have to recover from, but no there were no bats flying around at Sussex.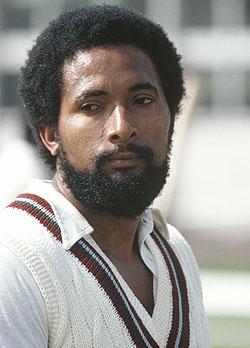 Anderson Roberts....rapid
TMS: Were you taught anything about sun protection in your career?
JB: Not really, it is more of a modern thing. We used sun cream on a hot day and there was a club doctor. Now you can't even get on a train on a hot day, without someone announcing that you should take a bottle of water with you!
TMS: Have you heard of the charity Factor 50 and the work they do educating young cricketers against over exposure to sunshine?
JB: Sadly, no.
TMS: Who are the best youngsters coming through in the country?
JB: Lots that I really rate. Yorkshire are a strong haven for young players and have a great production line coming through with the likes of Root and Bairstow.
Stunning Arundel
TMS: What are the plans for the future?
JB: Oh I'll just tick along. I do a lot of work with the young and the Arundel Castle Cricket Foundation is a project very close to my heart.
TMS: John, you've been a superstar and thank you very much for your time?
JB: A pleasure, and good luck with the site!
And with that, we left John to watch England stuff the Aussies yet again!