"Oh Manchester, so much to answer for," lamented Morrissey back in the 80's and the third Test from Old Trafford threw loads of questions and moot points out amongst the twitterati. Slow over rates, bad light, are England a good side or are certain things holding them back from being a great one, Michael Clarke's Nureyev like footwork against the spinners, pantomime villain Davey (as Michael Clarke calls him) Warner, were all discussed at length within 140 characters over the weekend, as this Test ended up in a draw.
Davey...is it wrong to start to like him?
Australia brought in just the three changes for this Test match with Starc returning, Lyon replacing Agar and our mate Davey. They are about to get their third Prime Minister in six months in September, and it looks like those Down Under change their politicians as much as they change their opening batsmen, or spin attack. Remember Jason Krejza anyone?
After winning the toss and electing to bat, they showed a bit of heart. We'd described their batting previously in the series, "as yellow as Stevie Wonder's bathroom floor", but at Old Trafford Chris Rogers was a flinty, nuggety old character who didn't give it away easily. England's seamers toiled, and Jimmy returning to his home ground failed to pick up a wicket. Clarke was just relentless. Against spin he is absolute class, and his quick footwork is the key to a great batsman. His 187 was a fine knock. Even Steve Smith chipped in with a few. Actually most of them did, apart from Davey.
Rogers...tough
Warner, was booed all the way to the wicket, and then all the way back again. He seems to revel in his status as the bad boy, but in truth the English have always typecast an Aussie as the villain. From Merv Hughes to Shane Warne to Jeff Thomson, we have always loved to hate the Aussies. However, there is a respect there and in a way, I am coming to quite like Warner. He is interesting for the game, and stands out as a character in times when the monosyllabic interviews of media trained young cricketers give nothing away. I do feel guilty about it though, actually liking the Australian we are all supposed to hate and I feel the same sense of shame as a teenage boy who masturbates over Dawn French! More angst than 'wangst'. Back to Davey and the Manchester crowd, when they were not too busy making the longest 'beer snakes' ever seen at a cricket match, let him know what they thought of him. Even the Barmy Army bugler played the theme from the film, Rocky. Surely, normally Lancastrians like people who are known to 'chin' Yorkshiremen?
Beer Snakes at Old Trafford
Davey's review in the first knock was quite possibly the worst review in an Australian summer of wasted reviews. Warner to his credit, laughed it all off. Even after "hooking to Joe Root" in the second dig, he faced up to the press with a quality interview.
Clarke had to chase the game having lost the first couple in the series and declared maybe slightly early with 527-7. All of the England frontline bowlers went for over a hundred, although at least Swanny picked up his five wickets for his one hundred and sixty runs conceded.
In response Cook got a sixty that wasn't quite in the league of Chris Tavare here thirty two years earlier when his 68 and 71 took twelve hours out of the game, but it still had Fred Boycott rubbing his hands together over t'other side of the Pennines. Root took forty balls to score one. Pietersen meanwhile scored a very good hundred. You'd still want KP in your side, no matter what you think of him as a bloke or on a personal level. Bell chipped in, and England were finally bowled out for 368 on the fourth morning, having saved the follow on. Lyon looked more threatening than Agar, and Siddle picked up another four. All tour he has bowled in far more of an aesthetic fashion than his facial features!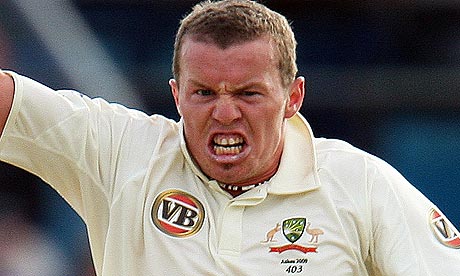 Siddle...handsome?
The Aussies were looking to score quickly, and England were looking to slow the over rate down, whilst praying for rain. Maybe Swanny should have done his sprinkler dance? It was hardly 'a la' West Indies in the late seventies with Mikey off of his long run, but fairly obvious what England were doing, much to the chagrin of Jarrod Kimber on Twitter. The Aussies didn't like it, but that was only the hors d'ouevre of what was about to be served up with the light controversy.
Jimmy had picked up his first wickets of the match, but Clarke wanted to carry on. He had a point, at the floodlit Old Trafford. When a Sunday crowd is in, you need to play cricket but with the new ICC regulations, umpires Erasmus (who has had a dodgy series) and Hill took the players off saying the players weren't safe. The Aussies were fuming. However, tweet of the day came from ex England bat Mark Butcher who wrote, "Bad light has always interrupted cricket matches, umpires have always been soft on time wasting, and the team playing catch up has always whinged". Very true.
This Test also showed why England are a decent side but not a great one. George Dobell, senior correspondent at ESPN Cricinfo, wrote a great piece regarding this over the weekend which I would recommend reading. Great sides would have gone for the Aussie throat in this game and been a bit more positive in their outlook. England were too happy with the draw. The bowlers are starting to flag more regularly in recent series when faced with a flat one, which is always going to happen with four bowlers. I'd like to see Prior moved up to six in the order, and play other bowlers with the Ashes now safely retained. Woakes or Stokes, that is the question? Is Bresnan going to run through a side? Is the conservative captaincy of Cook holding England back? Do we need a quickie in the mould of Finn, Tremlett or Rankin to rough sides up? Onions for the Durham test? Questions abound, and Swann and Anderson need managing carefully before the return Down Under.
Jimmy...will he burn out with England's four bowler policy?
Back to OT, and Clarke declared for the second time in the match leaving England an uncomfortable last day, albeit the Australian hopes were as thin as a thread of the famous cotton that this city's industry was built upon. Just when you want it to rain in Manchester it bloody well doesn't, and Cook was trapped first thing lbw, like a fly in the spider web bowling of Ryan Harris, then KP and Trott soon followed with England looking towards the skies for rain. The Mancunian 'Dale Steyn', was never far away though and soon it pissed down with the game petering out into a draw. The Ashes retained by an English side for the first time since the 1920's after just three Tests. The Aussies however did play the better cricket during the match, and are improving, even if one wag on social media tweeted, "Rain saves Aussies from a 5-0 whitewash". They will take heart from this performance, whilst it was England's poorest for a while bar KP's hundred.
There are still plenty of questions still to be answered on both sides, however the Ashes are England's and the Australian campaign on Twitter to #returntheurn continues until at least December.