"Let there be light", said some dude in the Bible once, but the cricketing Gods weren't smiling in SE11 as the 5th Ashes Test finished with boos from those who had had too much booze, whistles from the suits and everyone moaning as the players left the field for bad light. On the ground where the most theatrical of umpires, a certain William Bowden from New Zealand lifted the bails back in 2005 to return the urn after sixteen years, the umpires ended the game in a series dominated by those in the white coats as they had to follow the law written by those at the ICC, who no doubt need to visit the medical men in the white coats. Cricket, most definitely was not the winner.
England win the Ashes 3-0

The pre match hype was Aussie coach Darren Lehmann giving an interview to a radio station back home about making Stuart Broad cry when he gets Down Under after cheating at Trent Bridge. Stephen Hawking, Heather Mills and Douglas Bader have all walked with as much fluency as certain members of the same side that Boof played with, and Aussie radio DJ's make Jonathan Ross and Russell Brand look tame. Let's put it down to him being taken out of context.
It all started in the South London sun last Wednesday. The Aussies brought in James Faulkner whilst England handed a 'dayboo' to Simon Kerrigan and Chris Woakes. Kerrigan had a complete Weston; a super 'mare. Not a million miles away from the yips, a smorgasbord of long hops and full tosses were served up and Shane Watson and Steve Smith helped themselves to hundreds. It was painful to watch. Woakes was tidy enough on a decent track but the jury is out on whether he has the minerals to be a Test bowler. Watto smashed it, and Smith batted pretty well. One shot off the back foot through point was reminiscent of Gordon Greenidge, although his 'boat' is similar to the Cutty Sark at Greenwich for those of you familiar with South London. Fair play though, he batted well.
Smith...maiden ton
England were struggling, ironically having played the fifth bowler and even Trott had to have a bowl. He looked a bit like 'The Analyst', Simon Hughes running in for Middlesex all those years ago and was about the same pace. Anderson picked up four but looked tired, and Swann and Broad bowled as well as they have all series. Dare I say it, but England looked like they were missing Bresnan as the Aussies racked up 492.
When England batted they could have sent Colin Milburn's glass eye to sleep. Praying for rain, just like at Old Trafford it was poor entertainment for the paying public, some of whom have shelled out a hundred quid for the privilege. I know Test cricket back in the 1950's used to be like this, but they bowled twenty overs in an hour back then. This England side may well be successful but won't win many friends amongst the neutrals. Think Steve Davis playing snooker in the 80's, think George Graham's Arsenal grinding out a 1-0 win or Don Revie's Leeds team. Successful yes, winners yes, good to watch...hmmm. James Faulkner, twisting the knife and forkner, even tweeted that the crowd deserved their money back.
Clarke and KP discuss their popularity

Clarke told Pietersen that, "No one likes you" and KP responded with, "No one likes you either and you're the captain"! Watto got involved as well. It is a shame the Aussies didn't show this much fight the last time they were in London at Lord's, when the series was still alive. Talk the talk, but when it matters you have to walk the walk.
Saturday was a wash out and even a local football match a few miles up the road at The Valley got abandoned. The Aussies tried to goad England via social media. It was more like anti social media. Whingeing Poms? Hmmmm. Faulkner, Lehmann and even Shane Warne have all used the media to have a pop at England, and when you are 3-0 down in a series sometimes it is better to say nothing. Talking of Warne, his sycophantic eulogising of Clarke's captaincy whilst commentating was at odds with a man who has just lost 4-0 and 3-0 in consecutive series.
On the Sunday, Swanny had a dip and England were bowled out for 377. This was the fourth occasion in this series that England had lost on a first innings total. It's been a seriously strange one. The Aussies with nothing to lose had a quick dip and set England just over 220 at five and a bit an over. Well played Michael Clarke for making a game of it.
Jonathan Trott
Trott and KP took up the mantle and it was game on. Then with four overs left and England looking like favourites, having been cajoled by Clarke, the umpires took the sides off. On one hand Clarke deserves praise for making a game of it, but time wasting and the like when it looks like you have 'mugged it' did him no favours. The ICC rulebook did the rest and the players went off the pitch with the floodlights on. You can't blame the umpires who were just going by the rulebook, although the crowd were furious with Aleem Dar. Back in the 60's in this part of the world, the Richardson gang maimed people for less!
It was akin to chatting up a good looking lady in a pub, with her whispering filthy talk in your ear about what she wants to do with you, before she leaves the pub with another gentleman. Anti climaxes don't get much bigger than this.
So with the game drawn, England won the Ashes 3-0, and the Aussies failed to win a Test for the first time since those Packer days of 77. The series was a lot closer than that to be honest though, and England haven't played that well. The decks will be different in Australia, although that will suit our batting. The slow, dry tracks deliberately used for this summer has often produced attritional cricket and although this series has had some decent moments, it was hardly 2005. The Aussie bowling has been fairly decent, but their batting at times has been shocking. England with Anderson, Broad and Swann picking up seventy odd wickets in the series have been deserved winners. Questions still abound about the England batting too, although Pietersen and Bell have shown their class. Harris was rightly Man of the Series for them, and Bell picked up the award for England.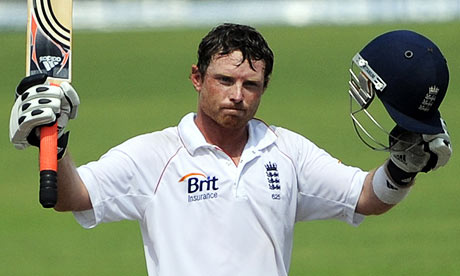 Man of the Series
On to Brisbane in November, and I'm sure the verbals will fly just as much off the pitch as they do for every Ashes series on the pitch.
I can't bloody well wait...