England have lost by 381 runs in an absolute thumping in Brisbane. Their recent track record of poor starts in series away from home continued as Mitchell Johnson tore them apart in a display of outstanding fast bowling. If you thought last year in India was Ahmedabad, this was carnage at the Gabbatoir. England have some thinking to do, and fast, amidst a fairly tasteless media campaign from the Aussies. Fair play to Australia, who have won their first Test match since January, and completely deserved their victory.
Johnson...a fine game

It started well. On the first morning England had reduced the hosts to 132-6, although the originality of Australian wit was at the forefront of chants such as "Broad is a wanker". Regular readers of this site will know that the maturity of theses pages isn't of the highest class, but to have a campaign where the Brisbane Courier refused to name Broad in person, was quite frankly pathetic. Another rag referred to him as Stuart Fraud. Many Australians that we know were highly embarrassed by the papers actions, and the journalists of the aptly named Queensland couldn't have acted more like bitchy, old queens had Dale Winton and Elton John been there. It's not as if Broad exactly punched an opposition player in a nightclub now, is it?
The Nottinghamshire paceman merely conducted the orchestra that were suggesting Stuart was an aficionado of the art of masturbation, and let his performance on the pitch speak volumes as he picked up six wickets. Brad Haddin batted like a man of vast experience, working his way to ninety odd with a mixture of cautious defence and big shots. Mitchell Johnson also batted well and England didn't take their opportunity as the Aussies ended up just shy of 300. It was also an innings where Swann was targeted as they tried to bash him out of the attack.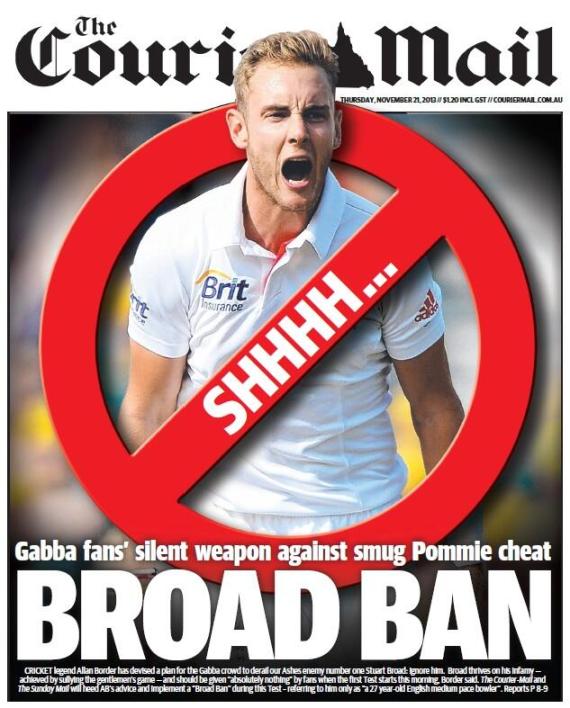 Broad...shoved taunts back down Aussie throats
When England batted, to get skittled for 136 on a decent track like that, was quite frankly piss poor. Johnson took four wickets as he regularly topped the 90mph mark. Trott and Prior have some serious technical flaws at present, although the loose shots from Root, Bell and Pietersen, in his hundredth Test, were also indicative of the lack of confidence in this side at present. Mr Boycott, Geoffrey on Test Match Special and not our mate Fred on Twitter, was fuming that Lyon wasn't targeted in the same way that Swanny was, as he dissected techniques of numerous batsmen. Despite the Aussie off spinners lack of turn, he outbowled his English counterpart in this match.
Having just about saved the follow on, David Warner and Michael Clarke set about grinding England into the dust. Excellent hundreds from them both, along with more runs from Haddin and Johnson, flogging a flagging attack that hadn't put their feet up for long when we had batted, meant that the Baggy Greens had a lead of over 500.
Carberry went early, unluckily to be fair, and then Trott was given a serious going over by Johnson. Trott needs to sort out this weakness against the short ball, and sharpish as it could well be career defining. When we questioned on social media whether it was the worst knock ever by an England number three, one wag came back and told us it was the worst pair of knocks by an England number three! I have faith in Trott though. You don't score the amount of runs that he has without some modicum of class, and I am sure he will sort it out.
Warner then marched into a press conference implying Trott looked weak, and he could well find himself having another break from Test cricket due to a breach of the ICC Code of Conduct. If having the letters W, A, R, N and E in your name engage in the mouth moving before the brain engages then Shane and David are fine exponents of the art of talking bollocks. Warner, and we like him for the way he bounced back last year, wouldn't have played a Test match if he had been born ten years previously. Now he suddenly thinks he is Don Bradman, although I think it is part of a deliberate campaign to intimidate England whilst over there.
Warner...another holiday on the cards?
Despite a battling knock from Captain Cook, this game was all over bar the shouting, and despite the bravery from George Bailey telling a number eleven he was going to get his arm broken when his side are nearly four hundred runs ahead, along with his skipper Clarke who is as popular in the England dressing room as he is in his own one, akin to a pork pie at a barmitzvah, the Aussies won handsomely leaving England a lot to think about.
England are not playing great cricket to be honest, although they bounced back with a vengeance in India last year, so do not write them off. However, they took their foot off the Australian throat in mid series over here last summer and have allowed the wallaby to spring back up when they were dead and buried. Great sides such as the ones led by Steve Waugh would never have done that. Cook isn't getting the big scores he used to, Trott looks all over the shop and Prior is a walking wicket. Over two innings, we lost ten wickets for eighteen runs. That is not on.
I'm sure the Aussies will bring in pitches with pace and carry now, they have seen what Johnson can do to our line up. Thank god we are not playing in Perth next. For them Warner, Clarke, Haddin, Harris and Johnson had fine games, whilst for us only Cook and Broad were up to scratch. I would give Finn a go in Adelaide, although with our poor record at the WACA, we need to win in South Australia, or we could easily end up 2-0 down with two to play.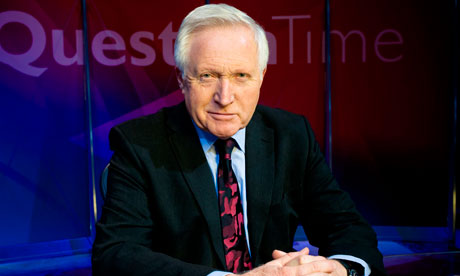 For English batting, it is Question Time!
Despite what the press, Shane Warne, the Brisbane Courier, Michael Clarke, David Warner or even Geoffrey Boycott say, England are not suddenly a bad team, and the Aussies are not world beaters. The Aussies fully deserved this one however, and if Mitchell Johnson can continue in this vein, they will win the series. In the past though, he has been as consistent as my ex wife with PMT.
For England, and some of their batsmen I'm getting Dimbleby on a Qantas flight over to Adelaide. It's Question Time.
No one ever said this was going to be easy.