Waking up in December in Britain at 7.30am, when the light is still dark in the northern hemisphere, to discover England have been beaten by 218 runs in the second Test at Adelaide is a sombre experience. Morrissey is no doubt, in a better mood than you or I today and heaven knows all English cricket fans are miserable now. The match finished in a similar gloom to my current mood, although I think all of us knew what the funereal outcome would be after the first day. Having been spanked in Brisbane and in Adelaide, England need to have a serious look at themselves and much has been made of the old guard of this successful side nearing the autumn (or for some the winter) of their careers. We apologise for our downbeat mood as we dissect the second Test match.
Mitchell Johnson...7-40

Australia have been by far the better side may I add before I come across to our Antipodean readership as a Whingeing Pom. England have been the authors of their own misfortune and nothing has gone right for Alastair Cook or his team on this tour. Clarke won a crucial toss on a track which was as flat as the clumsy, borderline racist photo cum alleged 'joke' tweeted out by Cricket Australia at the start of the match. If whoever has been fired, I'm sure there will be a job for that individual should they ever remake seventies sitcoms like Love Thy Neighbour, Mind Your Language or Till Death Us Do Part.
The Adelaide Oval is one of the more beautiful grounds in Test cricket. With the Cathedral in the backdrop, the famous scoreboard and the walk by the river, it is considered many people's favourite. Therefore having been modernised, it was disappointing to see that three quarters of the famous Oval now looks like any other Australian ground. Huge overbearing stands, with cranes and bulldozers still perched on them now (don't they have health and safety in Australia?) dominate and I have a feeling that Aussie sports venues will be looked upon in years to come as sixties architecture is now in many British towns. The scoreboard remains, but it felt like a different Adelaide test.
The Adelaide Oval in days gone by
With Monty in for Tremlett and Stokes in for Trott, the Aussies batted and Clarke was awesome. Rumours abound around the cricketing world as to what sort of bloke Clarke is behind closed doors, but you can't take away the fact that he is a brilliant batsman. His feet against spin are as quick as Nuryev's apart from one slice of fortune when chipping Monty over cover, his 148 was the cornerstone of the Australian knock. Haddin also helped himself a ton, having been dropped by a sitter from Carberry. Do you make your own luck or are Australia getting the rub of the green? Monty was found wanting in the field but you expect that from him, and he bowled tidily enough. The bowling is the least of English worries. Stokes thought Haddin had nicked off for his first Test wicket but alas, it was a no ball and the 'chirp' started. Clarke declared on 570-9.
When England batted they were blown away by Mitchell Johnson. Carberry with a 60 showed some cojones as did Bell with 72 not out but the rest were done for sheer pace. Root's dismissal was naive, Pietersen's even more so for a man with a hundred plus caps, caught at one of two midwickets in a trap set for him. Whilst Johnson may be likened by our readership, with his moustache, to the sort of gentleman who frequents leather fetish clubs in the Earl's Court area, Aussie off spinner Lyon looks like the sort of seedy chap who runs a back street second hand car dealership in the East End. I'm sure he is a nice guy but he has something of the spiv about him. The way he mugged Joe Root had the air of a man who has just turned the mileometer back 30,000 miles! Boycott on Test Match Special said Joe Root had the brains of a 'chocolate mouse'.
Boycs...livid
Johnson finished with 7-40 and England were bowled out for 172. Even hardened English fans couldn't watch and instead their attention turned towards the World Cup draw in Rio de Janeiro. If their draw is anything to go by, this will be the worst Brazilian event since David Blunkett trimmed his girlfriend's bikini line.
The cat Clarke opted for a bit of batting practice as he toyed with the English mouse. Having declared on 132-3 courtesy of a fine eighty from Warner, England batted again and the twitterati, me, you and most certainly Geoff Boycott on Test Match Special, were fuming.
When you are set 530 to win, the chances are it is not going to happen. You know that. I know that, Geoffrey knows that. So to see your skipper caught hooking to fine leg isn't the ideal start, especially when he is followed ten minutes later by his fellow opener. Most of the English batting went missing akin to the way Lyon would if facing an inspection from Trading Standards but Joe Root at least showed some balls grinding it out, smiling his way through the jibes from Johnson. KP also at least tried to tough it out too resisting his famous flamingo as the two vultures at mid wicket waited. Bell meanwhile toed a Steve Smith full toss to guess who? Mitch again. Ugly shot, caught ugly, bowled ugly.
Lyon...nice little runner, one lady owner blah blah
There were plenty of verbals and Johnson and Stokes collided mid wicket with Johnson in a bit of a shoulder barge. Broad got tucked in to Mitchell too and it continued all the way back to the pavilion on the fourth day. Apart from a welcome return to form for Matt Prior, in general this was another shocker. Even the rain couldn't save us. England were eventually turned over for 312 and Australia went 2-0 up in the series.
So where is it going wrong? Well where ISN'T it going wrong is more to the point. Let's look at the coaching team first. Flower is more than likely to go at the end of this series due to family commitments. Gooch has been likened to AVB by our columnist Thorpster, with things never being his fault and the likes of promising quicks like Steven Finn and Co. going backwards since reaching the international stage must be down to the likes of David Saker.
The bowling is average, the batting is clueless at times and the catching is endemic of a side in a muddled mindset. Too long in the field has made them make mistakes and the Aussies are not being as profligate. As Leg Side Lizzy pointed out on Twitter this morning, England have had twenty one dismissals caught on the leg side in this series. That is unacceptable.
Many are saying the likes of Swann, Anderson and Pietersen are past it. I don't think so personally but we desperately need big runs from the top order and Cook has to produce soon. This tour is showing what a fine leader and opener we had last time in Australia in Andrew Strauss. Australia however are playing out of their skin. Take nothing away from them and Johnson and Haddin have gone from being on the edge of the team to world beaters. Clarke has always been class and is showing it, and Siddle, Harris and Co. are showing their experience. They fully deserve their lead and the convincing manner in which they have dismantled England. They have been better in every department apart from Public Relations and their media.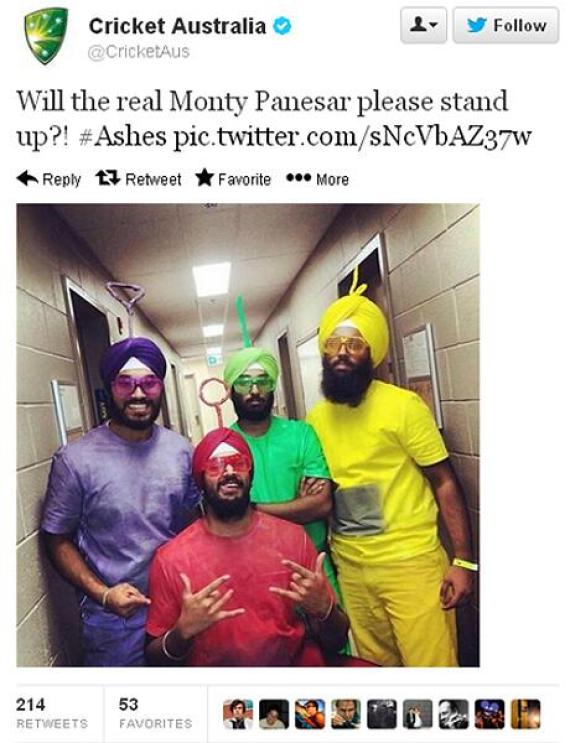 The tweet from Cricket Australia at the start of the match
I can't see it getting any better in Perth, a ground where we have a shite record. Johnson is just as likely to blast us away on a quick track there too. My mood has changed in a couple of weeks from optimism, to cautious optimism, to anger, and now just down right misery. Many English people are predicting we will get done 5-0, but this side have surprised us before. Or are they past it? It's not the fume filled car time just yet, but depressing isn't it?
England need to wake up fast, as they have completely ruined my weekend. At this rate they are about to ruin my Christmas too.