John Rutledge aka Eggsy from the band Goldie Lookin Chain is a talented man. Not only a leading MC in the Newport based rap group, he writes comedy, works for MTV and likes his cricket. Having caused controversy a few years ago when GLC played before a Wales versus England football game and dedicating their hit, Your Missus is a Nutter to Victoria Beckham, the band have just finished a UK tour to celebrate their tenth year together as well as having a new album out called The Kings of Carleon. We caught up with Eggsy and discussed Monty Panesar's toilet habits, what doing the Gladstone Small means to all kids in South Wales, Viv Richards haemmorhoids and much more in this interview. Read on for some comedy gold...
Goldie Lookin Chain

TMS: As a man from Wales most successful rap group, played Reading festival, V Fest, sold out tours throughout the UK and internationally, causing controversy with dedicating your Missus is a Nutter to Victoria Beckham at the Wales v England game, having a number 3 chart hit with Guns Don't Kill People, Rappers Do and one of the funniest men along with Rob Brydon to come out of South Wales, it must be huge, a massive privilege to be interviewed by the Middle Stump?
E: It is. It's lovely. The world of getting high to music has transcended to sport. I'm honoured.
TMS: What are you up to these days?
E: We have just finished our tenth anniversary tour, had an album out called the Kings of Carleon and I am also doing continuity announcements on MTV from 7pm till midnight. I'm enjoying it actually, although desperately trying not to say anything libellous. Also writing a comedy series called Jeff and Jeff about two TV executives who have been to prison for murder, who are now out and trying to get back into the television world. I do a bit of acting, so if you throw enough shit at a wall, some will stick somewhere.
TMS: You used to play a bit of cricket in your younger days didn't you?
E: Yeah played a lot in my teenage years, when Ian Botham was advertising Shredded Wheat and got into weed. My dad was the ultimate cricket dad. He used to buy a Wisden for every year from when I was born with the object of passing them down to me one day. He had all these Wisdens lined up on a bookshelf and my mates would come round and ask me "Why does your dad have all those copies of Yellow Pages lined up?"
Yellow Pages?
TMS: Batsmen or a bowler?
E: I used to be a spin bowler, bowl a few leg spinners. I then swapped cricket for hip hop and lying face down comatose in darkened rooms. I played for Newport CC up until Under 15 level. I am the proud holder of a couple of double wicket competition winners medals at Under 11 and 12 level and I spent a lot of time hanging around at cricket grounds in the Valleys, freezing cold.
TMS: Any memories of the game?
E: We played one team and rumour went around that this kid was good, that he played for Glamorgan. He wore a helmet which no one did in those days, so we thought he was going to be brilliant. We got him out first ball and it turned out he was only wearing it for protection as he had recently had an eye operation.
Another kid we played was a bully. He was about 17 or 18 playing in an under 15 game; he had a beard and everything. He was really sledging everyone, bullying the younger kids from silly mid on until I got a full toss and smashed it into his nuts. He passed out!
TMS: You boys are all big Newport County fans too. Any of the other GLC lads into their cricket?
E: Mike Balls. Big sports fan. He is Liverpool nuts and will watch Test matches solidly for about three and a half months or however long they take. He loves a statistic too. A complete Statto.
TMS: Any other celebrities into their cricket that you know?
E: The only ones I can think of was from childhood and being taken by my cricket mad dad to Arundel to a Lavinia, Duchess of Norfolk charity day. I got Elaine Paige's autograph. I also managed to grab the signature of Willie Rushton and Gavin Campbell from That's Life. Proper celebrities hey?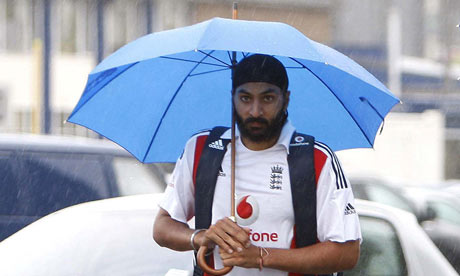 Rhys from GLC prepared should the bouncers wish to return the favour
TMS: We think Rhys from GLC may have a passing resemblance to KP. Views?
E: Actually when he has his beard he has been likened to Monty Panesar, although I am not sure if he has ever urinated off of a balcony onto anyone? It's an honour that anyone compares us from GLC to sportsmen as we are the least sporty band.
TMS: If Welsh singers were cricket related we think Charlotte Church could be Lord's as a number of different men have spent time at the crease there. Tom Jones could be the elder statesman, like a Boycott, although we aren't sure if anyone has ever thrown their knickers at Geoffrey. Any others?
E: Graham the Bear from our band would be like Viv Richards. They have both suffered from haemmorhoids. Graham has had two cameras up there in the last year!
TMS: Favourite players growing up as a kid? Phil Newport?
E: Great name. No I liked Graeme Hick and had a pair of his 405 cricket shoes. They weren't a boot, and weren't a trainer but they sort of had these pimpled soles. They were named after his famous 405 score. I also liked Gladstone Small. On cold grounds in the Valleys, you'd see lots of kids standing there miserably with their shoulders hunched up pretending to be like Gladstone Small. We used to call it 'doing the Gladstone'.
Vivi...a sufferer of Emma Freuds
TMS: Should Newport be given Test status?
E: Yeah I think so. That would be amazing, as I have spent a lot of time at that ground. There are lots of highlights for the fans to see. We have one decent pub and one decent restaurant although that is outside in Usk. We did have a cinema but even that has gone. So yes, it would be great for Newport to get Test status.
TMS: Are you a Glamorgan fan?
E: My dad is a huge fan and keeps asking me to go. Actually one of my mates is there at the SWALEC or Sophia Gardens tonight on what is called an Ultimate Works Do. God knows what sort of damage will be done to the pitch.
TMS: Ever had too much on a day at the cricket?
E: I watched England once in the late eighties and Gladstone Small himself was playing. I found a lighter and a packet of Rizla and I think that is what led me to become a member of the GLC. Now I am doing this interview it is like the Lion King, the Circle of Life.
Eggsy with his tipple of choice
TMS: Being on tour with all the boys must be like a cricket tour. Is the behaviour just as bad?
E: Totally. Except you just get the one hour of exercise with your gig at night. The hours are different with you waking up at 1pm or 2pm, on stage say at 9pm then you carry on until around 8am. It's a mess. The tour bus is like a dressing room though. The smell of sweat and Lynx Deodorant and people flicking towels at each other. Everyone has a kit bag too!
TMS: You guys have a new album out too don't you, the Kings of Carleon?
E: Yeah the Kings of Carleon has gone down really well and downloadable on itunes. We have the festival season in the summer and another record out.
TMS: How do you boys get on with the Welsh FA now after them apologising when you dedicated Your Missus is a Nutter to Victoria Beckham?
E: The FA wrote an e mail saying we shamed them and all that but to be fair, David Beckham didn't care, and he actually laughed. We were offered a hundred quid by a journalist to do it, so we did. They are just a bunch of old blokes in suits.
TMS: Are we ever going to see GLC doing the pre match entertainment at Lord's?
E: I'd love to do it. I'd love to dedicate Your Missus to Mitchell Johnson and Merv Hughes. Oh and Mitchell Johnson's mother in law.
Oh Merv, your missus is a nutter...
TMS: We do a lot of work with the charity Melanoma UK who educate a lot of people including cricketers of the dangers of being over exposed to sunshine. Ever been sunburnt after a day at cricket?
E: Fortunately in Wales I grew up with just intense rain. I didn't see the sun until 1990. I have seen people burnt snowboarding though and they look stupid. Always get the zinc on. Everyone has to be aware as it can be a real bastard. No one likes skin cancer. It's a twat.
TMS: As an aficionado of flammable leisure wear do you think the England one day kit should be sold exclusively in Matalan?
E: That would be amazing. Get the girls involved and make dresses out of it too. Price it moderately and you have a winner.
TMS: With Shane Warne currently needing to sack the stylist, do you think he could do with a few fashion tips from the lads at GLC?
E: Definitely. Totally. We could get him back looking like an Aussie. We'd repatronise him and get him in a sleeveless t shirt. There is hope for the most plastic man in sport.
TMS: Favourite players of all time?
E: I liked Ian Botham when he was jazzing it up. Panesar is off the ropes and has that rock and roll vibe. Tuffers is up there and likes a relaxing fag, and Richie Benaud because he looks like Yoda out of Star Wars.
Richie Benaud
TMS: Any Christmas message that the boys of GLC would like to convey to the Middle Stump readership?
E: May all your balls be googlies and get smashed. Merry Christmas.
TMS: Eggsy you have been a legend and thank you so much. We must catch up over a KFC and pint in a Wetherspoons soon?
E: Definitely.
And with that we left Eggsy to it, to unleash his brand of humour on to someone else. What a top bloke!
If you want to download the Kings of Carleon go to Goldie Lookin Chain's website at
www.youknowsit.co.uk
I can guarantee that it will make you laugh.