I have to admit I am highly embarrassed writing this article. I am deeply ashamed and embarrassed to tell you all that I actually agree with Piers Morgan. This power hungry, egotistical, bum chinned chap who has been known to rub people up the wrong way has been defending his power hungry, egostistical, bum chinned cricketing mate, who has just been dropped for erm, rubbing people up the wrong way. This is my piece of shame. It is the literary equivalent of buying condoms in a chemist, being caught listening to a One Direction CD or getting caught by your mates going on a date with Dawn French. This is where I agree with Piers.
Happy times for Kev and Piers

Piers isn't exactly the most popular bloke on Twitter. His outspoken ways have gained him the prize of being the least popular individual on the social networking scene. A sort of Bellend D'or 2014 winner, although it has to be said he has marginally pipped Jade Dernbach to the title after the Surrey seamer's performances in Australia. Piers is one of those blokes who will never have to worry about identity theft if you get my drift, and most of us think that he has a silent M in his surname. If he is not tweeting about Arsenal FC or gun crime in America then he is putting 'a cap in the ass' of the ECB by trying to get Kevin Pietersen reinstated to the England side. However his #bringbackKP campaign is gathering more momentum and support amongst Englishmen than Scottish independence.
The ECB even put a statement out the other day that contained the following, "

Allegations have been made - some from people outside cricket - which, as well as attacking the rationale of the ECB's decision-making, have questioned - without justification - the integrity of the England team director and some of England's players.

Clearly what happens in the dressing room or team meetings should remain in that environment and not be distributed to people not connected with the team.

This is a core principle of any sports team, and any such action would constitute a breach of trust and team ethics.".
Or as we tweeted, 'the ECB have told Piers to fuck off'. Piers responded to our tweet with 'Oooh scary'.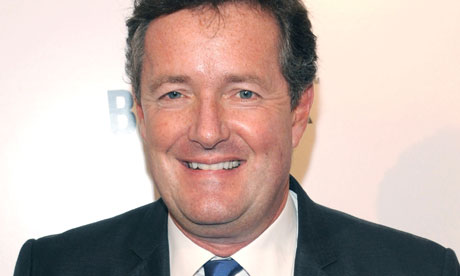 Piers...more chins than a Shanghai phone directory
However despite all the bluff and bravado of the man who loves the mirror; Piers that is, and not Pietersen and no I'm not talking about his ex employer, he has a point. Pietersen is England's best batsman and has 14000 international runs. Most people we have spoken to who have shared a dressing room with him say he is an good bloke, often prepared to go out of his way to help other players with aspects of their game. With Trott absent, and various casualties no doubt going to occur from the shambles Down Under, I would like to see him being the senior man in the team bringing along the young batsmen in the new look England line up. In fact, most of Twitter would.
Likewise the owners of the IPL sides agree with Piers by snapping up KP as the third highest paid player in the auction. Surrey are also extremely happy to have him at the Oval this summer for their T20 campaign. So to say he is not good enough to get in the England side, as the selection panel obviously have, infuriates not only Piers but most of the cricketing cognoscenti. I for one, think England would be better off keeping him for another couple of years or so.
Pietersen is like Mark Thatcher, except instead of going from England to Africa, Kevin did the reverse journey. Initially he was lost in the wilderness before causing political upheaval in his new found country, and his career finished in disgrace before becoming a 'gun to hire' in various foreign fields. Whilst Mark may have got in trouble for dealing arms, Kev will now gain his wealth by not having to shoulder them.
Thatcher
I prefer to compare him with David Gower and his exit from the England set up are similar. 8000 Test runs and about to surpass a certain England batting coach's record, they would both empty bars, where they were the mavericks in their respective sides middle order, and both played with a joie de vivre that made them great entertainers. The clamour to get them both reinstated is of a very similar nature as well and their supporters were loyal and partisan. Frustrating at times? Yes. Brilliant at times? Most definitely. Funnily enough the England captain of 1992 is now the England batting coach, one Graham Gooch. Coincidence?
I'll leave that for you, and no doubt Piers to decide.
Piers isn't everyone's cup of tea, and probably not on Matt Prior's Christmas Card list, but in this instance I think he might be right. He won't get anywhere by doing so, as the chances of KP being reinstated are similar to your average Yank giving up his shooter, or his beloved Arsenal board making numerous big money signings in the transfer window but you have to admire his stance. Yes Piers can be a bell end, yes he can be outspoken but in this instance he does have a point and the ECB haven't told us the full story. KP has been booted for non cricketing reasons, and that is a shame for cricket fans everywhere.
I'm sure we would all prefer to watch him all day in a Test match compiling a hundred for England than watch him slap a quick thirty in a T20 competition to anyone who is prepared to pay him a fee.
I know Piers would.