Shaun "Shaggy" Udal had a fantastic career spanning twenty one years. Representing his beloved Hampshire for much of that, he also had a stint with Middlesex and international call ups arrived in 1994 and then unexpectedly in 2004, where he played an integral part in a win away in India in 2006. One of the real characters of the game, he is heavily involved in the PCA and gives regular opinions on Talksport, in between running a successful clothing business. We caught up recently with the Basingstoke offie, and discussed the merits of Michael Carberry's parsimony, getting pinned by Shoaib Akhtar in his second ball in Test cricket and what it is like to dismiss Sachin Tendulkar in a Test match.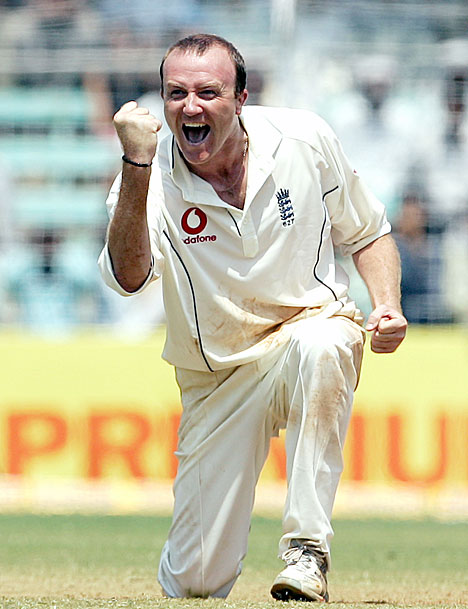 Shaun Udal

TMS: Shaun, as a man who has represented England, been on Ashes tours, taken the wicket of Sachin Tendulkar and probably the biggest legend in Hampshire since Cardigan Connor, it must be a massive privilege for you to be interviewed by The Middle Stump?
SU: It is one of the biggest honours ever bestowed on me.
TMS: What are you up to these days?
SU: I have a clothing/embroidery business based down in Basingstoke. We supply a lot of shirts to not only the corporate world but to sports clubs and other various people. It's going very well.
TMS: Do you miss playing?
SU: Yeah, yeah I do. I miss the buzz and the laughs in the dressing room on a day to day basis. I definitely miss the friendships that I made during my time in the game, but the actual playing not really. My body can't cope. You don't realise what you had, and the advantages of what goes with being a professional sportsman until it has gone I suppose. But yes, definitely miss the laughter.
Mark Nicholas...no stranger to the mirror
TMS: That Hampshire dressing room certainly had some laughter. It had some characters, and it also had some quality hairstyles with the likes of Robin Smith and David Gower. Who apart from Mark Nicholas spent the most time doing their hair?
SU: Haha. Mark certainly enjoyed the mirror. Robin Smith and Cardigan were no strangers to it either and the photocall for press day was often very interesting every April. Chris Benham was another who was fond of it, but you'd have to say Mark was the keenest.
TMS: Who was the quickest you faced?
SU: All of the West Indians in the late eighties or early nineties, they were all around 90mph. For sheer pace I would have to go for Shoaib Akhtar though. The first ball I received in test cricket was timed at 94.6mph from him and I missed it. The next ball from him hit me on the head and I have to admit that I didn't see that one either.
TMS: Best sledge?
SU: Not many to be honest, I never really got involved. There was stuff said but generally not to me apart from the odd rubbish comment from Andy Caddick but then he said that to everyone. Merv Hughes called me an arsewipe once, but I tend to get more chirp in club cricket now than I did in the professional game.
Merv...arsewipe
TMS: Best bowler faced?
SU: Good question. Anyone quick as they could hurt you as well as get you out. Courtney Walsh broke my ribs once and the angle with him was the most difficult aspect of playing him. McGrath was always difficult and Warne was a genius. Playing with him was definitely easier than playing against him. Murali was extremely difficult to pick. I would have to go for Shane Warne though. He just had an aura about him.
TMS: Best batsmen you have bowled at?
SU: A few. Hick was a destroyer of average offies like me, especially at New Road where the straight boundaries aren't that big. I have recollections of him plonking me over long off and long on there on a regular basis.
TMS: Ever thought, I really don't want to bowl at this bloke?
SU: Hick and Tom Moody put on a four hundred run partnership at the old County Ground at Northlands Road just before we left there for the Rose Bowl. I don't think any of us were that keen to bowl that day.
TMS: Worst strop when they were out for a low score?
SU: Nic Pothas. He used to bizarrely chop his kit up. I ran him out once for a duck and was back in the dressing room myself five balls later. I came in to him cutting his gloves up with a pair of scissors.
TMS: Worst dressed?
SU: Will Kendall. That classical public schoolboy look of chinos, boat shoes along with a rugby shirt.
TMS: Tightest at the bar?
SU: Oooh I've played with a few of those. Michael Carberry it has to be said doesn't get his wallet out too often. When I was at Middlesex, Dawid Malan. Awful. Just awful.
Carbs...saving a boundary as well as the pennies
TMS: What is the buzz like to get Sachin out in a Test match?
SU: Unexpected but apart from me carrying on like a two year old for the next ten minutes or so, just amazing to get the wicket of the highest run scorer that the international game has ever seen. It was also great as we won the game, and we were huge underdogs and had been decimated by illness and injuries. It was great to play a part in a win like that abroad in India.
TMS: If spinners were football related then Robert Croft and Dan Petrescu were seperated at birth, whereas we think you have more than a passing resemblance to Pepe Mel, the new manager who has taken over at West Brom. What do you think?
SU: Haha. I have had Alan Shearer before and play up front where I have been known to miss various chances. I'm sure he is flattered to look like me, but I would prefer to look like Shearer than the West Brom manager.
Pepe "Shaun Udal" Mel signals a six
TMS: You must have thought your England chance had gone before being called up?
SU: Yeah I got recalled at 36. It wasn't totally unexpected as someone had had a word in the week with me and I'd had two or three decent years. However we had just played at Cardiff and the side was due to be announced at 11am and I had still heard nothing. I was then getting a bit worries not knowing before finally I got a call from David Graveney at 9.45, saying that Giles was stuggling and I had got the nod. Pakistan was difficult because the wickets were so unresponsive there, but I finally did something when we got to India.
TMS: What were you taught about being exposed to sunshine for long periods earlier in your career?
SU: Not much when we first played. As the years went by it got better, then at Middlesex we linked in with people who screened us for sun damage.
TMS: And the charity Melanoma UK who we have links with, what do you think of their message and work?
SU: It's a killer and it has to be taken seriously. Any coverage of it can only be a good thing.
Northlands Road...scene of Hick and Moody's 400 partnership
TMS: Best and worst grub on the circuit?
SU: Worst was Derby a few years back. We wouldn't even eat the food, we'd just chip in four quid or so each and send the twelfth man down the road for Fish and Chips. Best has to be Lord's.
TMS: Finally, apart from Dimitri Mascarenhas, who are the best three youngsters coming through in England at present?
SU: Ben Stokes, James Vince and Sam Robson.
TMS: Shaun, you've been an absolute pleasure and we definitely owe you a beer or two.
SU: Anytime, thanks.