The domestic season is here. After our winter of discontent, or in the case of some of the England team swap the o with the next vowel alphabetically, I never thought summer would arrive. Winter, like my ex missus, I never thought would leave but spring is forthwith and the domestic season is about to begin. Think long summers evenings, think of downing Pimms, Wimbledon on the telly and not just League Two highlights, think of your PA not having to wear her 80 denier tights, but most importantly, who is going to win Division One of the Liverpool Victoria County Championship this season? Realistically it could be anyone and this year it will be tighter than a gnat's chuff. Sod the world T20, this is England. Here is our tuppence worth...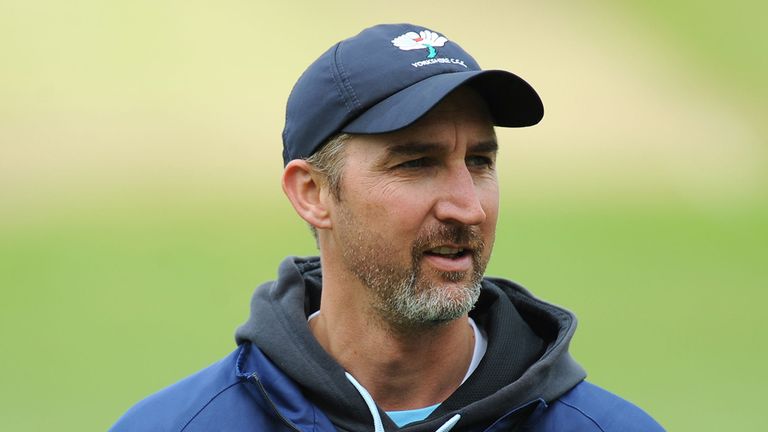 Dizzy...educating Yorkshire

Durham - last year's champions and brilliantly led by the Geoff Cook and Paul Collingwood axis. Can they do it again? Maybe, but I have a feeling they are going to be hit by international call ups. Ben Stokes when he is punching it through the covers as opposed to punching lockers will definitely be in the England side as it wasn't just his hair that was our only shining beacon of light in Australia. Borthwick, Wood and Onions all have a shout of international honours too. The experience of Will Smith will be a big loss but the under rated Mark Stoneman is a top player. Result pitches up there means the top order all need to play with a straight bat. This is why they must never why-aye pet across the line. I'll get my coat... Prediction 2nd
Lancashire - promoted from Division Two but like Monica Lewinsky should never have gone down. Unlike Monica, whilst I don't think they will be getting out the celebratory cigars, I don't think this season will leave a nasty taste in the mouth like the last time they were in this division. Not many stars, the previous sentence dictates I cannot mention Wayne White, but a great team ethic and the addition of Jos Buttler is massive, if he doesn't take Prior's England place. Some quality youngsters coming through such as Tom Bailey (no, not him from the Thompson Twins) and Luis Reece, ably led by the experienced Glen Chapple. Kyle Hogg, as well as being into some decent music is a quality bowler, and Simon Kerrigan is better than the nervous chap we saw on his England debut. Watch out for Andrea Agathangelou too. Prediction 6th
Tom Bailey...what do you mean not that one?
Middlesex - like a Kylie video of the 90's Middlesex almost showed us all the goods last year, teasing us seductively before trailing away disappointingly. This could well be their year. The return of Chris Rogers opening is a huge bonus, but they may well lose Sam Robson to international duty. Joe Denly has to step up to the plate this year and fulfil his considerable talent, because Middlesex can't always rely on the likes of John Simpson or Gareth Berg to get them out of jail. The seam attack will continue to be one of the best in the land, with Murtagh, Berg and Harris all enjoying the surfaces in NW8. A massive season for Steven Finn and Toby Roland-Jones, could this be their year? Prediction 3rd
Northamptonshire - despite having a Bird and a Willey, I am not smutty or puerile enough to make cheap Monica Lewinsky style jokes about them going down, but I'm afraid this lot will be Tulisa-esque. Money talks in this day and age, and sadly for the Steelbacks they have less crowds going through the gates of Wantage Road than anywhere else in the country. David Willey will be decent especially in the shorter format, as will Jackson Bird if he gets his radar right. Spriegel, Sales and Peters all have experience and Rob Keogh is a fine player. Dave Murphy is one of the best glovemen around, but I am afraid it could be cobblers for the shoe making folk of Northants. Prediction 9th
Me and you outside the Lace Market now!
Nottinghamshire - with Graeme Swann disappearing like a Malaysian plane after last being spotted around Perth, Notts will be relying on their seam attack this year. Andre Adams is a quality performer and antipodean hard man Peter Siddle will be tighter than those financial politicians Ed Balls and Ken Clarke, who both hail from this fine city. Another Aussie who will have a huge impact is Phil Jaques who will open the batting. Big seasons lie ahead for Alex Hales and James Taylor, both of whom have international aspirations. Taylor with the red ball, whilst Lumb and Hales need to prove that they have a future in all formats. Prediction 7th
Somerset - everyone loves Somerset and the whole country would not mind seeing them lift some silverware this year. The batting is seriously dangerous with Trescothick looking to bounce back after what was a disappointing season for him last year. Nick Compton, the man who practices by cranking a bowling machine up to 90mph plus from eighteen yards will score runs, and watch out for Chris Jones the new kid on the block. Jamie Overton is a real handful with the ball and Middle Stump guest Steve Kirby will be looking to have a great year, bouncing back from a shoulder injury that nearly finished him off. Drink up thee zider. Prediction 4th
Kirbs...bouncing back
Sussex - every year someone big gets relegated. 2012 saw Lancashire drop and 2013 saw Surrey fall through the trap door. Go down the A23 a bit further and I think Sussex could go this year. Ed Joyce is a good skipper, but a lot relies on him and Chris Nash to score runs. The team look set up for one day success and another factor to consider is Chris Jordan being called up for England. Matt Prior may well lose his England place but if he doesn't I see trouble down at Hove. The bowling department looks thin with Amjad Khan being released and Monty pissing off, as opposed to pissing on, to Essex. Prediction 8th
Warwickshire - To be or not to be, wrote some bloke from this county many years ago. That was also the question everyone was asking about the England and Warwickshire number three a couple of weeks back. Even if Trott gets back in the England team, or even Varun Chopra, who is a fine player, I still think they are good enough should they get hit by international call ups. Woakes, Evans and Rankin have all flirted with the England team, and Ateeq Javid looks a great talent. Rikki Clarke and Chris Wright will hold it together, whilst Keith Barker is a wicket taker for the county now known as Birmingham Bears in the one day format. No Benefits Street for this lot. Prediction 5th
Jack Brooks...headband warrior
Yorkshire - England's loss will be Yorkshire's gain and I expect the championship to be Headingley bound, come September. Two men who have been long term fans of the Middle Stump, which not only makes you erudite chaps but also quality blokes, will be at the heart of this victory. Jack Brooks with the ball, and Alex Lees with the bat. Brooks, Patterson, Plunkett, Sidebottom, Bresnan and Ashraf will ensure they take 20 wickets in this Principality of Parsimony, whilst Lees, Ballance, Gale and Kane Williamson will score the bulk of their runs. With the best coach in the country in Jason Gillespie, this Aussie is Educating Yorkshire. Throw in some quality youngsters such as Coad, Wainman and Robinson you might as well order your mushy peas and get the brass band to play. Twerking may be how they pay t'bills oop 'ere, but they'll be shaking their booty in Leeds at the end of this season. Prediction Champions
Please gamble irresponsibly and should you wish to make a large bet, I'm afraid our favourite illegal Indian bookmakers are all too busy with the World T20 and the IPL.