Piers Morgan is a huge cricket fan. A close friend, as well as being an admirer of Kevin Pietersen, the celebrity has been outspoken recently in various forms of the media, criticising certain members of the England team, the selectors, and the ECB. Piers disagreed with many points raised in our recent interview with the Sun's cricket correspondent John Etheridge, regarding KP, so we gave him the opportunity of putting his view across in more than 140 characters. Like the name of our radio podcast (which you can listen to by clicking on the left of this article), you will find Piers sensationally Pushing the Boundaries in this explosive interview. Cook, Swann, Prior, Flower and many more get both barrels from the man who vigorously campaigns against gun laws in the States. Read on...
Piers Morgan

TMS: Piers, as a man who has interviewed some of the most famous people in the world, been a massive cricket fan for years and a prolific tweeter on the game it must be a massive privilege to be interviewed by the best in the business, The Middle Stump?
PM: This is my career high, obviously. Whenever I interviewed massive stars like Oprah Winfrey or George Clooney, all I was really thinking was: 'This is exciting, but I'd much rather be grilled by The Middle Stump.'
TMS: You have been a cricket fan for years haven't you? Where did it all start?
PM: I loved the game from as soon as I could walk. My two brothers and I would play endlessly up against the wall of the pub where I grew up in Fletching, East Sussex. I went on to be captain of the local Cumnor House prep school team, and opened the bowling. I was quite quick then, and modelled my action on Dennis Lillee (I also used to wear my collar up like Tony Greig). My best figures were 10 wickets for 9 runs off 11 overs. I've still got the scorecard. I even got into the England prep schools' squad, which was the highest level I reached as a cricketer. From the age of 13, I played my cricket for Newick, another East Sussex village. My bowling went from fast, to medium, to off-spin as I fell for the charms of wine, women and song. I ended up batting No3, and scored quite a lot of runs including one ton, and at least four League 90s. I was always out trying to hit a 6 going for the century. Reckless to the end! Newick are now a pretty good club side, playing in the top division of the East Sussex League, one below County League level. For about five years, my brother Jeremy and I used to go and watch Sussex play at Hove, and often bowled at the likes of Imran Khan or Javed Mianded in the nets. We had a great team in the 70s. I also used to correspond with Don Bradman, I still have over 30 letters he sent me.
PM: Only once a year, sadly, as I live and work in America. I host an annual family game against my village, and pack my team with ringers. Over the years we've had KP, Freddie, Afridi, Curtly Ambrose, Richie Richardson, Kallicharran, Tuffers, Devon Malcolm…loads of big names. Last year, I had Lara, Inzamam and Courtney Walsh. The whole village turns out to watch and it's more competitive than the Ashes!
Piers and a few ringers
TMS: Who was your favourite player growing up and watching the game?
PM: Tony Greig and Dennis Lillee as a kid, then Ian Botham and Viv Richards as a teenager. Latterly, Flintoff, Pietersen and Warne.
PM: I used to find watching Chris Tavare bat about as enjoyable as dunking my head into a vat of manure. God he was boring.
Tav...boring
TMS: Best player you have ever had the privilege of watching?
PM: All-rounder: Beefy. Batsman: KP/Viv. Bowler: Lillee/Warne.
TMS: Quickest bowler seen?
PM: Jeff Thomson. Nearest thing to a cricketing gun-slinger there's ever been. Though, as I discovered, Brett Lee wasn't too slow either…
TMS: Best innings seen by an English player?
PM: Beefy at Headingly in 1981, and KP at the Oval in 2005.
TMS: Favourite cricketing story?
PM: Don Bradman used to practice by throwing a golf ball at a water cooler, and repeatedly hitting it with a single stump. You want to be the best in the world, at anything, that's the kind of thing you need to do. I also liked Keith Miller's response to being asked if he felt 'under pressure' before going out to bat against England. Miller, who'd flown in the Australian air force during the war, laughed. 'Mate, pressure's having a Messerschmitt up your arse, not playing cricket!' A few modern players could do with that attitude.
TMS: Any other celebs into their cricket that you know?
PM: Loads, even American movie stars. Gerard Butler and Mark Wahlberg both have stakes in teams in the Caribbean 20/20 League. Quite bizarre talking to Gerard about googlies and doosras but he loves it.
PM: Lord's. I've gone to the 2nd and 3rd days of pretty much every Lord's test for 30 years.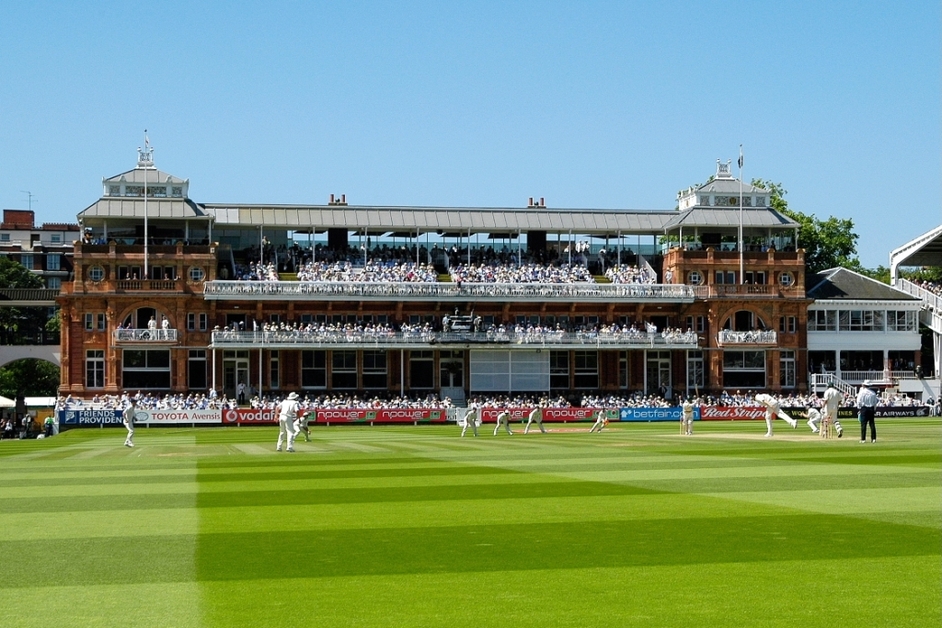 Lord's...fave ground
TMS: Graeme Fowler and his wife Sarah tell us that you are a great bloke to go and have a beer with. Ever had too much after a day at the Test?
PM: I think a better phrased question would be 'have you ever NOT had too much after a day at the Test?' The most dangerous days are the ones when Ian Botham appears at the end of play to say: 'Fancy dinner?'
TMS: You have been quite a prolific tweeter recently regarding 'KPgate'. Are you surprised to hear some of the stories emanating out of the England dressing room?
PM: Not surprised, because there was a small clique of players in that dressing room who had it for him because they were insanely jealous of the fame and money he attracted, and we're now beginning to see their true colours. The likes of Prior and Swann, to name but two.
TMS: I think 61% of people (in a recent poll) think KP should be returned to the England team and I know you are in that percentage. Why do you think KP was dropped?
PM: Well, we don't know, do we? That's the point. The ECB hasn't actually been able to cite a single reason. It's utterly absurd. When you sack someone (and I am something of an expert in this area), you're supposed to say why. Kevin still hasn't got a clue, which I think is scandalous. My rage is two-fold. One, he's a good mate. But more importantly, he's my favourite player, and is still only 33. He could have another 3/4 years playing for England, and he's the greatest run-scorer in all forms of the game we've ever had. He's also box office – the guy most people love to see bat over anyone else. Our team just got less good, and less exciting.
Cook...Piers isn't a fan of his captaincy
TMS: John Etheridge of the Sun recently mentioned in his interview with us that KP had publicly slagged off Carberry in front of all of the team and booked a flight home when the Sydney test was still due to be played. What is your view on this?
PM: Kevin gets on very well with Carberry. In fact, he gets on very well with all the non-clique players. Ask the younger players, in particular, if they think he's been a force for good or bad in that dressing room. They've been silenced by the ECB and Cook, who's as cowardly as he's useless as a captain.
TMS: Do you think there has been a media campaign to get rid of Kevin?
PM: Of course. He stopped talking to them after the way they treated him over text-gate, and this was their chance for revenge. They also have the fear of God put into them by Giles Clarke and other ECB management - so many cricket writers just toe the corporate line rather than report what they really think. Pathetic to watch.
KP...media campaign to get rid of him according to Piers
TMS: What is your view on Matt Prior and his recent tweets?
PM: Laughable. He always wanted KP's fame and money. But nobody wanted to give him the fame, or pay him the money. I didn't see Mr Prior being bought for $1.6m at the recent IPL auction…did you? In fact, KP was the only England player to be bought, what does that tell you?
TMS: Is he (Prior) on your Christmas card list?
TMS: What was your view on the parody account of KP coming from close sources of the team and his reintegration into the side a couple of years ago?
PM: I think Broad, Swann and Anderson all conspired to use that parody account to ridicule KP, and yet nothing ever happened to them. One rule for the clique, another for KP. Re text-gate, Kevin has good mates in all the international teams and often texts them. Nobody complained when he did it with Gayle, or Warne, or guys like that. I'd love to see what Strauss, Flower, Swann, Prior etc all texted about KP during that South Africa series, and to whom! As for the specific very damaging allegation that KP told the South Africans how to get Strauss out, do me a favour! Even I knew by that stage of his career that you just had to go round the wicket and he'd nick off to the slips. KP never told the South Africans that, it was a complete lie.
Swann and Prior
TMS: Why do you think Graeme Swann retired in mid series?
PM: Because he's a gutless egotist. Can there be anything more cowardly than running away in the middle of an Ashes series? I thought it was disgraceful.
TMS: Do you think Flower and Cook mismanaged KP?
PM: They didn't manage him at all. Flower was an officious headmaster who couldn't handle any player offering opinions that didn't directly concur with his own. And Cook is the most spineless, and hopeless, captain we've ever had. Great batsman, but couldn't lead a Morris dance.
TMS: How do you think the ECB have handled the whole affair?
PM: With their usual incompetence! Just the same as they handled Gower and Botham. They like their players to be robotic dullards, not individuals with their own characters. Kevin Pietersen doesn't take crap from anyone, on or off the pitch. We love his bravado, audacity and arrogance on the pitch, but expect him to be a meek, mild choirboy off it. Absurd. Michael Vaughan got the best out of KP, as Brearley got the best out of Botham. Flower treated him like a naughty schoolboy, and Cook went along with it.
TMS: How do you think the England team will fare over the next couple of years without their star player?
PM: They'll flop in the two World Cups. In Test cricket, we should compete well with Sri Lanka, India, West Indies and New Zealand at home, and West Indies away. But I can't see us beating Australia in 2015, and the Ashes remain our biggest series. Regardless, our chances of winning any game are diminished by KP's dismissal, and the fans have been robbed of watching their most exciting player.
TMS: Do you see similarities between Pietersen's removal and Gower's twenty odd years ago?
PM: Very much. Two wonderfully talented flair players removed before they should have been, to the detriment of the fans.
Piers takes on Brett Lee recently in the MCG nets
TMS: What was it like facing Brett Lee recently?
PM: Bloody terrifying! He was bowling off about 19 yards and trying to kill me – egged on by a baying mob of 5000 Aussies, and the entire Australian team. My sister said it was like watching a public stoning.
TMS: I thought you may have got across and hooked him, haha? Shane Warne and Michael Vaughan were wincing.
PM: I didn't see a single ball. Viv Richards told me to get down the track to him, but you have to be Viv Richards to make that come off. I tried instead to give myself room, but he followed me… like a hungry shark sensing a bleeding dolphin trying to flee.
TMS: How quick does he actually come in?
PM: Shane Warne reckoned he was bowling well over 150kph, and faster because of the no balls. That's as quick as Johnson right now. I faced out the over though, despite breaking a rib, and that was the only reason I did it – to show the England team that they should be showing a bit more guts against Johnson and Co.
TMS: Do you think that there should be cricket on free to air tv in this country such as maybe T20?
PM: Yes. I think Sky do a brilliant job, but cricket's not as big a sport as it used to be in England because fewer people watch it on TV. It's a simple equation.
TMS: Do you think we are losing a generation to cricket due to it not being on terrestrial tv?
PM: No question. Kids replicate what they see on TV. I watched Lillee and Greig on BBC1, and wanted to be them. I don't think I'd be watching anything like as much cricket now if I was a kid again.
Prior...not on Piers Christmas card list
TMS: You're a massive Arsenal fan too Piers. If cricketers had Arsenal connections we think Steve Harmison would be Michael Thomas after his last gasp wicket at Edgbaston in 2005 emulating Thomas' goal at Anfield in 1989. Paul Downton could be Silent Stan Kroenke. Any others?
PM: Matt Prior would be Nicklas Bendtner – the ego's writing cheques the body can't cash.
TMS: Who are your favourite and least favourite cricket journalists?
PM: I think the best sportswriter generally is the Mail's Martin Samuel, who doesn't bring personal grudges or agendas to his writing. And who understands the complex mix it takes to make a genius sportsman. My least favourite is Paul Newman, also of the Mail, who was KP's ghost-writer then stabbed him in the back with a vicious campaign.
TMS: We do a lot of work with the charity Melanoma UK. What do you think of their work educating young cricketers? And do you always factor up before watching the game?
PM: Incredibly important. I live a lot of the time in LA, where it's often very hot. And always factor up because I hear so many stories of people here getting skin cancer. It's not hard to protect yourself, yet so many people either forget or don't think it will ever happen to them. It might, so do it. The charity does fantastic work in reminding young people of the dangers. Cricketers in particular spend whole days in the sun, they have a special problem to deal with.
Stokes with Cook
TMS: Best three youngsters coming through in the UK?
PM: Ben Stokes, Sam Robson and Tymal Mills.
TMS: What does the future hold for English cricket and for Piers Morgan?
PM: I'll be fine, thanks. But I'll be a lot happier if the ECB stop being so ridiculous, and bring KP back to the team. I want to watch him bat, simple as that.
So like him or loathe him, and not many people sit on the fence when it comes to Piers, the man is a cricketing cornucopia of opinions and stories. The need to talk about Kevin, just rumbles on and on.