This winter has been an absolute disgrace. It started with poor selection, culminated in our best batsman being ostracised from the set up, our captain looking hopeless, our next best bat suffering burn out. If that wasn't enough on the tour to Australia, our spinner did a John Darwin in the country which is home to Darwin, we have ruined the career of our young pace hope, and lost our coach. We have been smashed in three continents, out bowled, out fielded and out batted in every series, with our coaching looking prehistoric. Today it has culminated in defeat to the Dutch, a team who recently lost one day international status for not winning enough games. I, and many of our followers on Twitter are fuming, and rightly so.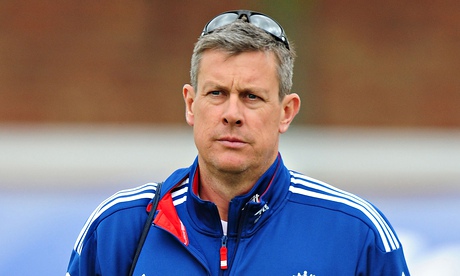 The King of Pain

It starts with the ECB. This fine institution who have in their infinite wisdom sold the family jewels otherwise known as the game of cricket. Stolen from the common man to those who own Sky, alienating the majority of future generations, the ECB have fucked up yet again. County cricket is now rarely played on a Saturday, stopping the casual dad from taking his son to a fixture. Still don't worry; it's all for the good of the national team isn't it? Then again, this is the organisation who have crammed so much of the season in that their players now suffer from burn out. This is the organisation who have moved much of the county season into early April, nullifying the decent spinners and then we wonder why there is no one coming through the system. This is the organisation who put money before the game, and this is the organisation who have to take the blame for the complete shambles that has taken place in this winter of discontent.
They are charging £75 for a ticket to Lord's for Sri Lanka this year. Loyal souls such as myself will pay it, along with their £4.70 a pint and £10 for a burger and chips. I can see it being half full, as already there are many tickets doing the rounds on Twitter or ebay. The public are starting to turn their backs.
Crowd for Sri Lanka in June?
Why should they turn up? Removing Pietersen was symbolic of their ideology. Piers Morgan was pilloried on Twitter recently for his pro KP stance, but he was right. Anyone with a modicum of flair, gets stifled and removed on the basis of being a maverick. No doubt the safe bet of Ashley Giles will get the gig as England coach soon, instead of someone who might ruffle a few feathers which is exactly what the game needs. Ash claims he isn't a man who shies away from tough decisions, so let him prove it by not putting his name forward.
Another thing that pisses me off in this hideous winter is the attitude of the players. In a similar way to the England rugby team a couple of years ago after the World Cup, this national side is aloof and out of touch with their fans. They need a Stuart Lancaster type to teach them humility and have pride in playing for the national side. Get them back on board and show the public that they care. The cognoscenti dislike quite a few members of our own national team and that is an awful situation to be in. Dernbach and Bresnan keep getting played no matter what they do, and the hatred towards them on social media is an embarrassment to the ECB. Every press conference is awash with media speak and the usual bullshit of "taking the positives out of defeat".
The talk of being "disappointed" is of scant consolation to those who spent seven or eight grand traipsing around Australia in considerable numbers. The public are completely out of touch with this team. The team look scared whether it is the batting shitting their pants from pace down under, or the T20 side not wanting to take risks by hitting boundaries, or fielders scared to go for catches, the lack of confidence is abysmal, despite the spin of press conferences. If it was about talk England would be world champions, and I am fed up with the lack of walking the walk.
Dernbach...unpopular
Today was just another defeat. To be honest I expected it even though it was the Dutch. Yes, that mighty cricket nation. Never mind Dutch Ovens, I'd have preferred it if the ECB committee's parents had used a French Letter. Someone needs to pull their finger out, because the place is awash with failure.
The fielding, the batting, the bowling, the selection, the lack of confidence has all gone beyond a joke and the ECB have to sort it out and quickly. Get the fans back on board would be a start and sort out these over paid prima donnas who have ruined our winter. Make them have pride in wearing the three lions, as they certainly do not have it at present. I seriously fear for the future.
I most definitely, am not taking any positives out of yet another defeat.