Every England fan is looking, watching and waiting. Like a kid on Christmas Eve we are all waiting to open the present that the ECB are about to give us, although with their track record it wouldn't surprise me if we ended up with a piece of coal and an orange. Google the Aussie comic, Kev "Bloody" Wilson and I'm sure England fans will be chanting one of his famous Christmas songs, err this Easter. Hopefully Paul Downton won't do a Pontius Pilate and wash his hands of this decision, and given some of the catching in the T20 it seemed like the players were the ones who had warmed up for Easter by having a few nails hammered through their palms. Rightly so, they were crucified. So who would your choice be out of the Gang of Four, aka the short list that the ECB have drawn up?
Please Sir, can it be my turn?

There seems to be four candidates, none who fill me with a huge amount of confidence. Peter Moores chances seem to be getting talked up, although after the Caribbean fiasco a few years ago it should be Peter Less. Michael Vaughan in his autobiography doesn't speak too highly of him it must be said. Others in the know describe Moores as an honourable bloke and some respected cricket writers such as George Dobell would like to see him get given the gig. However, as one of my Australian friends said to me last weekend, "You don't want to go re heating old soup mate" and many of us fear he has had his chance. It would be the equivalent of getting married a second time, with all the baggage that your ex wife brings.
Ashley Giles is being spoken about in glowing terms by Steve James, another respected writer but after his baptism of fire, James would need the skills of Oscar Pistorius' defence QC to convince the twitterati that Ashley should get to intrude on the England dressing room without knocking. Giles is the safe bet, the man who knows the rules but we need a shake up. He is akin to the girl next door, and one who you haven't slept with yet, but you just go along with it anyway as you can't be bothered to put in the ground work with another chick.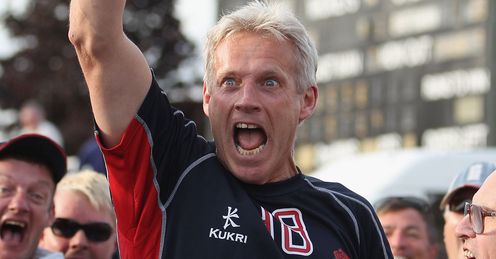 Moores...reheating old soup?
Mick Newell is the current Director of Cricket at Nottinghamshire. He has led them to the title in 2005 and 2010 but no one is sure about his credentials. Unfortunately for Mick, I fear he is going to go the same way as when a famous Nottingham based manager went for a different England job, and he has as much chance of getting the national role as Brian Clough did back in the seventies. No offence to Notts fans, but if he got the job the sense of anti climax would be astounding. Mick is the girl you chat up at ten to eleven, having bought drinks for a fit stunning supermodel all evening before she pisses off with another guy.
The there is Trevor Bayliss? Trevor who, I hear you say? When I first heard about him I thought the ECB were up to their old tricks and wanted someone they could pay less, not Bayliss, but the more I hear about him the more I like him. Currently in charge of New South Wales, he has already stated that he wants the likes of KP made available and fair dinkum to him for that. It is his arse on the line when the crap starts to fly, and I think an Aussie would shake up the cliques in the dressing room. I fear that those in the corridors of power in NW8 would rather let football be played on their hallowed turf before allowing Pietersen back into the fold, and this could well go against Tricky Trev. This Sheila could be interesting, but quite feisty and would call you the following day on her terms only.
Clever Trevor?
So why are we not going all out for a big name? We can afford it. Alan Mullally threw the name of Shane Warne out there. Why not? He'd certainly rattle a few cages and Darren Lehmann is doing ok without a huge amount of experience behind him. Attitude and bottle can go a long way. Warnie is raw in coaching terms but would have made a far better skipper of Australia than others who eventually got the job.
Gary Kirsten, Jason Gillespie and Stephen Fleming have all cited family reasons as not being interested, but why not go for these along with a one day or T20 specialist such as home grown Paul Nixon, who won the Caribbean T20 with the Jamaican Warratahs last year? Nico's record in domestic T20 was outstanding yet his name is rarely thrown into the ring. Talking of Pauls, anyone notice a Mr Farbrace won the World T20 with Sri Lanka? Gillespie would be an outstanding candidate as would Kirsten and the money shouldn't even come into it. Fleming meanwhile was one of the best skippers of all time and has a track record of making a silk purse out of a sow's ear. Surely the T20 is a different team to the five day team so why not a different coach?
England's T20 and future Test coaches? Why not?
We need someone who will appoint strong characters. This winter was an embarrassment to all concerned with English cricket and we must ensure that this rot is stopped here. The cliques have to go, and the ability to rebuild is a prerequisite. Allow the person to pick whoever they want and let them build their own back room team. Maybe not twenty or so, like the entourage that followed England around in Australia which was like a Madonna concert.
Knowing the ECB though, they will go for the safe bet. I thought the 'old farts' in the RFU were conservative but their appointment of Stuart Lancaster was genius. The ECB could learn a thing or two from them. Come early May we will no doubt all groan collectively as they go for someone that hardly any of us think could do the job, and the same old media spin will be trotted out. Nothing different, same old, same old.
Tim Sherwood anyone?