After our preview in what is the most open Division One race last week, we look at the the runners and riders in Division Two. The 2014 season promises to be one of the most exciting and tightest years for errrm years, and we tell you here who to get your dough on. Gamble your house on our advice as it is usually that good, but if you are living in a cardboard box with an irate missus come September, please don't come crying to us. In all seriousness, this division has a habit of surprises with the unfancied Derbyshire and Northamptonshire grabbing the runners up spots in the last two years so who knows what will happen, but here is our prediction...
More success for Hampshire this year?

Derbyshire - a mate of mine went up there once with a handful of E's. No, he wasn't going clubbing but he was off to University! After years of struggle the cricket team have now got a far better reputation than the city's further educational establishments and their year in Division One will have taught them a lot. With Pop Welch at the helm, one of the best coaches in the land, the likes of Wayne Madsen and Shiv Chanderpaul will score plenty. Godleman and the one and only Chesney Hughes will chip in with runs, and Palladino and Jonathan Clare are decent all rounders. Keep an eye out for Greg Cork, son of Dominic. Close but no cigar for the Midlanders. Prediction 3rd
Essex - the only way? Not this year I'm afraid. Essex have a decent attack with Reece Topley and for my mind, the quickest bowler in the country in Tymal Mills. Mills is a real handful and his form could be crucial to the county's chances. With Monty Panesar hoping for a dry summer after his move from Sussex, I have a feeling that they have thrown their eggs into the one day basket. Some bright youngsters such as Mickleburgh, Foakes, Craddock and Westley illuminate the future. Let's hope they sparkle as brightly as Amy Childs' vajazzle? Prediction - 4th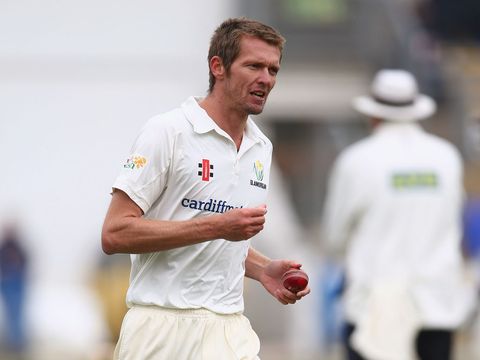 Hogan...one of the quickest in the country
Glamorgan - the last few years in Cardiff have made the people down there as blue as the colour which the local football team should be wearing but they are hoping for better things this year. The only people in the world who hope a Malaysian would disappear, need some success in their summer game. They need runs from their home grown batsmen. The likes of Rees, Bragg, Cooke and Wright have to weigh in and help out Stewart Walters. Jacques Rudolph is the star name and Jim Allenby is a quality performer with bat and ball. Strike bowler Michael Hogan is seriously quick, and Will Owen is far more exciting than the commentary of the mundane Michael Owen. The spin of the evergreen Dean Cosker and up and coming Andrew Salter will play a part, and watch out for the young Aneurin Donald. They could surprise a few people, especially their own fans. Prediction - 5th
Gloucestershire - if Bristol's football clubs have struggled this year, then I'm afraid the cricketers won't be bringing any joy to this fine city. Whilst they have invested a lot off the pitch at Nevil Road in recent years, on the pitch has been as much of a slog as running through the mud which lines the River Avon. Aussie Michael Klinger, whilst he sounds like he could be an extra from Star Trek is a quality player and definitely not Shatner. Benny Howell with bat and ball is another but I'm afraid it will be another tough frontier for the West Countrymen. Watch out for Will Tavare, son of Chris, and one from the next generation. Prediction - 9th
Vince...stylish
Hampshire - should walk the title and have strengthened the bowling which has been their Achilles heel in recent years. Matt Coles is a decent performer, but the man who will make the difference is South African Kyle Abbott. The protege of Lance Klusener, he nips it about and will have the crowd scattering around the AGEAS Bowl with the bat. With Carberry looking to have scuppered his England chances, Jimmy Adams and the prettiest bat in the land in James Vince, the runs will flow in Southampton like a visit to down market curry house. Like Peter Doherty, they'll be partying around the Needles come September. Prediction - Champions
Kent - Rob Key is back as skipper and Mitch Claydon with the ball made a massive impact when he came on loan from Durham. Now in the garden of England permanently I think he could be a decent performer, but he needs back up with the ball. Whilst they may have a quick railway line in this part of the world these days, they need some high speed bowling now they have lost Matt Coles. Darren Stevens is always a decent competitor, and youngsters such as Bell-Drummond and Co should get a few runs. Sam Northeast should ensure that those from the South East are competitive but I have a feeling it will be mid table obscurity for those who represent a county who are in the doldrums at present. The one day halcyon days of the seventies seem a long way off. Prediction - 7th
O'Brien...and for my next trick...
Leicestershire - money talks in this game in this day and age, and unfortunately the Foxes haven't got a lot. What they have got is some outstanding youngsters and a lot rests on their shoulders. The likes of Ned Eckersley, Shiv Thakor, Josh Cobb and Co will be top notch players and with the experienced Niall O'Brien, Sarwan and Charlie Shreck they will be looking to spring a few surprises. Although the county are going the right way, providing the vultures don't circle their promising youngsters, they haven't got the strength in depth in my opinion. Could it be magic for a side with Robbie Williams in it? I doubt it. Prediction - 8th
Surrey - should go up but I have doubts if they can take twenty wickets on good decks at the Oval to win games. They should use this opportunity of getting relegated to rebuild and in Graham Ford and Graeme Smith they will do. If England thought he was the 'elephant in the room' in Australia, Kevin Pietersen should answer his critics by scoring plenty down the road from Elephant and Castle. I would like to see the likes of Dominic Sibley, Harinath, Jason Roy and Mr Burns score a few too. Let's hope Jade Dernbach plays for Surrey regularly as most of us have no wish to see him anywhere near the national side. Watch out for slow left armer Freddie van den Bergh, who will be a quality performer. Should have too much class but as I said, let's see what their attack is like. Prediction - 2nd.
Plenty of moisture in the wicket at New Road
Worcestershire - when it rains, it pours and this lot really don't need to see any more of the wet stuff for a long time. Despite having Dutchman Alexei Kervezee in the side, the drainage issues at New Road persist with the River Severn wrecking the ground on what seems an annual basis. Playing at one of the great venues on the circuit, they rely on the 'beard that's feared' in Moeen Ali with the bat. The retirement of Alan Richardson is a huge blow but the charismatic Jack Shantry is a decent performer. If Matt Pardoe plays his cards right, they could have a decent year but I think it will be another mid table campaign in Division Two for this lot. A Severn Bore of a season perhaps? Which is a shame, as the lemon cake in the Ladies Pavilion there is one to behold and many a Worcester member will be hark back to the days of Hick, Botham and Co whilst covered in crumbs. Prediction - 6th