Darren Stevens has been around the professional cricket circuit for nearly twenty years. A career that saw the Leicester lad start off with his home town county, has now burgeoned since he moved to Kent. Close to an England call up a few years ago, he is one of the best all rounders in the country and the longevity of his career is a testament to what a fine servant he has been to English cricket. One of the nicest blokes around, Stevo is known for his chat, laughs and general bonhomie, although not sure Sam Northeast will think so after reading this. After a tough winter where he thought he might never play cricket again, Darren was cleared of any wrong doing and is now looking forward to a bright future. We caught up with him recently where he told us about Stuart Broad and Luke Wright's party trick, who is the serial killer down at Kent CCC and which umpires dish out the best chat. Read on in this hilarious interview with the Benjamin Button of English cricket...
Stevo

TMS: As a man who has scored two double hundreds, amassed twenty thousand first class runs in all competitions, taken four hundred wickets and three hundred catches, hit the winning runs in a T20 final and is as iconic down in Kent as the White Cliffs of Dover, it must be a huge privilege to be interviewed by the Middle Stump?
DS: Haha. Massively. It's actually three double hundreds but I'll let you off. I got one when we beat Lancashire at the end of last year which was good for the averages. As for The Middle Stump, yeah I've followed you from the start and we all love the interviews on here which have been very funny. It's an honour to be interviewed by such a prestigious blog.
TMS: How's life in the Garden of England?
DS: Getting into the season, although I'm a little bit behind on fitness work. My mind was elsewhere over the winter. We had a poor start against Worcester on a not a great pitch, and then Leicestershire was really disappointing. They just didn't fancy it, Leicester being Leicester. We look to win every game and they had an opportunity to set us a target. With me being a Leicester lad you want to compete, and they had us 30-4 at one point so maybe they regret not having a few more overs at us. Maybe their coaches could look at this? It was disappointing for the fans, the players and everyone associated with Leicestershire and Kent. Both of us have been in Division Two for a while now, and we're desperate to get out. Wins are what gets you out of this division, and draws and losses are no good to anyone.
TMS: Let's cut to the chase, I've heard that your party trick is to drip hot candle wax on your tongue. Any truth in this?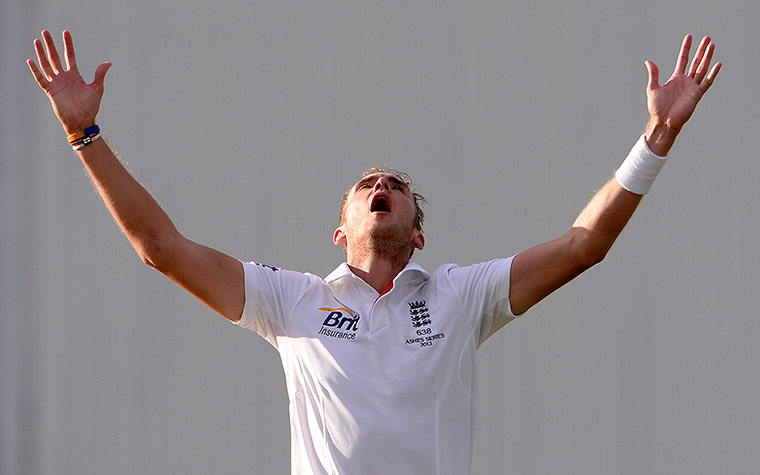 Broad...about to do his party piece?
DS: Where have you got that from? Haha. Yes it is true. Stuart Broad and Luke Wright have done it too, and it comes from a mate of mine in South Africa called Alain Snyman. He decided to do it one night when we were all sitting around over a few beers, and got us to do it. You'd think it burns the tongue but it doesn't.
TMS: Surely if you get it wrong and get some on your lips you wake up the following day looking like a crack whore?
DS: Haha. Fortunately I have never done it.
TMS: So who is the tightest cricketer that you know?
DS: There's a few of them. Do you want me to name them all?
TMS: Yes please.
DS: Firstly there's the Newcastle lad, Ben Harmison; very disappointing. The there is the posh lad, Sam Northeast; terrible. Then you have the Aussie lad, little legs Brendan Nash who is shocking and finally our coach Jimmy Adams who has never got a round in in his life. On the other hand you have lads like Rob Key and Mitch Claydon who always get a round in, and Doug Bollinger who watched the football with us the other week and always seems to get the beers in.
Sam Northeast models his new helmet
TMS: Who throws the worst strop when they are out for a low score?
DS: Sam Northeast. He has been through more helmets in the last two years than I've had hot dinners.
TMS: Who is the quickest you have faced?
DS: I've been fortunate, or maybe not so fortunate to have faced some seriously quick guys over the years. I've faced Shoaib Akhtar and Brett Lee, whilst Tino Best was slippery too. One stands out though and that was Reon King. I faced him in a tour game at Leicester and he hit me one ball on the shoulder, then next ball he has hit the shoulder of my bat. The bat snapped and the ball went over the top of the slips for four. That was the quickest.
TMS: Best sledge?
DS: I wasn't playing but watching. It's the Freddie and Tino with the "Mind the windows, Tino" and him chuckling away in the slips. Very funny.
Rapid Reon King
TMS: Is there anyone who has panned you all around the ground and you have preferred not to bowl at them?
DS: Matt Prior springs to mind, but saying that I have got him out a few times. I am someone who loves the challenge but if it doesn't swing I can be in trouble. You don't want to get on the wrong side of someone like Ravi Bopara, Owais Shah or Jonny Bairstow. On their day, there is no stopping them.
TMS: If cricketers were films we think you would be Benjamin Button as you seem to be getting better with age. Which other cricketers would be film characters?
DS: Unfortunately I don't seem to be getting any younger. I'd have to go for Sam Northeast again. He is quiet and goes about his business in an unassuming manner, so he could be Jason from Friday the 13th. He has the potential to be a serial killer!
TMS: Colin Cowdrey rated you and even presented you with a painting. What was that all about?
DS: Yeah he did. I got a hundred v Sussex at Arundel and Jack Birkenshaw the Leicester coach got him over and he had a chat with us over breakfast. He watched me get a hundred and thirty odd then next day presented me with this painting. I still have it hanging on my wall at home and all the Leicestershire and Sussex players signed it. A proud moment.
A young Stevo at Leicestershire
TMS: Obviously you have been through a bad winter with the charge of not reporting an illegal approach hanging over you. Did it cross your mind that you might not be able to earn your living again? How much of a relief was it to get cleared?
DS: It was horrible, but in a way it made me think of life after cricket. The PCA are fantastic and send us on courses for what we are going to do when we leave the game, but this really brought it all home to me. I wouldn't wish it on anyone. Cricket has been my whole life for twenty years, and it was devastating and disappointing. It was a massive relief for me, my name and also my family's name. A massive relief.
TMS: What is it like to hit the winning runs in a T20 final?
DS: Special. It was a few years ago, but I will never forget it. In fact, I'll never forget the over or Greenidge bowling a no ball which went for four wides. The winning shot was a drive over cover and to get your hands on the trophy was a very special moment.
TMS: Best grub on the circuit?
DS: Lord's. The Mississippi Mud Pie is just fab. At Canterbury we are getting better, but the boys are moaning because we don't get a dessert.
Doug Bollinger can't believe it's his round again!
TMS: When we ask people who has the best chat on the circuit, your name has come up a few times in the past. Who would you say has the best chat?
DS: Kirbs and Tregs (Steve Kirby and Peter Trego) down at Somerset are good value. Alfonso Thomas has good banter too. Cobby at Leicestershire and Paul Franks at Notts are both good too. Paul Nixon when I was at Leicester was wild, and Sam Billings at Kent is hilarious, he just never shuts up. Some of the umpires are fairly decent too, Pete Willey is one although you don't want to get on the wrong side of him. Peter Hartley, Neil Mallender, David Millns, Robbo and Illy can all dish it out when they want to. They come out with some of the best stuff to be honest.
TMS: What were you taught about being exposed to the sun for long periods of time as a player, earlier in your career?
DS: I was pretty good. When I was 18 or 19 I went to South Africa and lived with a family over there. The woman who owned the house, her dad had skin cancer and had had half of his neck removed. He'd also had a lot of the side of his head removed and it was a mess. Since then, I always pile it on, even on a cloudy day. Ears, lips and other sensitive parts are a must.
TMS: So what do you think of the charity Melanoma UK and the work that they do educating people?
DS: It is amazing what they do. The more information out there on this subject, the better. They send a clear message and they get it out there. I'm sure all cricketers like me support these people.
TMS: Best three youngsters coming through?
DS: Sam Billings at Kent, Reece Topley at Essex and there's a young lad at Gloucester called Craig Miles. He's a real good bowler.
Billings...one to watch but never shuts up
TMS: What does the future hold?
DS: Hopefully I am about to sign another contract with Kent in the next week or so, which will mean I have been here for ten years in 2015. I'd like to go into coaching eventually.
TMS: Darren, you have been a top bloke. Thanks for this and we owe you a pint when we come down to Canterbury.
DS: Been a pleasure. You do that!
And with that we left him to go and spread his brand of fun at a charity golf day. Cricket is a great game, and it is the characters like Darren Stevens that make this such a wonderful game.