On these pages a few weeks ago we tipped Yorkshire County Cricket Club to win the LV County Championship. Having seen regular tweets signed off with the words #strongunit by their coach Jason Gillespie, I wanted to see if the Tykes were as strong as everyone was saying. Having seen them close up and personal, they don't have any weaknesses and England should have a look at a couple of them. An impressive side, brilliantly led by Gillespie and with teamwork coursing through their veins, I have to agree that they are indeed a strong unit.
Plunkett...serious wheels

Back in the summer of 1984, this fourteen year old boy left his bedroom and that first brilliant Smiths album, for a day out in London. What he saw that day were thousands and thousands of miners with their placards, who had been striking. Having not been paid for months, their devotion to the cause was legendary as they followed Arthur Scargill to London. The image of all these people, many from the Yorkshire collieries, remained with me forever.
Thirty years on, the exodus from Yorkshire continued as those who follow the White Rose flocked south to London, this time showing devotion to those men in white. In the words of Morrissey, "they left the north again, they travelled south again" and on Sunday they had outnumbered Middlesex fans at Lord's. Would those boys in blue from London make life difficult for the chaps from the North as the travelling police did back in 84?
Before my visit yesterday I had received texts, tweets and read newspaper columns all hailing the battle between these two sides. The DJ, Smiths fan and music aficionado Steve Harris, who we did a podcast with for our show Pushing the Boundaries, sent me a text from Lord's on Sunday saying that 'Jack Brooks looked lively'. Another Smiths fan, Derek Pringle wrote similar things in the Telegraph, whilst George Dobell sporting a Morrissey-esque haircut on ESPN Cricinfo, wrote about the battle between two England young guns who have lost their way slightly, in Finn and Root.
Moz
With Brooks (ironically born in that summer of 84), Plunkett and Lees on one side, and Berg, Simpson and Murtagh (Irish blood, English heart?) on the other, all following these pages on Twitter, I also wanted to go and see this battle between the North and South. I was lucky enough to interview Jason Gillespie a couple of years ago, an interview which you can find in our book Cricket Banter, and he spoke about "strong units". Having seen virtually every tweet from anyone connected with Yorkshire talking about this ever since, maybe I went looking for weaknesses to see how strong a unit they actually were.
Firstly, I saw their bowling. Their seam attack is splendid. Jack Brooks takes wickets in short bursts and like Leeds fans in the eighties at Chelsea, is capable of causing a lot of damage very quickly. Sidebottom is the senior pro holding it all together. I didn't see much of Patterson as he had been hit, as Mozza would have said, on his Hand in Glove by Finn the previous day but Plunkett has been impressing all and sundry. He is a fantastic all round cricketer and in my view, it is a show down between him and Jordan for an England place. Plunkett has some serious gas, and beat a couple of the Middlesex batsmen for sheer pace. As the stumps cartwheeled around Lord's, it was more of a flying wicket than a flying picket! His fifty in the first innings was a mature knock and could well be match defining. Throw in the fact he is a brilliant fielder and I'd have him in the England side. He's still only 29. As one elderly Yorkshire fan said to me on the train home, "What Dizzeh's dun wit that lad is amazing. He came 'ere, with drink drivin bans and his career was finished. Dizzeh has made 'im England class again."
Dizzeh
As for the batting, I was equally as impressed. Lyth is eye catching with his strokes, although Lees played the shot of the day with a straight drive towards the Nursery End. Both left handed, they were an impressive pair and ran well together. If Lees doesn't play for England one day, then to quote that Yorkshire phrase, "T'world's gone mad". With the youngsters Williamson and Root in next, Middlesex sensed their chance and the volume, the pace and the intensity definitely increased when Root batted. He took Finn for fourteen off of four balls at one point and there were verbals a plenty. Finn got his man eventually trapping the Sheffield lad lbw for the second time in the game, although Root thought there was a bit of bat involved. Young ones groan, eh Moz?
Maybe Yorkshire lack a decent spinner? Rashid can bat these days, but there are doubts about his leg spin and whether it is too luxurious. In Yorkshire, the prinicipality of parsimony and penury, they don't like expensive bowlers. More Harry Ramsden's, less Le Pont de la Tour if you get my drift?
The have decent strength in depth. Even if they do get England call ups, they have Bresnan, Bairstow and Gale (who had selflessly dropped himself to accomodate the returning Root) to come back into the side. They also have an impressive list of youngsters waiting in the wings too.
On the way home, I got the train from St John's Wood to Kings Cross with three elderly Yorkshire fans. To talk cricket with people so in love with the game was an honour, a privilege and the pride they felt in their county was immense. It was "Dizzeh this and Dizzeh that" and bemoaning the fact that Rashid needed a nightwatchman in Patterson. "He didn't do owt at 'Ull y'know" one of them said about Patterson, "y'know int Yorkshire Premier League". These people are the life and soul of county cricket and I thoroughly enjoyed their bickering about Sheffield, 'Ull and Bratfut.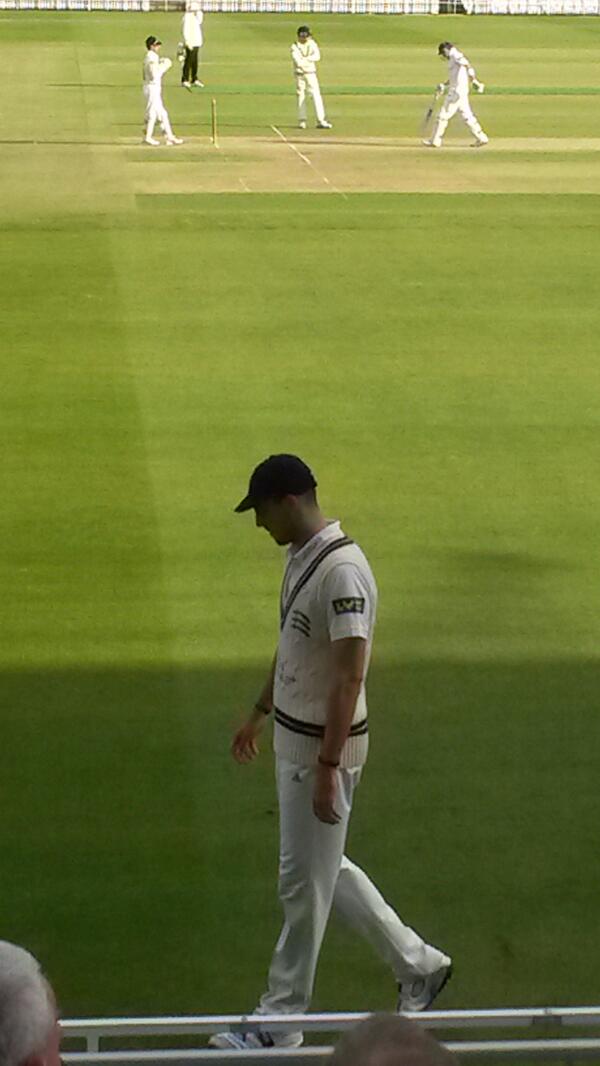 Finn with Root in the background...a good battle
In 1471, five miles from Lord's at the Battle of Barnet, Edward led the House of York in a sly manouvre as they came out of the fog to rout the Lancastrians. Although we are not sure if the cries of "YAWKSHIRE" resounded out that night as they did over the past two days in North London, this Yorkshire team are more up front in their ways under the tutelage of Dizzeh. Having seen them at first hand I have no reason to change who I predicted a few weeks ago would win the County Championship. As a man from the House of Lancaster on other side of the Pennines would have said, "The Leeds side streets that we slip down". No chance, Moz.
Unfortunately I can't go and have another look at Yorkshire today due to the irony of a strike. This time on the tubes, which is a shame, although it goes to show us that this world like the fortunes of Yorkshire cricket, is indeed cyclical.
They are at present, a strong unit.