You know how we all love a list here at The Middle Stump. Nick Hornby and High Fidelity has nothing on us, and here we have a look at the most famous balls of all time. No, I'm not talking about Ron Jeremy, Peter North or John Holmes but the most famous cricketing deliveries of my lifetime. I'm sure you have your own, and please feel free to send us yours on Twitter/Facebook or in the comments section below, but here are my top ten of my lifetime.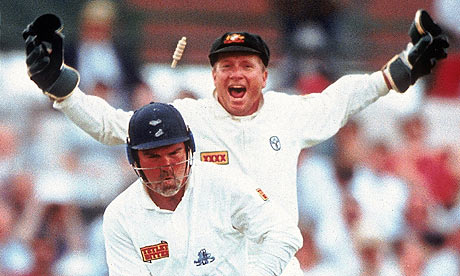 Gatt...bemused

1. Shane Warne to Mike Gatting 1993
This was the blond Aussie leg spinners first delivery in English Test cricket and what a way to introduce yourself to English cricket. Looking like something out of Neighbours; shit hair cut and a zinc-ed up nose that made him look like he had just been on a big night out with Daniella Westbrook, no one knew what to expect. Mike Gatting was our finest player of spin at the time but even he wasn't prepared for a delivery that drifted in the air to pitch outside leg, before dipping and spitting more viciously than El Hadji Diouf. The ball clipped the top of off stump and the look on Gatt's face was one of bemusement. Graham Gooch commented afterwards, "Gatt looked like someone had nicked his lunch". It looked more like someone had set him up on a blind date with Rosemary Conley.
2. Trevor Chappell to Brian McKechnie 1981
So you have a full house in the ground, a series locked at 1-1 and six to win off the last ball, so what do you do? If you are Aussie skipper Greg Chappell you order your brother to underarm a ball along the deck so the Kiwi batsman can't hit it for six. This caused a severe ruck in diplomatic relations with even the Kiwi Prime Minister wading in. What people don't know is that it should have been a no ball as Dennis Lillee hadn't walked into the inner ring. Rod Marsh looked apologetic, and everyone forgets poor old Bruce Edgar stranded on 102 no at the other end, who looked to be giving young Trevor some sort of hand signal as they departed the pitch, quite possibly showing him the art of masturbation. Next year when Greg walked out to bat in NZ, one wag in the crowd bowled a crown green bowl at him.
The delivery that shamed Australia
3. Malcolm Marshall to Andy Lloyd 1984
Andy Lloyd was an up and coming batsman at Warwickshire. Amazingly according to Wikipedia it says he is no relation of Clive, but he was left handed. He had batted very well in the one day series preceding the Test matches so was given his debut at Edgbaston. Half an hour in, and having ducked the bouncy Garner a few times, Marshall got one that skidded on to Lloyd who did the worst thing possible and turned his head. A sickening thud to the helmet clanged around Edgbaston and Lloyd went down quicker than Birmingham City did around this time. He spent three days in hospital, never played for England again and still remains the only opener never to be out in his Test career.
4. Steve Harmison to Michael Clarke 2005
The best side in the world against a fired up Geordie with Edgbaston awash with lager and singing late on a Saturday evening. Australia are seven wickets down and desperately trying to save the match, and Clarke looks like their last remaining hope. Steve Harmison, having bowled with blistering pace and bounce deceives Clarke and sends down a slower yorker, which Clarke tries to whip leg side. His middle stump goes backwards and Birmingham erupts.
Harmison...three entries into our top ten
5. Steve Harmison to Mike Kasprowicz 2005
Having recovered from the previous evenings shenanigans, a full house came to Edgbaston to watch what would be two hours play, maximum. England needed two wickets, the Aussies needed seventy odd runs. Warne and Lee did well for a while, but then Warne trod on his stumps leaving only the rabbit Kasprowicz left with thirty odd needed. However Brett Lee batted his nuts off leaving the Brummie crowd as flat as the acting in Crossroads, the soap which scarred this city back in the seventies. With England just two ahead Grevious Bodily Harmison bounces Kaspa, who gloves one to the tumbling Geraint Jones. Michael Vaughan ran around like a man who had discovered alchemy and the ground went 'radio rental'. He shouldn't have been technically given as his hand was off the bat, but no Englishman cared as Billy Bowden raised his crooked digit. 1-1, and this was the defining moment of the best series ever.
6. Wasim Akram to Allan Lamb 1992
The World Cup final, delicately poised with England resplendent in their light blue air wear kit. With Dermot Reeve and Chris Lewis in the squad I presume we were lucky the white line stayed on the kit until the final but it did, and it looked like Lamb and Fairbrother were going to win it. Suddenly the ball which had done nothing, was given to Wasim Akram. Left arm around the wicket the ball pitched on middle and leg, before veering away and clipping Lamb's off stump. I wouldn't say there was ball tampering going on, but some of Fatboy Slim's records no doubt contain less scratches than one side of that cherry. He then sent Lewis back to the hutch next ball, a few years before a judge sent him to one of Her Majesty's prisons. Pakistan won easily.
7. Ravi Jadeja to Jonathan Trott 2011
I've seen bowlers get the yips. Sometimes it finishes off a career, but Ravi got it for just one ball. Sending down a delivery to Jonathan Trott this one pitched off the strip on the leg side, and bounced five times. Trott smashed the daisy cutter for four runs and short leg ran out of the way to avoid the flailing Warwickshire willow. Everyone laughed. Cricket was most definitely not the winner.
Donald teaching Athers new words in Afrikaans
8. Allan Donald to Mike Atherton 1998
Allan Donald was probably the quickest bowler in the world at this time, so with a Test match at Trent Bridge poised delicately, Athers nicking off before walking away from a South African attack about as well as Oscar Pistorius, and then proceeding to glare out the South African wasn't the smartest move. To say he bowled a rapid spell would be like saying Celtic have a decent chance of winning the SPL next year, and his mood got considerably worse when the normally reliable Mark Boucher spilled a sitter from Nasser Hussain during the next over. My Afrikaans isn't too hot, but I have a feeling that White Lightning was questioning Michael's honesty.
9. Steve Harmison to Justin Langer 2006
Harmy makes his third entry into the top ten but this time for all of the wrong reasons. The first delivery of an Ashes test can be symbolic, but this one was more a load of 'bolics'. Michael Slater had set the tone a few years before by flailing a wide Darren Gough one to the fence. This time with a hush around The Gabba, and the world watching our favourite Geordie, Cheryl Cole apart, sends one straight into the hands of Andrew Flintoff at second slip. It must have been a memorable delivery, as it even kept Justin Langer quiet for all of three seconds. The Aussies won the series 5-0. Whether it was the result or the initial Harmison delivery that turned Flintoff to booze I don't know, but his stint as England skipper didn't last much longer.
Butcher would have been better off with one of these in his hand
10. Courtney Walsh to Mark Butcher 1998
Poor old Mark Butcher. Having not picked up a bat for months, Butch was picked on the morning of the Jamaica test match on a surface that resembled Steven Hendry's face in the early 90's. Courtney Walsh wasn't even at full tilt, realising that he could possibly kill someone on such an unpredictable wicket and his first ball to the Surrey left hander pitched just short of a length. It then flew upwards at an impossible angle, taking the top of his bat handle and ballooning up in the air to the slips. Adam Hollioake could do nothing but chuckle with his team mate on his return to the hutch, before Alec Stewart told the incoming Nasser "It's Saturday, it's eight o'clock and it's the lottery". Never mind Sabina Park, this surface was more like Selhurst Park for these South Londoners. The game was abandoned a few overs later after just ten overs with the physio having spent far longer on the pitch than Mark Butcher.