Alan Butcher is a top bloke. Not only that, he was one of the finest players of quick bowling in an era when some of the best exponents of the art, plied their trade. In a career which spanned over twenty years, he was unlucky not to play more than just the once for his country, and was one of the most popular performers during his time and both Surrey and Glamorgan. In later years he has become one of the most respected coaches around and has just finished up a stint with Zimbabwe. We caught up with him recently and discussed all things from his son Mark's guitar playing, Sylvester Clarke and his legendary drinking ability along with many other amusing stories. Read on for some brilliant, hilarious cricket anecdotes...
TMS: Alan, as a man who scored nearly 25,000 first class runs, you were an international cricketer and until recently the coach of Zimbabwe. You have been described as a legend at Surrey and Glamorgan, so therefore it must be a huge privilege to be interviewed by the Middle Stump?
AB: I'm very excited. Surely it is the pinnacle of any legend's career?
TMS: How was life out in Zimbabwe?
AB: Life was good. Obviously life is better if you are Robert Mugabe than if you are an African living out in the bush, but it is a beautiful country that offers a good life and is full of good people.
TMS: Let's get straight down to business…we have photographic evidence of you with the finest pair of sideburns in cricket, bar any man, Godfrey Evans apart. What were you thinking? Is that what every fashionista was sporting in SE11 in the late 70's?
Butch...sans sideys
AB: Haha. They were special weren't they? David Smith used to call them my 'bugger grips'. I suppose they were fashionable at the time but in no way could I be described as a fashionista.
TMS: Those years at Surrey must have been good fun?
AB: We did have good fun. Maybe a bit more than we should have done. We may have had a few beers occasionally too.
TMS: You started off as a bowler didn't you in 1972? Surely losing Willis and Selvey around that time, and obviously your left arm lightning pace it must have been a huge workload for the likes of Geoff Arnold and Robin Jackman?
AB: Yes I did. I think I opened the bowling with Jackers (Robin Jackman) the day after I left school. I think Willis and Arnold were injured so I made my debut against Middlesex. I quickly realised that I was not good enough as a bowler so when there was a spot available for an opening bat, I stuck my hand up.
TMS: When did you become an opening bat?
AB: 1974, so two years after my debut.
TMS: Was it difficult given the rivalry with Middlesex, seeing them achieve so much success during the 70's and 80's? As a Middlesex man I can tell you it was difficult seeing Surrey achieve so much in the 90's.
AB: There was more of a lingering feeling between Surrey and Yorkshire at the time. Yes it was disappointing to see Middlesex doing so well, but on balance it was better to see Middlesex winning stuff rather than Yorkshire. I had some good mates over there anyway. I always got on well with Ian 'Gunner' Gould and Roland Butcher. Saying that I never enjoyed playing at Lord's until later in my career. It was the one place we never stayed overnight at, and travelling up from South London through the traffic was a pain in the arse. It was only when I played there for Glamorgan when I went there in 1986, that we stayed there overnight and I could appreciate it properly.
Sylvester Theophilus Clarke...rapid
TMS: What was it like facing Sylvester Clarke in the nets on a regular basis?
AB: Not much fun. It wasn't just him but he used to bring his mates along too. I remember facing him and Ezra Moseley which wasn't the most relaxing, fun evening that I have ever had. I was glad to get out of there, pain free.
TMS: You were one of the finest players of quick bowling in the country according to no lesser a judge than Mike Brearley. Who was the quickest that you faced?
AB: Holding. Others were difficult such as Colin Croft who would come at you from awkward angles, or Marshall who was a great bowler. Andy Roberts was decent too but for out and out pace it has to be Michael Holding.
TMS: In my book Characters of Cricket (shameless plug! - Ed) out next year, we have a chapter on David Smith. Was he as much of a nutter as people say? He did offer to fight around 25 of us in the crowd, on his own at a Surrey v Herts Nat West game in 87 at the Oval before lunch!
AB: He erm, had his moments now and again. I found him to be a top bloke with a heart of gold and most of the time he was alright but he did have a short fuse now and again.
TMS: Best sledge received?
AB: I can't remember. I don't think it happened too much back then. Sometimes I got the usual stuff about which end of the bat to hold, and I would tell the bowler to concentrate on his bowling, but generally I don't think it happened too much. The best sledge I will have to go for is therefore, Percy Sledge.
Clint...reneged on agreement!
TMS: Funniest story in cricket?
AB: It has to be Grahame Clinton. We had bowled out Lancashire and had to face six tricky overs at the end of the day. We always had an agreement where we would say that we would try and rotate the strike, so that one of us would never get stuck at one end facing the music. Anyway, Lancashire have opened up with Michael Holding running in from the sightscreen, with not one fielder, bar short leg in front of square. One ball has gone over the keepers head for four byes, and I have fended a couple off of the splice in front of my nose. At the end of the over I have gone down for a chat, and Clint has turned his back. I have called him and no answer. Eventually I walked all the way down and he turns to me and says, "You know that agreement that we had? Well you can Fuck Off!"
TMS: You shared 19 century stands with Clint, a man who I believe was the most accident prone in cricket. Is it true that he visited A and E at 15 out of the 17 first class counties during his career?
AB: Yeah, I think he was disappointed that he didn't get the full set. He was not only a brave player but he was great for getting us into the nurses parties too. We would go and visit him in hospital and Clint would introduce us to the nurses.
TMS: I suppose it is better than Geoff Howarth who missed a few games due to his piles I believe?
AB: Yeah I suppose. So did Viv Richards though too. Maybe there is a correlation between piles and not wearing a helmet because Howarth never did either?
TMS: Who was the tightest at the bar?
AB: Arnold Long.
TMS: Worst strop when they were out for a duck?
AB: Probably Clint.
TMS: Who could drink the most and who would fall over after half a shandy?
AB: Andy Needham would be pissed on the sniff of a wine gum. The best was Sylvester Clarke. I took him on once and failed miserably.
Geoff Howarth...the Grapes of Wrath
TMS: You then went down to Glamorgan in 1986 and had some very successful seasons including over 2000 runs in 1990. What was it like down there? I believe it was a fairly lively dressing room?
AB: Yeah I got 1800 runs in 1989 too, and I think I played as well as I ever did during my time there. I loved Wales and loved the supporters we had down there too. I had a great time.
TMS: Is cricket a better or worse place for sides not socialising as much after a game as they did back in your day?
AB: I don't know really. The days of us going down to Canterbury and both sides heading over the road to the Bat and Ball pub have gone, but I think they still do but in different ways. I think there was maybe less sledging as I said earlier, due to sides knowing each other, but I still think they socialise these days too.
TMS: Does it piss you off that people refer to you as a one cap wonder in Test cricket?
AB: Yeah I was disappointed not to play more.
TMS: Did you feel that you deserved further opportunities?
AB: I was the second highest run scorer in the country in 1980 after Boycott, or was it Larkins and thought I would get a place on the tour to the West Indies in 1981. I ended up hosting a supporters tour but the story going around was a good one. Ted Dexter turned up to meet the teams before they flew because that was what happened back in those days. Pointing at Roland Butcher, he enquired who was that chap? After the response apparently he muttered, "Well that's not the Butcher that I picked"!
TMS: You come from a huge cricketing family with your brothers Ian and Martin both playing first class cricket.Then Mark and Gary also played first class cricket, and I believe there are a couple of girls who are fine sportswomen in their own right. Are you like a cricketing South London mafia? Like the Richardsons, but with a willow in hand instead of Frankie Fraser's pliers?
AB: Haha. No we don't have that sort of reputation. Yes I have twin daughters and one is playing at Lord's on Monday for Exeter University in the final at Lord's.
Mark Butcher on guitar...Alan is a better air guitarist so he claims
TMS: How nervous were you as a father watching Mark face his first international ball?
AB: Nowhere near as nervous as John Crawley's father. It was more of a proud moment really, wanting him to do well. I was more uncomfortable watching him at the MCG going out to bat. It was like he was a gladiator, entering the bear pit.
TMS: You'd have played the delivery he copped first ball at Sabina Park in the abandoned Test far better though, wouldn't you?
AB: Yeah I'd have flicked it off of my hips, over the ropes!
TMS: Who is the better guitarist?
AB: Afraid Mark, who is a decent Blues guitarist. I'm far better than him at air guitar though.
TMS: Being a fair haired guy, what were you taught about the dangers of being out in the sun all day as a young cricketer?
AB: My parents moved to Australia when I was ten, before returning to the UK when I was fifteen. I learnt pretty quickly out there that a hat and sunblock was a necessity. I also learnt that bowling the opposition out quickly if you lost the toss and could head back to the shade of the dressing room was a good place to be. In 1965 to 1970, the years I was out there, there wasn't a lot of discussion about melanoma, but it is a subject extremely close to me as my wife's brother passed away recently from it.
TMS: Have you heard of the charity Melanoma UK and the excellent work that they are doing?
AB: No I haven't but I will look them up after this interview. It is hugely important that they continue the fight.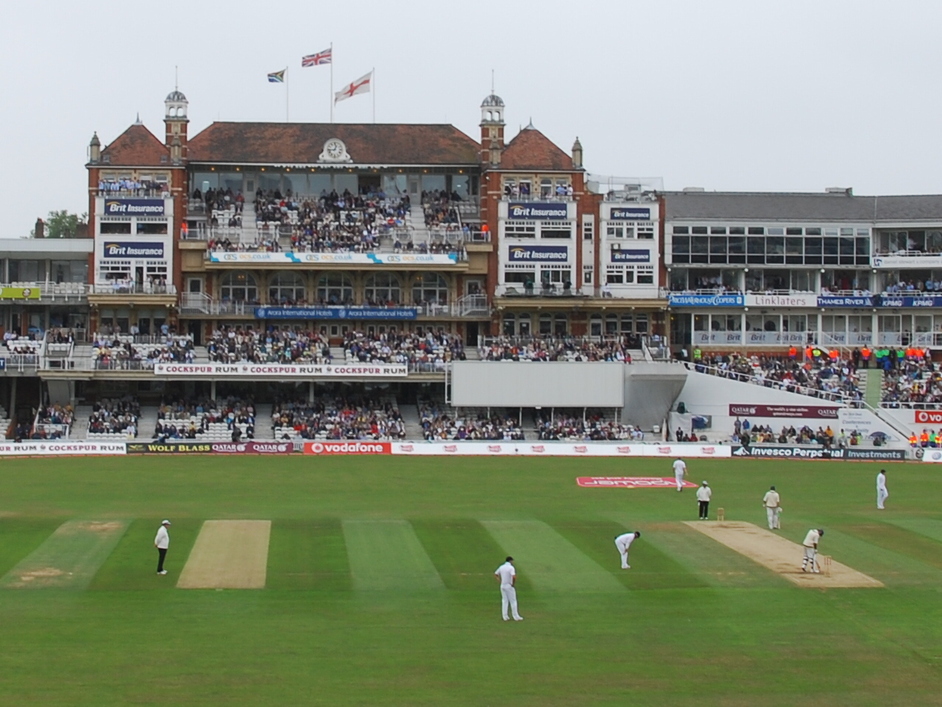 The Oval...Alan's home for fourteen years
TMS: Best food on the circuit back in the day?
AB: Lord's. You don't get to the size that Gatt did with the food being crap on your home ground, do you?
TMS: Best three youngsters coming through the system?
AB: I haven't seen that much recently to be honest but I hear a lot of good things about James Vince, and Adam Riley down at Kent has had a good start to his career. There are a couple of lads at Surrey. One I saw aged just six years old, called Zafar Ansari who is a fine player and Tom Curran. His father Kevin used to keep him hidden away from us in Zimbabwe, so we never got our hands on him but he is a good player.
TMS: What does the future hold for Alan Butcher?
AB: Well I am writing a book about my time in Zimbabwe, but apart from that I am enjoying not doing a lot. When I came back I needed a break. The players out there were great but some of the administrators out there were not so easy. Saying that some over here over the years haven't been that easy, so not sure that it is entirely an African thing. I'm enjoying being on Twitter, although did get accused funnily enough of being racist the other day. I tweeted about Senanayake and got accused of it which was quite amusing, as anyone who knows my background will surely know. I did lose my love for the game a bit after Zimbabwe, but was warned for coaching from the sidelines in a club game last week in Essex, so maybe the passion is returning.
TMS: Alan, you have been a star and the game of cricket needs characters like you. When we catch up again, definitely we'll have to have a beer or three.
AB: Without a doubt