So we have a side over from the sub-continent, we have them in our very own back yard, we have them at a venue which has traditionally suited the English bowlers and what do we do? We go and prepare a surface which in my mind was an absolute disgrace. Cricket should be a game that offers an equal contest between bat and ball. The pitch that we saw today at Trent Bridge wasn't and yet again, it looks like administrators putting money before the good will of the national side.
Trent Bridge

Traditionally Trent Bridge should have a tinge of Sherwood Green. This one was more a tinge of facing quick bowling brown. In recent years since the new stands went up the ball has started to hoop around; Matthew Hoggard liked it and James Anderson today picked up his fiftieth wicket at the venue. However today it was a shocker, and didn't we all know it after about five overs. Even Cook had to toy with his field within an hour. The ball stayed closer to the surface than a British rider in the Tour de France. There is an area up the road from Trent Bridge called Sherwood Rise. Some hope. Pele and all the Viagra in the world couldn't get it to rise on this pitch.
The look on Plunkett's face as he banged in an 87mph delivery and it bounced through twice to Matt Prior told a story. A pitch that on the first day, when your two opening bowlers in Stuart Broad and Jimmy find the edge, then doesn't carry to the slip cordon, is one that is not right. This Nottinghamshire pitch came straight out of the sub-continent and was more Mumbai than Mansfield. Uttar Pradesh? Uttar Rubbish more like, and it was like the Eyesore from Mysore. Murali Vijay had time to travel from Delhi to Bangalore today before the ball arrived near him. When he was late cutting the bowlers on day one, then something is surely wrong? How many runs went down to Third Man today?
Plunkett...worked hard for little reward
So why are these pitches being prepared? Some are blaming the drainage systems that have been installed in many of the major grounds in England. Not only are the sucking the life out of the outfields but they are also sucking the life out of squares too. Linda Lovelace couldn't suck the life out of pitches this quickly. It is sucking the life out of the crowds too and surfaces slower than Joey Essex's thought processes really aren't going to grab the interest of Joe Public.
Derek Pringle described them as the Chief Executive's pitches, as counties are charged so much these days by the ECB that the pitch must last for five days. I can see where he is coming from and you can't blame them, especially as they don't know if they will get another Test match for a couple of years. I have a theory that it is coming from further up the food chain though. The Notts groundsman put out a message today saying he was disappointed that it didn't have more bounce and carry. Pull the other one me duck, as they say in Nottingham. You have a whole year to prepare a surface for this, and any groundsman worth his salt will know how much water is in his table. He will know how the pitch is supposed to play so who is ordering these?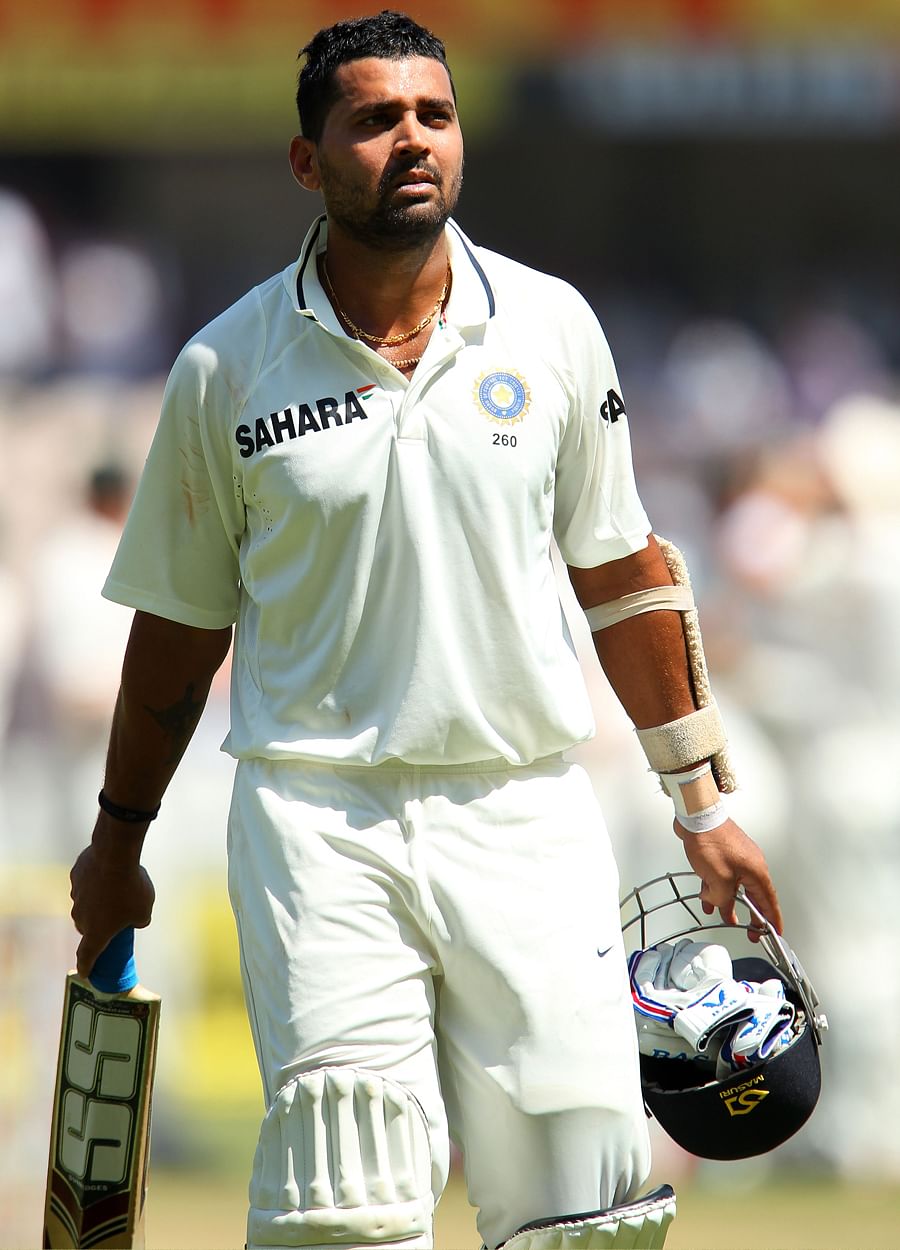 Vijay...at home on this wicket
All of the Test matches last year were on similar surfaces and I thought it was one of the poorest Ashes series in years. I know we won 3-0 and beating the Aussies is always fantastic, but it lacked the drama of 2005. The pitches were attritional, and from what I saw against Sri Lanka and this one today, the ones this summer are no different. So is it the county Chief Execs?
If so, then the ECB have to reward counties, as Pringle suggested, with a bonus. If England win there, they should be rewarded for their efforts. Naturally not within three days, where we see surfaces akin to Oscar Pistorius' bathroom door, or with as many holes as the Brazilian back four last night, but if it goes for four or five days, and England win, chuck them a bonus.
If however, this is an ECB directive, then it is inexcusable. If that is the case then yet again, money has been put before the interests of the national team.
And if so, heads should roll.