Yorkshire have today become the LV County Champions for the 2014 season and it was well deserved. As predicted on these pages back in March, Yorkshire have won the title with a game to spare and they were by far the best side in the country this year, capturing their first title since 2001. Batting, bowling, coaching, and fielding, there were no weak links in their armoury, and they sealed the title in spectacular style as they thrashed Nottinghamshire at Trent Bridge. In a week where a certain gentleman in South Africa has been found not guilty of murder, it was the Yorkshire lads who had a spring in their step, and now they can go out and get legless. There was nobody culpable in Humberside. With a game to go against Somerset left, they can even put their feet up.
As a shameless plug, you can even meet some of the Yorkshire stars who will be doing live Q and A's with me on stage on September 25th. Our Q and A's have proved to be really popular and you can come and see them live as well as meet Jack Brooks, Jonny Bairstow, Ryan Sidebottom and ex Yorkshire bowler Steve Kirby at the Premier Suite at Headingley. They are four of the biggest characters in English cricket at present and there will be many stories and anecdotes over the night. The show starts at 7.30pm and for £15 including food, surely even the most parsimonious of Yorkshiremen will feel that it is great value. There's even a chance to buy some signed Yorkshire and England memorabilia in the auction. This will be after the third day of the Somerset game and they may even parade the trophy. If history teaches us anything, then no doubt John Terry will be with them parading the pennant! It will be a hilarious night, one that no Yorkshire fan should miss and all in aid of the wonderful charity Melanoma UK, who do so much work educating sportsmen, especially cricketers who are exposed to prolonged periods of sunshine. You can book your ticket by calling 07530 986477 or visiting
http://www.eventbrite.co.uk/e/pushing-the-boundaries-to-headingley-tickets-12526861179
The top of the order has been immense for Yorkshire. Adam Lyth has been a player who for a number of years, has always had the ability. Blistering starts weren't always converted and in Yorkshire, that's like asking a local if he is from Lancashire. The mood of the members, after a flashy Lyth twenty was often as black as the famous jet stone found in Lyth's native Whitby, and this season was one of reckoning for him. However, a visit to a sports psychologist who made him putt golf balls from two feet away is apparently the reasoning behind his vastly improved concentration. Lyth made 212 of them in a row according to reports, and this season he has been immense. With 1400 runs at over 70, he has added steel to his flamboyancy and come next spring he is more like to be batting at Bridgetown than Bridlington. Barbados, not Scarbados beckons, as he is likely to be on a plane to the West Indies.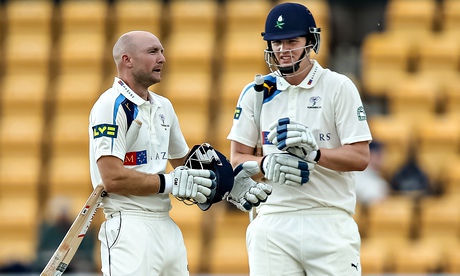 Lyth and Lees...outstanding
His opening partner, Alex Lees has also had a great year. Like a northern Alastair Cook, Lees stands up tall, left handed and some of his straight driving down the ground has been a joy to watch. At twenty one Lees has a fine future ahead of him, and he has followed the Middle Stump for a while now on Twitter, which not only makes him a fine cricketer, but an erudite, stylish and worthy fellow. Lees will play for England one day, without a doubt.
Behind these guys, there are some fine averages for the batsmen. Gary Ballance and Lyth have both averaged over seventy this year, import Kane Williamson and Jonny Bairstow have averaged in the fifties, and then four batsmen average in the forties. Lees and Finch are two of them, but Adil Rashid who has become a fine all rounder is another. Just when you think you are through this lot, Rashid comes in the lower, middle order and scores runs for fun. The other one is the skipper Andrew Gale, who selflessly dropped himself at Lord's earlier in the season, to accommodate the returning Root.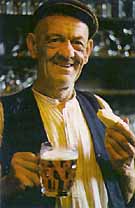 The celebrations have started in Yorkshire
With the ball, the attack has variety and if you bowl sides out twice, you win games. As the Yorkshireman, Geoff Boycott tells us regularly on Five Live, "Cricket is a simple game". For me, the star of the campaign has been Jack Brooks. The Ferret has spearheaded the Yorkshire bowling and picked up wickets when they have needed them. He is the leading wicket taker in the country and on good tracks where the batting averages prove that runs have been plentiful, the ever present seamer has been outstanding, moving the ball in the air and off the pitch at a fair pace. Brooks and Sidebottom have picked up over a hundred wickets this year, and I pray that they give me an easier time on stage than they have the top orders of most county teams! Sidebottom is still a great bowler and has picked up his fourth championship winners medal. Behind this pair, you have the reliable Patterson and Bresnan, the raw 90mph pace of Liam Plunkett and the wily leg breaks of Adil Rashid. Even the squad players have come in and played their part with the likes of Pyrah, Hodd and Co all pushing the first teamers hard. Competition for places is a healthy way for a club to operate.
What I like about this side though is the way that they have brought through youth and shown them the winning mentality. Lees has been well documented, but Jack Leaning has come into the side this year and kept his place. Fisher, Coad, Wainwright and many others mean that the future is bright, and when Yorkshire are strong, then England tend to be too. Let's not forget a certain Joseph Root either, who may well captain them for their country one day, and isn't that much older than them.
Dizzy...deserves credit
One man who deserves a lot of credit is Jason Gillespie. Jason has only lost three LVCC games since taking over in Leeds, and has turned people like Plunkett, Lyth and Brooks, who were all steady county performers into stars either in, or on the verge of international honours. Gillespie was a member of one of the finest sides to ever walk on to a cricket pitch, and when Yorkshire grit and Australian mongrel (in the nicest possible sense) are mixed, it makes a team very hard to beat. Just as in 2001 when Darren Lehmann was hugely influential in that title campaign, albeit as a player, it would come as no surprise to see Dizzy in a top international role in the future.
For the Yorkshire public, they will basking in their glory. Having had the Tour de France this year, and now drinking champagne the season has been, as they say in France,
formidable.
As the sun sets and the nights draw in, there will be a smug satisfaction to the way things have gone as they reflect on the year.
For most of us the season is drawing to an end, but for Yorkshire County Cricket Club, this may only just be the beginning.
Jack, Ryan and Jonny on hearing the news that they were to be interviewed by The Middle Stump