The scenes being flashed around the world from Sydney yesterday showing a stricken Phil Hughes struck a cord with every cricket fan around the world. Anyone who has played the game will have been hit at some point, to varying degrees and a cricket ball hurts. As Hughes fights for his life, we can only pray and hope that he pulls through. A popular player amongst team mates and opposition alike Hughes' stints here at Middlesex and Worcestershire make him known on a global level and the support coming from all over the world from the #cricketfamily shows how much the Aussie is respected.
Hughes...in the thoughts of cricket fans worldwide

Hughes was on 63 in an inter state game when he was struck from a rising delivery from Sean Abbott, that seemed to hit him behind the ear as he went hooking. The left hander, stunned put his hands on his knees, before collapsing. A lot of crap has been written in the press about helmets today, and citing injuries to Broad and Kieswetter this summer, but the truth is that they are safer now than they have ever been. The technology and design of the likes of Ayrtek save lives, but at the end of the day people will always get hit by a cricket ball.
I have been hit pretty badly a few times. Once at silly mid off springs to mind where the ball rebounded off my head for four. Helmetless, I went down like a sack of shit and luckily it hit me in the corner of the head where the skull is at its thickest. An inch or two below on the temple, and it may have been a differing story. As it was I couldn't shut my jaw due to the swelling for a number of days. Thoughts always go back to seeing a young Andy Lloyd get hit on the temple by Malcolm Marshall in 1984, and it is sickening.
Lloyd hit by Marshall in 1984
The helmet has changed matters. In the seventies bats would sway or duck but swaying the bouncer became the preferred option. Firstly this allows you to keep your eyes on the ball for longer and secondly, in those days of uncovered wickets you could never truly trust the bounce. Now batsmen on better wickets are more likely to play the hook or pull shot, having practiced it non stop versus bowling machines, and inevitably the law of averages dictates that you will miss one at some point. Helmets have changed cricket and for the better. They save lives no doubt, but accidents will always occur. I don't see people pointing their broken fingers at glove manufacturers, do you?
Cricket is still a brutal game, as Mike Atherton wrote yesterday and confrontation and intimidation is part of the game. This is elite level sport and when you are being paid to do your best, if that means bouncing someone then that is life. I saw a very odd tweet a few months ago of someone having a pop at Jack Brooks for bouncing Craig Kieswetter in his comeback game after a broken cheekbone. What? Brooks is paid to do a job, one he does very well and I am sure Kieswetter wouldn't have it any other way. Professional sport is no 'tea party'.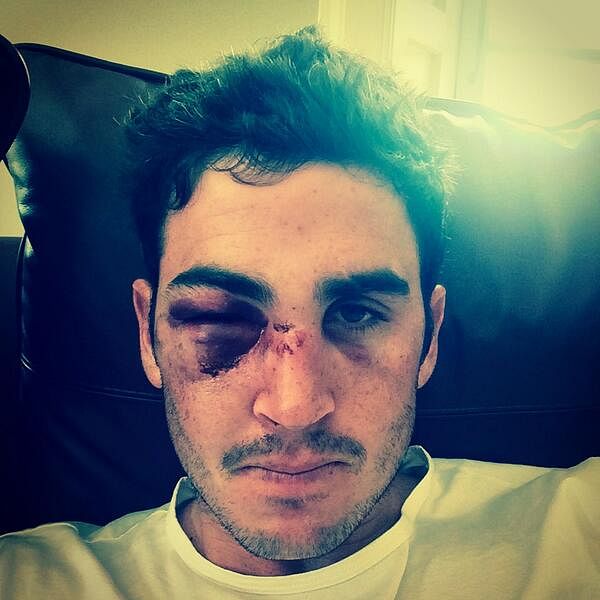 Kieswetter in July
Hughes is an opening batsman, and part of his job is to face the ball when it is at its hardest. His role is to soften it up for the pretty boys of the middle order to flash their shots. Therefore he will have been used to facing 'chin music' regularly.
Therefore we must also have Sean Abbott in our prayers as well. No one means to go out and hurt someone, no one needs to be blamed. As Hughes lies in a coma the cricketing world should be praying for a fine young, twenty five year old man, and not looking to generate the blame culture that pervades society these days. Pray, not prey. The players in that game have been offered counselling and scenes where the fielders are obviously panicking as they were at the SCG, are ones that no one in the game wishes to see. It was just a horrific, unfortunate accident and one that we can only hope Phil recovers from.
Get well soon pal.