|Tom Huelin is back and looks at the under pressure England skipper...
ECB, Please don't blindly back our failing skipper.England are a rudderless ship and unless Captain Cook walks the plank – or is thrown overboard – they are drifting towards a big storm at next year's World Cup.
Cook....under pressure
I'm not normally one for hyperbole, but England's One-Day side is doomed for failure Down Under if the ECB persist in backing Alastair Cook as captain in the 50-over format.
I like Cook. He seems like a thoroughly decent chap. I interviewed him once and he was charming, courteous and polite.
But decent chaps don't necessarily make good leaders. Michael Vaughan was the best England skipper I can recall, but I don't see people queuing up to tell us how wonderful his family is.
"That dressing-room is very much his dressing-room," ECB Managing Director Paul Downton told BBC Test Match Special of Cook on Monday. "He's the natural leader of that group of players."
Why do the ECB feel the need to constantly tell us how good Cook's leadership credentials are? Do they think if they keep saying it, it might actually come true?
The point is, you shouldn't pick 10 players and a captain for a team; you pick your best XI and select a captain from there. The question shouldn't be, 'is Cook a good ODI captain?' but 'is Cook a good ODI opener'?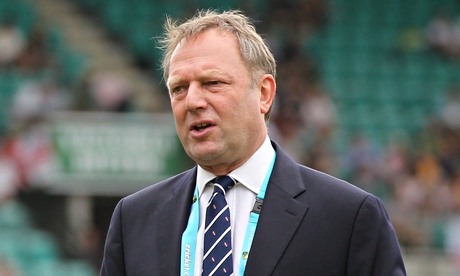 Downturn...right behind Cook
If he is a plausible pick as opener in the one-day team then the captaincy is his. But as things stand, Cook is the least desirable batsman in the whole of the preliminary, 30-man World Cup squad named by England last month. Rookies like Jason Roy and James Vince would be a more desirable pick than the Essex opener.
Don't forget, when Cook was made captain in 2011 after Andrew Strauss's resignation, he wasn't even in the World Cup squad that fared so dismally in India and Bangladesh. The ECB won't admit this, but he was awarded the ODI captaincy to develop his leadership skills before being named Test skipper.
There's no doubting Cook's ability in Test cricket. He was made for the format; his patience at the crease, his ability to cut and pull anything that strays either side of the stumps, his ability to bat long. But ODI cricket is more aligned to the t20 format nowadays, and I'm afraid traditional Test players like Cook are going to struggle to keep up.
Peter Moores has admitted that the performance of Cook, and that of the entire squad, will be reviewed after this Sri Lanka series. But no one believes for a second that those discussions will result in Cook being dropped, as he should, from this side.
Joe Root and Eoin Morgan are modern, innovative cricketers who thrive in limited overs formats - they should lead what is an exciting group of players into the 2015 World Cup, and beyond.
For all the ECB's attempts to make the organisation appear more accessible and light-hearted in the aftermath of the KP scandal - Joe Root can play the ukulele, don't you know - the truth remains that there's about as much transparency in Team England's decision-making as there is in Downton's rose-tinted spectacles when he tells supporters "It's time for people to get excited again."
Joe Root????

Supporters aren't stupid. Neither are they mean-spirited or vindictive (on the whole). This isn't a vendetta against Cook; we just want to see England play an exciting brand of attacking cricket. I can take not winning the World Cup, what I can't take is an administration blindly backing someone who clearly doesn't have the requisite skills for the format.

ECB may attest that Cook's leadership is so good, but I would counter that with just one question. If Cook is such a good leader, why has his best player been cast aside?
Transparency isn't publishing videos of Moeen Ali completing a whimsical Q&A ("Tom & Jerry, innit.") It's about making honest decisions in the best interests of the game. Downton saying that Cook will make runs at some point in the future because, well, the law of averages says he has to? I'm sorry, but if we are reverting to a 'hoping for the best' approach to the World Cup already, then we really are doomed.
England have an exciting collection of players right now: Moeen, Root, Finn, Taylor, Hales, and Buttler for starters. Add to that the likes of Vince, Roy and Billings coming through the Lions and Performance Programme, and the future is bright.
And so it is with an eye firmly on the future that I ask the ECB, Please don't blindly back our failing skipper. Pick your best XI, your best squad of players, and from there pick your captain.
Then your fans will back you, because ultimately we all want to see England do well.
If Cook goes to Australia as captain, I fear England will be a rudderless ship careering uncontrollably towards a big storm. The sad thing is, while it's not too late for the ECB to do something about it, it's unthinkable that they will.