Paul Downton's comments this week unequivocally backing Alastair Cook were eye opening to many English cricket fans. It seems that when Paul opens his mouth these days all that comes out seems to be a huge faux pas and we are turning into the butt of jokes worldwide. The Aussies, Indians and every other country seem to find the state of English cricket hilarious, and for me, I don't like it. With the season to be jolly upon us, most of us just feel downright miserable at England's one day form and I personally feel it is time for change. Do we change Cook, Moores or Downturn? Or all three?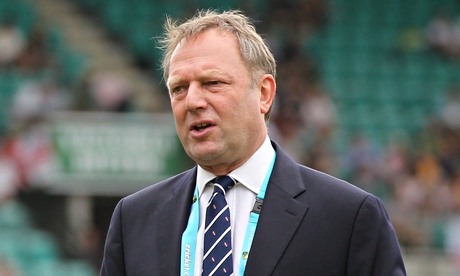 Down turn in England's fortunes?

I feel a bit bad writing this at this time of year, as all three are probably very nice chaps. However, with Chanukah taking eight days and our Christmas season only lasting for three months there is probably never a good time.
Downturn has been in the role for nearly a year. His first job involved getting rid of the man who is England's leading run scorer in international cricket. Then despite there being a period of quiet where neither party (KP or the ECB) were allowed to speak about the ongoing case, Downturn managed to speak about it live on TMS. I had my doubts already, but that didn't cover him in glory.
He then disappeared for a while before coming out this week about Alastair Cook. If Cook manages to keep his job, he will be like a family who have taken out a Wonga loan to buy their Christmas presents; forever in their debt.
Moores or less?
It was no doubt Downturn's job to employ Peter Moores. Both of Moores stints at the helm of English cricket haven't exactly been hugely successful, and despite him winning the County Championship with Lancashire, he also got them relegated. Now Moores is supposedly a very nice bloke, well thought of throughout the cricketing world. The county of Paul Downton's birth he is most definitely not. However, is he a world class coach? The stats don't seem to think so. Moores or less?
The you have Cook. His position is now untenable in the eyes of most England fans. One fifty in twenty two knocks with a poor strike rate means his position in the side is like Tom Watson in the Ryder Cup; a non playing captain. His captaincy, although improving is still not in the league of Michael Clarke whilst his fielding seems to have gone backwards. I do think Cook will be more suited to the World Cup in Australia where the wickets come on a bit more, but the sands of time have run out. His stickability is admirable, but a lot of us wish he would be more similar to the captain of the Costa Concordia when his ship has run aground.
English cricket?
All three are nice blokes but being nice doesn't win you games in international sport. All three seem to lack the ability to think on their feet showing the flexibility that defines leadership. All three are decent at their jobs without being world class. With the ECB being one of the richest boards in the world, us England cricket fans deserve the very best and even the most myopic supporter of these three would have to concede that England have under achieved for the last fifteen months.
Is it time for change? Yes. The only thing is who?