The Cricket World Cup is about to kick off in Australia and New Zealand pretty soon in association with Indian television, and for me it is way too long. Too many pointless games, rigged so that the top eight make it through and not competitive enough. It needs to change as we haven't had a decent one for years, and barring a bit of match fixing, an English batting collapse for a month (you never know) or some Viagra in the Irish Guinness we all know who is going to be in the quarter finals. Is it time to change the format? Like a German comic, this is no laughing matter.
Will the 2015 WC bring us memories like this?

Scyld Berry alluded to this in the Sunday Telegraph yesterday. Advertising breaks at the request of Indian television, a competition designed for notorious slow starters India are all part of this year's World Cup. You would think that the ICC are run by India wouldn't you? Only joking, we all know that they are an impartial organisation with the interests of all the world playing nations at heart.
Then we have more games lined up than Christmas Day when your tv breaks down, thanks to two pools of seven sides each. The top four then qualify for the quarter finals. With Group A consisting of Afghanistan, Australia, Bangladesh, England, New Zealand, Scotland and Sri Lanka it doesn't take a rocket scientist to work out who the top four will be. One of the big boys can still have a bad result and qualify.
Outsiders India lift the 83 World Cup
Group B consists of India, Ireland, Pakistan, West Indies, Zimbabwe, South Africa and the UAE. Ireland might topple West Indies if we are lucky but in reality there will be about as many surprises as predicting the champions of the Scottish Premier League or stating that grizzlies defecate in tree dwelling environs.
The format needs to change as the last few have been about as memorable as a goldfish with Alzheimer's Disease.
Scyld is right in what he says. Bring run rate back into the competition so that there are no dead games in the group stages would be the first point. Secondly, scrap the quarter finals with just two sides from each group going straight into the semis. No competition in the group stages is just a dress rehearsal, and in my own personal opinion England will be out there a long time just to get knocked out in the quarter finals. Like me after twelve pints, I can't even see them reaching a semi.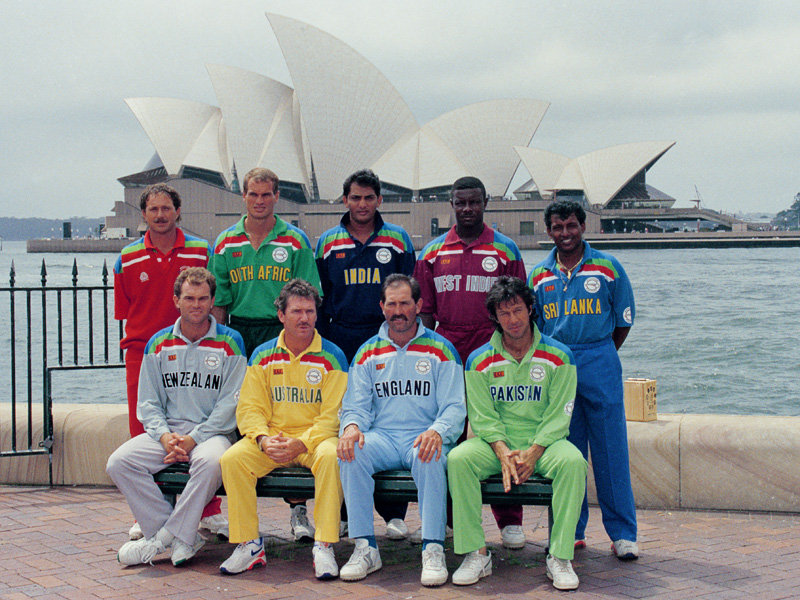 AB shows the pain of wearing the airwear kit!
World Cups should be special occasions. Think of the Allan Donald/Klusener mix up, Collis King, Gary Gilmour, India winning in 83, Imran's cornered tigers, the shocking kits at the 92 tournament as modelled above, Gatt reverse sweeping, these memories should last, and it should be an event to savour, as opposed to organised match fixing and being the bitch of advertisers and television executives.
I hope I am wrong.