Recently I have released my book Characters of Cricket. So it was an absolute pleasure and privilege to interview one of the greatest characters to have played the game, not only in recent years, but quite possibly ever. However, not only a character and a brilliant keeper, but a top bloke and great laugh too. Read on as Jack talks to us about what he would have done to Hansie Cronje, Courtney Walsh smashing windows and the best sledge that he ever received from Robert Croft, in this hilarious interview with a legend of the game...
Robert Charles Russell

TMS: Jack, as one of the finest glovemen of all time, who represented his country over fifty times including a couple of hundreds, had a career spanning twenty five years with Gloucestershire, it must be a massive privilege to be doing a Q and A with The Middle Stump?
JR: Of course. It's an honour. One of the highlights of my career.
TMS: How is life as an artist?
JR: Good. I have two jobs to pay the bills with this and my coaching and I love them both, so if someone arrested me for enjoyment, it would be "hands up, guilty". As a kid you want to play sport and draw or paint, so my wife tells me I haven't grown up yet.
TMS: Quite a few have gone from cricket to art? Martin Speight was one wasn't he?
JR: Yeah Speighty and Digger Martin did for a bit too. Ken Turner was another, the old Leicestershire guy and there was an Aussie who did cartoons back in the thirties or forties.
TMS: Different from a cricket changing room then?
JR: Very different, but it suits my character as I am a bit of a recluse. It compliments my life though, having played in front of a full house at Lord's, and then being on your own in a field with your flask and a cup of tea.
TMS: Your England career started with a bang as one of the few to come out of the 1989 series v the Aussies with credit. You must have got the odd word during your 128 at Old Trafford?
JR: I got it more at Lord's in the second Test to be honest. Richie Benaud had said that I couldn't play the short ball, which set the alarm bells ringing because I knew what was coming my way. I went and practiced ducking and weaving with rubber balls, so much I was nearly late for the team meal! I got 64 not out there, and was relieved as back then, if you had two bad games you were out. I think we used forty odd players that series. I copped loads at Lord's, but by the time I scored the hundred at Old Trafford, they realised that sledging me wasn't any good.
At Lord's, Merv got stuck in so I said back "Eff off you fat whatever" and then there was this eight foot six moustachioed Australian trying to kill me. Dickie jumped in, and then started panicking which made it worse.
Jack and Athers during that famous partnership in Jo'Burg
TMS: I bet the South Africans dished out a fair bit when you helped save that match at Johannesburg when Athers got his 185?
JR: Oh yes, there was plenty going on there. That one had a bit of history though as we played at Bristol the previous year and I skippered Glos, and refused to give them extra batting practice. That put down the marker as they wanted to bat more, but I wasn't there to try and help them. I nearly caused a riot and had to leave by the back door, and that was just from the Gloucester supporters. I told Cronje to get stuffed, and then went and batted twenty nine overs or something for ten!
Saying that, I spoke with Cronje on the balcony when he was at Leicester and if I had known then what he was up to with the match fixing, I'd have pushed him off. Hansie and the close fielders gave me heaps that day in Jo'burg.
TMS: How did you make batsmen feel uncomfortable when you were keeping?
JR: I used to play Space Invaders, and invade their space. Get in front of them, and get the fielders to ping it in, deliberately letting it make slapping noises close to them. Ian Ward of Surrey and now at Sky, copped one on the helmet once, which caused a massive dent in his lid.
I once growled at Matthew Hayden at Northants, this little bloke under his chin, but he just laughed.
The other thing I would do is scratch away between balls which annoyed the batsman. I did it once against Notts and Paul Johnson kept pulling away, I would do it more and he would keep pulling away. We delayed the game for five minutes and the umpires stepped in.
TMS: You are famous for your love of tea?
JR: I'm having a cup now, talking to you Dan!
TMS: Favourite brand?
JR: I'd best say Yorkshire Tea as I am moving there soon. I like them all though, proper breakfast tea. Not a fan of all the new ones, but good old fashioned English breakfast tea.
TMS: Is it true you would hang a tea bag on your peg and re use it over a Test match? Derek Randall said you made one hundred cups from one bag once.
JR: That's on Wikipedia and it was Derek Pringle. It also says that I went to the same restaurant and had chicken and cashew nuts night after night but without the cashews. It was actually chicken and celery. Without the celery. With regards to the tea though you could only take a certain amount on tour though, and had to make it last. The same went for baked beans and chocolate biscuits.
TMS: We heard that you liked something a bit stronger than tea in your early years? Any truth in that?
JR: I was a right drunkard and you can quote me on that. I nearly got the sack but a couple of players had a word with me, and for a change, I listened thank God. Back then if you didn't stay drinking until midnight, you weren't a team man and got threatened with such. I wasn't a very good drinker mind.
TMS: So who were the good drinkers and who was rubbish?
JR: Rubbish would be me after half a shandy. I was a cheap night out. The best would be some of the Gloucestershire lot. Richard Ellis was at the top of the table, and then under it. Phil Bainbridge and Co. were the ones, although David Graveney had hollow legs and could drink too. I suppose he was the skipper and had to lead from the front.
TMS: John Simpson of Middlesex who you coach, tells us that he offers you lunch and you only eat cheese and pickle sandwiches?
JR: I can't deny it, although have progressed occasionally on to cheese and ham.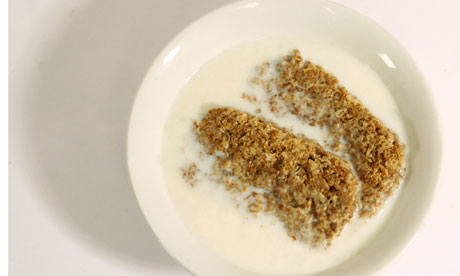 12 mins minimum or the twelfth man gets a rollicking
TMS: Weetabix?
JR: I stopped that when I finished playing. They had to be soaked for twelve minutes minimum or the twelfth man would get a rollicking.
TMS: Beans on Toast?
JR: Still love Beans on Toast. Pete Lowe, the dressing room attendant at Middlesex would know what I wanted just by me giving him that look. We played there so often in the finals with Glos that he knew what I wanted, whether it was Beans on Toast or tea, just by a look.
TMS: Quickest bowler faced?
JR: Sylvester Clarke at the Oval. At the far end it was just a shed down one end, and I played a defensive shot, and I just did not see it, no word of a lie.
TMS: Best bowler faced?
JR: Marshall was the cleverest.
TMS: Do you still blindfold people who come to your house?
JR: Haha. No I have moved now. One journalist even blindfolded himself!
TMS: Best sledge received?
JR: Robert Croft at Glamorgan said to me, "We know where you live"! Northants all did a good one once too. We played on a flat one and Hussey got three hundred. I got a hundred as the game was heading for a draw and they all came out with sunglasses and moustaches. I was crying with laughter.
Croft: "We know where you live"
TMS: Favourite ground - to play on and to paint?
JR: Lord's. To paint, I still love Lord's the atmosphere but I keep getting asked to do that one so only do it occasionally now. I would have to say Worcester, before the new stands went up with the cathedral there.
TMS: How good were those Gloucestershire one day years, as they have become known, after your England career?
JR: The best ever. I had had my cake, and was eating it, and those years were the icing on the cake. After I had retired from England, John Bracewell said "What do you want to achieve"? I replied a medal, and he told me we were going to win medals; plural. We won the treble one year and I would say that we took the game forward, the one day game especially under Bracewell and Mark Alleyne. I would put that time alongside my England career as a highlight.
TMS: You were famous for standing up to the quicks during that time?
JR: Yeah I stood up but with a slip so if one was nicked, Martyn Ball who was a brilliant slip, would be there. We got a lot more nicks, and a lot more lbw's as the batsmen couldn't cover the movement.
TMS: Ever stand up to Courtney?
JR: Twice. Once on a flat deck at Headingley which was no problem. The other time was on a rough deck at Swansea and we were struggling to get the last wicket. With half an hour to go, I stood up and he has yorked their number eleven. He broke the stump though and this spear went past my head. It nearly killed me.
I told Syd Lawrence I was going to stand up to him too once at Leicester, and he then proceeded to bowl three seriously quick overs at Roger Tolchard. I think it fired him up!
Luckily this one didn't spear off!
TMS: How did you practice standing up to 90mph bowling?
JR: I never did. I suppose I relied on instinct and a bit of bravery. I was aggressive though, wound up and that got me through. No keepers wore helmets then standing up, I never did.
TMS: Best keeper you have seen?
JR: Alan Knott. A genius. James Foster though has taken balls which he has no right to, and has taken it to a new level, and technically Bob Taylor was outstanding, but Knott was my hero so I'll go for Knott.
TMS: A few years before your debut you had the likes of Taylor batting nine or ten for England, yet you didn't play as much as you should due to the batsman/keeper phenomenon. Will the trend be reversed and should England go for a pure out and out gloveman again?
JR: I think they should in a T20 where you shouldn't need as many batsmen. Foster came in the other year and took two match changing stumpings, if you remember. So surprising to hear, but I would say that T20, if it ever does creep back in, would be the place to do it.
As for me, I blame Botham for going out of the team as he was a genuine all rounder. Yeah, I blame Beefy haha. Tell him that too!
TMS: Who would throw the biggest wobbler when they were out for a low score?
JR: Me. I could smash a cricket case. The least was Gooch. He would calmly come in, place his bat down and his gloves very quietly. I remember Courtney once, and bowlers are often the worst as they blame the batsmen for letting them down. It was a televised John Player League game at Ilkeston and we lost chasing 138 or something. He threw his bat down and it bounced straight through a window, live on television to much cheering from the Derbyshire crowd. I still have the video tape. Courtney paid for the window by the way.
Has Courtney been here?
TMS: What were you taught about protection from the sun in your career?
JR: Zero. Absolutely nothing. Not even at the end of the career, I don't think we even got checked. I saw adverts in Aus for Slip, Slap, Slop but that was about it.
TMS: So what do you think of the work Melanoma UK are doing educating people, especially cricketers about being exposed to long periods of sunshine?
JR: Crucial and absolutely brilliant. The Andy Flower thing just goes to show doesn't it? They are life savers in a nutshell.
TMS: Best three keepers in England at the moment?
JR: James Foster, John Simpson and Jos Buttler. Foster has the know how and the knowledge. Simpson is not far behind, and technically he is top class, the best. Buttler will be very good. He is a top batter and has a great attitude.
TMS: What is more important for a keeper, glovework or footwork?
JR: Glovework. You have to use your feet as you have to get from A to B, but your hands and eyes are your most important tools.
TMS: Been watching the World Cup?
JR: I'm in mourning. We're just not going forward are we? I'd expect a county team to beat Bangladesh, but admiration for them because they just wanted it more than us. They took the game and wanted to win more. One day cricket you have to do that, and if you play with a ball and chain around your feet, you never will. It's frustrating.
TMS: Soes your hat have pride of place in your home?
JR: I have to know where it is or I start to panic. When I played and there were all sorts of jokes in the dressing room I would say, "Do not touch my hat or my gloves". I would take it home every night!
TMS: Finally, what does the future hold for Jack Russell?
JR: More painting. When I paint I'm happy. Maybe in a hundred years I might get to the bottom of the subject haha.
And with that, we left Jack to his cup of tea and to paint. What a top bloke, honest and forthright.