Having discussed the runners and riders in the LV County Championship top tier, here we have a look at who is jostling for position to dine at the top table. There are some top, top players in Division Two this year, although I have a feeling that the press may just be focusing on one world class player in South London, and no I am not talking about Jade Dernbach. Let's have a look at our predictions for the second division.
Will the title come to the new look Old Trafford in Sept?

Derbyshire - have a very, very good chance. Pop Welch is a top class coach and the addition of three toed Martin Guptill will boost their ranks. The one I really rate highly though is Shiv Thakor who has moved up the M1 from Leicester, and this boy bats, bowls the lot. Harvey Hosein with the gloves is a decent prospect whilst Greg Cork swings it about like his old man did. Footit also bowls at a fair old lick. In this division always one comes through, and I wouldn't bet against this lot this year. Prediction: 2nd
Essex - may well have Alastair Cook back for some of the summer if he doesn't start scoring the runs internationally. Ravi Bopara in his benefit year is always a handful and led by the brilliant James Foster this lot can beat the very best on their day. Finished last season well, but their batting can fall apart quicker than counterfeit clothing bought at Romford market. Kishen Velani is a great prospect. Prediction: 4th
Glamorgan - so much depends upon the fitness of Michael Hogan. Graham Wagg is a decent bowler, as is on loan Andy Carter but Glammy's problems in recent years have been a misfiring batting line up. Jacques Rudolph will help, and Chris Cooke is coming of age. Some quality youngsters such as Aneurin Donald but for the boys from the 'Diff, this year may be Llanishen Impossible. Prediction: 6th
Hogan...rapid
Gloucestershire - now led by Geraint Jones, will this year make them ship shape, and Bristol fashion? Chris Dent will dent a few bowling figures, and Will Tavare is a good player too. The departure of the Gidman brothers (sounds like a folk band doesn't it?) leaves a hole, but Benny Howell is a good player with bat and ball. Not enough depth though, and a season of struggle awaits in the West. Prediction: 8th
Kent - the return of not just one, but two prodigal sons in Joe Denly and Matt Coles for Kent, and this lot have some serious talent coming through the ranks. Bell-Drummond, Riley, Billings and the experienced Rob Key and Darren Stevens should be the nucleus of a decent side. There will be flowers for the garden county in the one day game, but not quite ready yet in the LVCC. They will be soon though. Prediction: 5th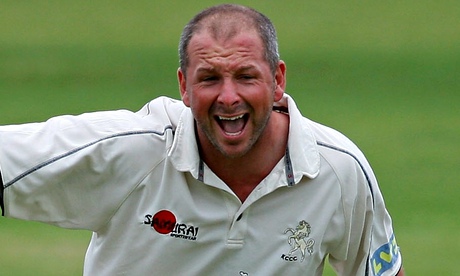 Stevo...class act with bat and ball
Lancashire - batting could be their problem but I fully expect Luis Reece to fill his boots in Division Two. Scouser Tom Smith will nick plenty of wickets as will Simon Kerrigan. Peter Siddle will spearhead the attack and Alviro might not be the only bloke with a name Petersen, who scores a few runs in Division Two this year. They will be dancing like Bez come September, in Manchester. Prediction: 1st
Leicestershire - the new broom has swept clean at Grace Road but a squad the size of neighbouring Rutland will mean another season of struggle. Niall O'Brien is always a bright light, whilst Mark Cosgrove's leadership will ensure they have the stomach for the fight. Ned Eckersley is a good player and look out for Angus Robson, brother of Sam. This lot should score runs, but taking wickets will be their undoing. Prediction: 9th
Northamptonshire - a year of struggle for the least well supported county in England, although shellshocked after the year with the big boys, this year should provide the odd success. Azharullah will lead the attack whilst there are some great youngsters here. Josh Cobb, Duckett, Keogh, Willey, Stone and Rossington signed from Middlesex are all ones for the future. One day success perhaps, but promotion is harder to cobble together. Prediction: 7th
Jason Roy...top bat in Div 2 this year?
Surrey - right I am going to stick my neck on the line and put these guys down in third place. Sangakkara will get score more than a junkie in the Elephant and Castle, as will a certain other middle order batsman should he not get his England place. Ansari is a class act, as is Jason Roy. The problem will be taking twenty wickets at the Oval and this may be their undoing, unless the cheque book comes out. Balcombe will beef up the bowling, and Tremlett is quick but bowling a side out at the Gasworks is no easy task. To do it twice on a regular basis means they may well miss out on promotion. Prediction: 3rd