So the series has started against the West Indies and there is no better place than these wonderful islands to tour. Any Englishman or woman about to embark on the plane to the Caribbean must surely read this first though. These boys and girls love their cricket, and the cricketing crowds in these islands are warm, friendly and great fun. You need no further guide than our cultural attache's blueprint to all things West Indian. Never ones to be stereotypical, put on your England football top and check out the following as you sit perched on the end of the bar for two weeks in your all inclusive resort...
Ackee - a dish served throughout the Caribbean often accompanying salt fish. Or the famous purple rice with peas. On no account should you confuse this with Purple Aki, a gentleman known throughout the gyms of the North West of England. Google him and you will be shocked.
Anderson - the Christian name of legendary quick Roberts. Also, the name of an English bowler who might break the odd record in this series.
Appleton - the home of rum in Jamaica. Let's just say that some of the stuff exceeds the 40% maximum proof allowed back home. Go carefully, chaps.
Antigua - home of Curtley, Vivi, Richie Richardson and Andy Roberts, the fastest bowler in the world as the song went. Antigua has 365 beaches, one for every day of the year.
Bajan - we had a Bajan over a few years ago to play cricket for our club in North London. He told us he was an opening bat and first ball of the game, he has smashed one into the trees. One of our lads has turned around to me and said, "Fuck me, if he is an opening bat, I would hate to see what six and seven are like"!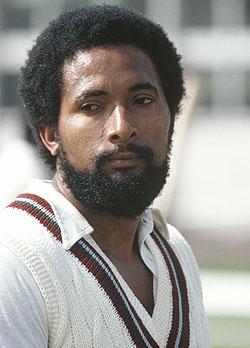 Anderson Roberts
Banks - not the people behind the collapse of the world economy in 2007 but a fine, cold lager from Barbados.
Bell - what Curtley's mum would ring in her home village every time he took a Test wicket. Also, a ginger haired chap who might score a few in this series for England.
Body Bag - when England toured the Windies in 98, the team rep met the side and said, "Hello Mr Atherton, hello Mr Stewart, hello Mr Hussain, Tufnell....you is going home in a body bag"
Captain Morgan - not the Middlesex man who led England in the World Cup but a dark rum popular with the natives.
Chicky - the DJ who would blast the tunes out at the St John's Rec in Antigua. As Lara smashed records there regularly, he would thump out reggae singles such as "High Mas, Toro Toro and Who let the dog's out?"
Clart - often preceded by Ras, Bumba or Blad this is what a West Indian bowler will call you if you play and miss on a regular basis. Generally not a term of endearment as I believe it translates to him calling you a sanitary towel.
Conch - the people of the islands will utilise their assets. Not content with diving down amongst the rocks and eating the Queen Conch on a barbecue, those left over shells that don't adorn the mantlepieces of tourists to these islands, have the ends sawn off whilst the locals will blow into the end every time their batsmen hit a boundary, making a horn type sound. Rumours that in the 1980's these creatures faced extinction when Viv was batting are completely unfounded.
Courtney - a legend in Gloucestershire and Jamaica. The leading wicket taker ever for the Windies.
Crumpet - apparently after a half volley to Gordon Greenidge that was returned missing his head by millimetres, Middlesex bowler Wayne Daniel turned round to him and promised "I will never chat up your crumpet ever again"!
Curtley - hardly bowled a bad ball. A genius and the architect of England being all out for 46 in Port of Spain.
Cuthbert - the first name of Gordon Greenidge. How did a man called Cuthbert hit the ball so hard?
Wayne Daniel...a diamond
Daniel - as an eight year old in 1978 at Lord's I asked this big Barbadian for an autograph and he asked me my name. I squeaked "Daniel" and he responded with "Dat's my name too. Wayne Daniel" and from then on he was a legend in my eyes. Loved by all at Middlesex, except perhaps by the husbands of a few of his lady friends throughout St John's Wood.
Goat - the nickname of Phillipe Edmonds along with Henri. Something to stick in a curry in Jamaica too and it is very tasty.
Gravy - a cross dressing gentleman who would dance on the stanchions of St John's Rec in Antigua providing entertainment for the crowd, as Lara would smash records. A sort of Caribbean Bez from The Happy Mondays.
Guyana - home of the 'Big Cat', Clive Lloyd. He held the West Indies together in the 70's and 80's. No relation of Bumble.
Holder - I sat on a yacht in December 1998 in St Lucia listening to Noddy belting out Christmas carols once in 32 degrees. It was surreal. The surname of World Cup skipper Jason.
Holding - Mikey, the best run up into a crease ever, bar none. A very good commentator too.
Hilary - the Christian name of Larry Gomes. On no account tell him that this is a girl's name. Also, Vivian is strictly a boys name, gottit?
Hilary
Irie - meaning good, that everything is cool. If England don't win the series convincingly then it won't be Irie in Alastair Cook's world according to the English press.
Jerk - Jonathan Agnew. Also, a seasoning to put on chicken or pork before cooking.
Jordan - a country, a media obsessed English lady and the surname of Chris, now playing for England but brought up in Barbados.
Lara - the Prince of Port of Spain.
Licks - hitting the bowling to all parts of the ground.
Liming - having a good time.
Meetings - something that causes the removal of England's best batsman at present. Also, the contents of Chris Gayle's cricket coffin according to the man himself.
Proportion - legendary 6'8" bowler Joel Garner was once asked by a female admirer if he was all in proportion. The ex Somerset man responded with, "Darling, if I was all in proportion I'd be 10'6"!"
Rodney - not Del's younger brother in Only Fools and Horses or Glamorgan player Ontong. Rodney Bay is where Andrew Flintoff took out a pedalo in St Lucia.
Sabina Park - the scene of a game abandoned after half an hour in 1998. To say Mark Butcher got a decent nut there would be an understatement.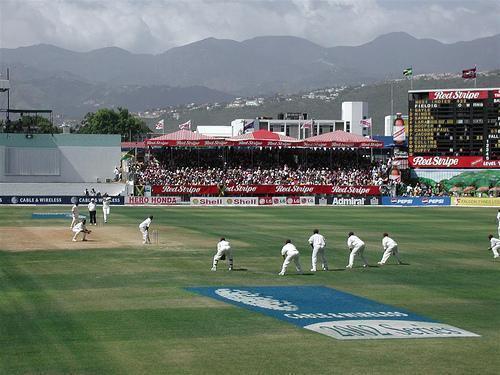 Sabina Park...atmospheric
Sandals - a poor choice of footwear when facing a West Indian quick. Also, a Jamaican holiday company who sponsored the Windies for quite a while.
Sensi - some grounds have a background. Sabina Park has the Blue Mountains, the Oval has a gasometer and Newlands has Table Mountain. Most of the grounds here have the gentle waft of sensi floating around and has been the cause of many a dropped catch on the boundary.
Streaming - for those in the UK who haven't got Sky you can watch the action on the internet. This is illegal and if you get caught be careful. You will be a Pirate of the Caribbean. I'll get my coat...
Taunton - a Jamaican I knew was from the parish of St Elizabeth and would regularly talk about this village where he was from. With a lot of places being named after English places in Jamaica we thought it was named after the county town of Somerset. It was only when he took friends of ours back home that they realised he was from Thornton.
Teef - what the legendary John "The Dentist" Maynard would remove from the batsmen he bowled against. Also, someone who procures your goods without your permission.
Tosh - a short pitched, slow delivery that you can easily hit to the boundary. Also, the surname of Peter, one of the Wailers who were Bob Marley's backing band.
Trini Posse - the patrons of the cricket in Port of Spain. These guys like to 'lime' whilst watching the cricket and even had a stand especially for themselves, with ladies not wearing a huge amount of clothing who would plonk themselves into hot tubs. At the end of play this would be a mess of bodies, rum and chicken bones scattered all over the place. Apparently the Trini Posse was dreamed up by a dentist, although you wouldn't want him doing your root canal after five days of this, let me tell you.
Vasbert - the Christian name of Mr Drakes. Once timed out in a match when he was on a plane out of the island.
King Vivi
Vivi - the king. The Master Blaster and never wore a lid as he thought it favoured the batsman too much. Serious.
Worm - playing against a West Indian side last year, one of our lads came out to bat with a Woodworm cricket bat. After blocking the first two deliveries, the chap at first slip told him, "Your bat is no good boy, you got a worm on the wood" causing much laughter from all.
Yellowman - not Giles Clarke but an albino Rastafarian singer popular in Jamaica.