Pitches have caught the headlines this week again in County Cricket, as the Hove track has been talked about by the twitterati. The thriller against Warwickshire this week, comes on the back of a shocking wicket versus Middlesex and Lancashire second eleven who abandoned a couple of games earlier in the year. Hove was one of the quickest tracks around in the eighties, one where facing the likes of Garth Le Roux or Imran was as enjoyable in Sussex as a night out in Crawley. Having had a few years of benign surfaces, which helped Mushtaq Ahmed no end a few years back as he spun them to the title, they have relaid them to try and get them back to their old ways.
Tranquil Hove?

Don't get me wrong, I love Hove. It is quintessentially English, the sort of ground which still has blue and white striped deckchairs, a friendly place, and provided you don't take too long over your lunch and get dive bombed by the local seagulls, the patrons of the South Coast are extremely friendly. Having toured this part of the world as a player, it is a great place to play and the surfaces, aided by the chalky South Downs tend to be amongst the best in the country.
So when a few weeks back I noticed that the second team game against Lancashire was called off due to dangerous conditions, I was surprised. Then you had the thriller versus Middlesex. A few of the Middlesex lads were unhappy about the state of the pitch, but Warwickshire over the last few days took it to another level as Westwood broke his hand, Ambrose got pinned and Chris Wright took one in the chin and lost more claret than a Bordeaux vineyard. You could say the latter pair are Bears with a sore head.
Even Chris Jordan who won the game was quoted as saying, "on a wicket like that you just have to play some shots and ride your luck". Jordan hit a six to win the game, a ball after a bouncer from Chris Wright sailed over Tim Ambrose's head for four byes.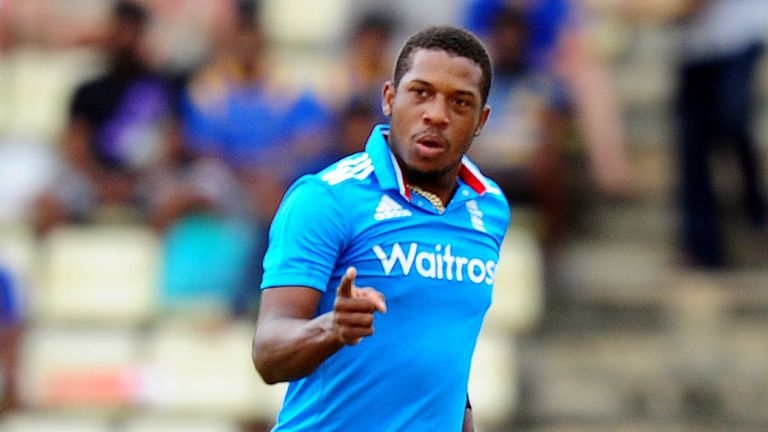 Jordan...match winner
As a player in club cricket, I have seen many a dodgy surface. On uncovered wickets, when they are wet on top and hard underneath they 'bust the surface' and go through the wet patch often popping on you. Other times, clubs don't get enough water into the square, leaving a crumbling surface that is overly crusty, akin to batting on Brendan Rodgers' lips. Most clubs these days though have covers, whilst every county has state of the art covers, sheets, matting, waterhogs and blowers...and I am not talking about an elderly commentator on Test Match Special.
You don't mind a track that has a bit in it for the bowlers. What you don't want is one that when it pitches in the same place, either shoots through past your bootlaces, getting up as far off the ground as the mythical Sussex martlet, whilst others will take your head off. Some tracks have the consistency of my ex missus hormonal swings when I used to tell her that I was playing both days that weekend, the wind was blowing in a certain direction or Venus was in a juxtaposition to Saturn. And let me tell you I would rather face Le Roux or Imran on the current Hove track than that. In fact, I would rather face Imran across the High Court as Botham or Lamb did back in the nineties, to that.
Imran in his pomp
The wickets at Hove have actually produced some interesting cricket. The Warwickshire game was a thriller, as was the Middlesex game. Clubs producing tracks to suit their own is nothing new. Anyone remember Sabina Park? I don't think Mark Butcher will ever forget the unplayable delivery he got there just before the game got called off. Essex producing a shocker at Southend in 1989, came back to bite them on the bum as they got docked points and handed the title to Middlesex. I even remember a Test match at Edgbaston just about making it into the third day against the Windies as a ball flew over Athers head, from a good length early on in the match, for four byes.
On the subject of Butcher, Mark's father Alan had an opening partner at Surrey, Grahame Clinton. Clinton would regularly wear one and had visited fifteen out of the then seventeen first class counties Accident and Emergency departments. Alan Butcher told me last year, "He was very upset that he didn't complete the full set. He was great for getting you into a nurses party though, we loved him". Joking aside, no one wants to see any batsman get hurt.
However, Sussex have actually tried to sort their tracks out. No one wants to see bore draws on low, slow ones or a diet of medium pace. The good people of Sussex by the Sea would rather see Tymal Mills getting some carry, than the likes of Tony Pigott, ironically the current pitch inspector for the ECB. Sides though have to get it right, otherwise it gets a bit naughty. You need to get a happy medium, and no I am not talking about Pigott again!
Chris Wright...pinned
Sussex have no doubt gambled on a wet spring to try and help the wickets bed in. It is not their fault that it has been one of the driest April and Mays on record. I am not advocating the docking of points to any county, but when batsmen get hit regularly and are out of action for a while, then the situation needs action and quickly. Wickets need time to bed in, and the plates of turf need to knit together. It is when the ball hits one of the cracks in these plates that the ball can go anywhere. The problem as far as I see it, is not under preparation.
Let's hope Sussex can sort it out soon. I am sure their batters, with their fingers about as fragile as the batters surrounding the cod on sale in the fish and chip shops that adorn this beautiful part of the world, are praying.