Gareth Andrew has been around for years. Still only 31, he made his debut in 2000 in first class cricket playing in the Nat West for the Somerset Cricket Board. A career has since seen him play for many seasons at Somerset and Worcestershire, and many finer judges than me have said that he would have played for England, especially in the shorter format of the game, barring injury. We caught up with the all rounder recently, whilst recovering from illness, and despite the odd sneeze and splutter he was a great bloke. Read on to find out Moeen Ali's problems with his beard, how Gareth did his bit to get Worcestershire promoted last year, and what Justin Langer said to Jack Shantry.
Gareth Andrew

TMS: Gareth, great to have you on board. You've been around the circuit for a while now, had a great career with Somerset and Worcestershire, so therefore it must be a huge privilege talking with The Middle Stump?
GA: Haha...it is indeed.
TMS: You've followed us for a while now on Twitter. Enjoying the blog?
GA: Yeah I do. It's light hearted but at the same time, getting down to the crux of the matter on the main stories. But yeah, I like the light hearted style.
TMS: I have to ask, how pissed did you boys get after that massive game against Surrey last year that got you promoted?
GA: I wasn't actually involved. I was watching it on an ECB app in my front room but wanted to go down there. I was actually torn, as I thought if I moved I would jinx the lads. I therefore stayed put so was torn, as I desperately wanted to see what was happening. I did take a few of the Surrey lads out the night before, and showed them the fine Worcester nightlife, so you could say I did my bit, and played my part! Afterwards I went for a pre booked meal, and then by the time I joined the lads, some of them couldn't even see! Let's just say it was a great night.
TMS: I have to confess that I have tipped the Pears for relegation this year. Are you going to prove me wrong?
GA: Everyone has. In 2011 everyone tipped us to go down, yet we survived. In Division Two we didn't get any press to say we would go back up, but we did. We always do better than we should, we have great fighting spirit.
TMS: How different is Division One to Division Two?
GA: We have a very young squad, and some of them have realised now that one bad session can lose you a game. Against Yorkshire and Sussex, one poor hour and the game has gone. In Div Two, you can pull that back in and salvage a draw, or even win, but in Division One the good sides punish you for it. So yes, there is a huge gap in that sense.
TMS: You have got some top youngsters at New Road in Fell, Kohler-Cadmore, Cox, Morris and others?
GA: There is some serious potential in all forms of the game. We have a few coming through the Under 19 programme, who have been away but now we are getting to see them. It is very positive for the future. In Ben Cox we have a top wicket keeper, who kept really well to Saeed Ajmal last year. We can only get better. Don't forget a few of the oldies either haha!
Pepsi aka Brother Billo...one of numerous youngsters coming through
TMS: Let's get down to the business end of this interview, shall we? Who is the tightest team mate?
GA: Jack Shantry. Most of the boys are good, but Shants wins hands down.
TMS: Worst dressed?
GA: It is between Tom Kohler-Cadmore and Jack Shantry again. Tom went to public school, but dresses as if he was from the ghetto. Shants has a pair of gold jeans, so that says it all.
TMS: Best/worst drinker?
GA: Joe Clarke, our keeper. He thinks he is a wild child but after two drinks his eyes go all bloodshot. The best would be myself and Daryl Mitchell. Experienced guys!
TMS: Who throws the worst strop when out for a low score?
GA: Ben Cox. He comes in huffing and puffing like a schoolboy. The toys start to get thrown.
TMS: Quickest bowler faced?
GA: This year actually. Tymal Mills on a quick deck at Sussex. Mark Footit is quick but Mills shades it.
TMS: Best bowler faced?
GA: Steve Magoffin. A left handers nightmare.
TMS: Best batsmen you have bowled to?
GA: Oooh tough one. I was lucky enough to play with Ricky Ponting at Somerset, who just made things look so easy. I'd have to say Shane Watson who got a hundred on a flat one before lunch at New Road that had no pace. Even the good balls went for four. Disheartening.
Shaiiq Chaudhry
TMS: Best sledge?
GA: Justin Langer said he would rather get his dick trapped in a car door than face Jack Shantry!
TMS: Tom Kohler-Cadmore has a great nickname in Pepsi. Any others?
GA: Shaiiq Choudhry is known as Colin. That is the best one we have.
TMS: Let's talk bats. You caused a lot of talk by going out a few years ago with a half bat Mongoose. Did that work for you?
GA: Yeah it did. A lot of people saw it as a gimmick, but it worked for me, especially where I bat in the order. I enjoyed using it.
TMS: You are now using Millichamp and Hall. Do you prefer the full bat experience these days?
GA: Yeah Mongoose are no more unfortunately. M and H was my first bat when I was a kid so I have been very lucky to sign with them. They are the best hand made bats in the country.
Gareth with THAT bat
TMS: I spoke to Jack Shantry a few years back, and there is a chapter on him in my latest book, Characters of Cricket. It sounds like a lively changing room you have at New Road. Who is the joker in the pack?
GA: Kohler-Cadmore again. Everywhere he goes these portable speakers go. We call him Brother Billo, after Borat's retarded brother in the film. He's a joker. He can be stupid and not sure if he means it, but he is very funny.
TMS: When Moeen Ali bends down to pad up, or do his shoelaces up, have you ever stepped on his beard by accident?
GA: No, but he does struggle if it is windy. I have seen it hamper his vision when he is bowling!
TMS: Do any of the boys ever nip into the wonderful Ladies Pavilion and take advantage of the lovely lemon cake at a pound a slice?
GA: Ha no. We used to get it delivered to the changing room, if there was any left at the end of play. It never happens now, and you can hardly queue up for it with your pads on.
TMS: Best lunch on circuit?
GA: Taunton is good as you get ice cream for dessert. Lord's though, hands down. Michelin starred restaurant.
TMS: A couple of years ago, there was talk about you getting into the England one day side. Any chance still?
GA: My main ambition is to remain injury free and stay fit.
TMS: Do you prefer to play T20, One Day or Four Day cricket?
GA: T20. A quick game is a good game as they say! No seriously, I love T20 cricket and although four day is still the pinnacle, the shorter game with things being spoken about like franchises around the world, means that it could well become the number one competition.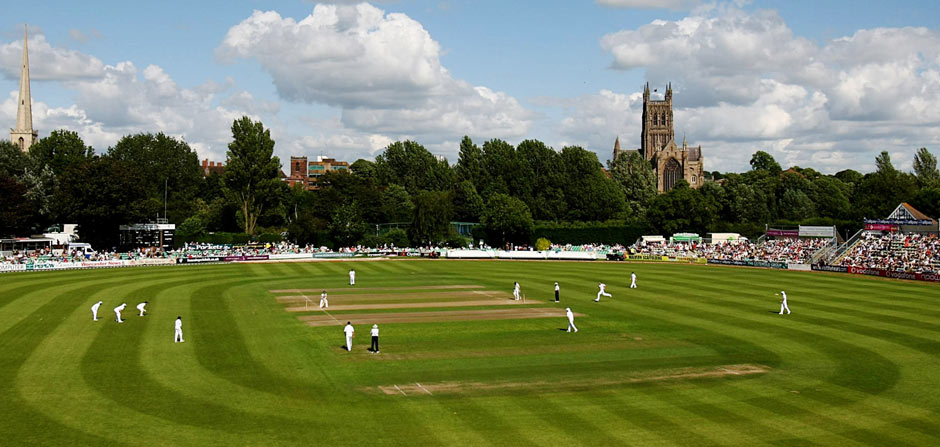 Beautiful New Road, Worcester
TMS: What were you taught about the dangers of being exposed to prolonged periods of sunshine when you were younger?
GA: Very little, it was down to personal common sense. Now we have skin checks through the PCA, so there is more availability and access to education.
TMS: Have you heard of the charity Melanoma UK and the work that they do educating people and sportsmen with regards to the dangers?
GA: I have. They are great. The younger you are, the better it is.. Especially for cricketers who are out there for six or seven hours a day. It is hugely important for youngsters to get the message and understand the full dangers. They do a great job.
TMS: Best three youngsters in England?
GA: Tom Fell at Worcester, Fisher at Yorkshire and Sam Hain at Warwickshire.
TMS: What does the future hold for Gareth Andrew?
GA: Get fit. I have had a couple of weeks off, but back in T20 mode now. I have four days off in the next three months so just looking forward to doing well for Worcestershire. Take each day as it comes and not look too far forward.
Gareth, you have been a top bloke and we wish you and all the boys at Worcestershire well for the season.