"Yes....No...Yes...Wait...Oh shit, sorry". How many times have you said those words whilst batting? How many times have you HEARD those words whilst batting? No doubt hundreds, possibly thousands of you were run out last weekend all over the UK. Communications akin to those of the ECB break down, and you are left stranded, and you become as popular with your batting partner as your average journalist is with Nigel Pearson. It has happened for centuries, it will happen for centuries, and nothing is more amusing than the run out.
Donald...famously run out in 99

Seeing two blokes end up at the same end can foster the odd bit of disharmony amongst team mates. It can end up as friendly as Paul McCartney and Heather Mills, especially if you have someone who can run like the afore mentioned Ms Mills down at the other end. If that is the case, and you are someone that has the turning circle of an oil tanker like my good self, the best thing to do is to lean on your bat and not budge, before you end up like the Amoco Cadiz, run aground on the English Channel. Your batting partners soon learn; trust me from personal experience.
A run out can cause big rows in the game. Confusion, chaos and antipathy reign regularly in these situations. Think of Ricky Ponting calling Duncan Fletcher a "fucking cheat" as he hissed at the balcony on the way off, after Gary Pratt had thrown his stumps down in 2005. Anyone remember Mark Waugh versus India when Darren Lehmann took one for the team, when they had crossed by the fraction of centimetres, yet Lehmann walked?
At the same time, remember when Boycott was deliberately run out by Ian Botham in New Zealand in 1977? A game that was sliding away from England due to the Yorkshireman's slow scoring, until Beefy called for a quick one and sent back Sir Geoffrey. Stranded mid pitch, all Boycs could exclaim was, "What have you done, what have you done?" Boycs also made himself as popular as the Sherriff of Nottingham by running out local hero Derek Randall at Trent Bridge in 1977.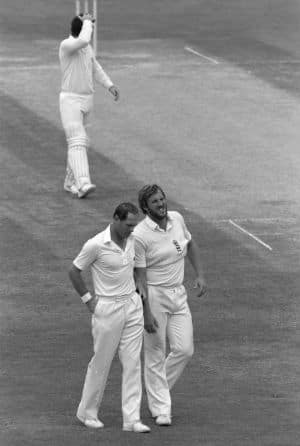 "Now we'll take a quick single, Beefy"
Some are just mental aberrations. Allan Donald in the 1999 World Cup semi final, dropping his bat as the jubilant Australians whooped and hollered springs to mind.
However, nothing is more confusing than when a runner comes into play. Not even trying to work out Pythagoras' theory after ten pints, the emotions of my ex wife or the ECB's public relations at present comes close to trying to watch a guy at square leg, two on the crease and the injured party not leaving his. Throw in stumps flying, people rowing and umpires vision being blocked by the runner or a fielder, and you can see why it can get a tad bewildering.
Nothing causes a decent rumble like a good "Mankad-ing". Running out the chap backing up is the cricketing equivalent of the professional foul, or slyly moving your golf ball out of the rough when no one is looking. Named after Vinoo Mankad who did it to Aussie player Bill Brown in 1948, the last well known one was Jos Buttler by Sennanayake last summer. Senna tablets when suffering from Delhi Belly would be preferable to this dismissal.
Barbados after Steve Waugh led his side off back in 98
Obstructing a runner can often get the juices flowing. Sherwin Campbell getting blocked off the other year in Barbados, caused Steve Waugh to remove his side from the field under a hail of bottles, and having to run around a bowler blocking someone on the turn can cause animosity. Middle Stump writer John Thorp was once given out in a league game as a leading edge caused the ball to go directly up in the air. As the bowler was about to complete a relatively simple caught and bowled, he found himself to be taken out by the Middle Stump scribe's shoulder charge, who was promptly given out Obstructing the Field. Thorpster took his punishment well and went straight off with the umpire's words of "If you were playing hockey or rugger young man, you would be banned for six months" ringing in his ears!
Then you have the serial runners out, and I don't mean fielding wise, although Derek Randall would be in both camps. A brilliant cover fielder, he was a nightmare when batting and would regularly commit cricketing hari kari. Inzamam, Steve Waugh, Nasser Hussain, Geoff Boycott and now Joe Root have seen off more partners than Henry the Eighth, Elizabeth Taylor and Jordan....and I am not talking about Chris. These people are the worst to bat with.
Randall...serial offender
So why does it happen? Bad judgement? Bad communication? Too fast? Too slow? All of the above. Whatever happens there will be many more over the course of the summer.
The run out might be a waste of a wicket, the equivalent of a wasted vote or a criminal offence in some quarters, but one thing I do know...they are most amusing when they happen.