Australia seem to be in a bit of a pickle. Not the sort that accompanies the filling of Mike Gatting's cheese sandwiches but they seem to have some serious problems. Injuries, lack of form and rumours of rows behind the scenes have all plagued the tourists since their arrival on these shores, and if you believe everything you read or hear, then they are in total disarray. Saying that, they have been here before. Remember 'homeworkgate' and the sacking of Mickey Arthur? They bounced back from that quickly enough. Here we look at what is being discussed in the cricketing world regarding those boys in the Baggy Green caps.
Clarke...plenty to ponder

To me, the Aussies just don't look right at present. Similarities between England's horror tour in 2013/14 and the current Australians are similar with players pulling out before the series, some suffering from personal problems and now massive rumours of dressing room discontent. Jack Bannister, a well respected and wise cricketing scribe, told Talksport radio yesterday that the dressing room doesn't like Michael Clarke, and they would like to see him replaced. Nothing new there perhaps, as previously when things went wrong, Clarke was about as popular as Angela Merkel in a kebab house.
Rumours of Katich having him by the throat, Watson getting out of Asia quicker than an investor in China at present, and Clarke snubbing the likes of Hussey are not too far away in the memory. It has to be said that the Aussie skipper looks about as happy as the German leader at present too. Bannister also mentioned that David Warner feels isolated and alone in a dressing room that sounds about as welcoming as the Birmingham branch of Walkabout to the Aussie opener. He finished by claiming that the Australian dressing room is "a shambles".
Brad Haddin has withdrawn from the Lord's Test tomorrow due to personal reasons that Cricket Australia refuse to talk about further. Brad has a young daughter who suffers with a rare form of cancer, and has always pledged to put his family before the game. Again, Brad didn't look right in Cardiff and if this is the case, then we wish him well. No matter what the sport, the rivalry or any other factor, this is far more important.
David Warner's favourite film?
Shane Watson has huge technical issues and looks like he will be replaced in St John's Wood as well. The last person known to use his legs as much as Watto was Forrest Gump, and he reviews more than Egon Ronay. Rumours that DRS stands for 'Don't Review Shane' are unfounded, but he looks over weight and not the player that he was. Perhaps more Michelin man than the Michelin star of one of Mr Ronay's places he reviewed? He has been out lbw a lot less in recent times, seeming to nick off behind the wicket. Slip cordon bleu? As for being the fifth bowler, I'm sorry but eight or nine overs of military medium swing is asking the likes of Joe Root to help himself; smorgasbord bowling if we are talking culinary terms.
Ryan Harris having to retire before the start of the series was a huge blow. Whilst Johnson attracted the plaudits in the last series between these two countries, Harris was the main man for me. He hardly bowled a bad ball, and Root and Ballance would not have been allowed to get England off the hook in Cardiff had he had been around. He picked up wickets when they needed them the most, and leaves a crater sized chasm in their attack. Hazlewood looks decent but asking a youngster to carry the attack for five Test matches is massive. Johnson is a strike bowler, and although didn't bowl badly in Cardiff, his figures showed the sort of inflation that would horrify the Zimbabwean Chancellor of the Exchequer.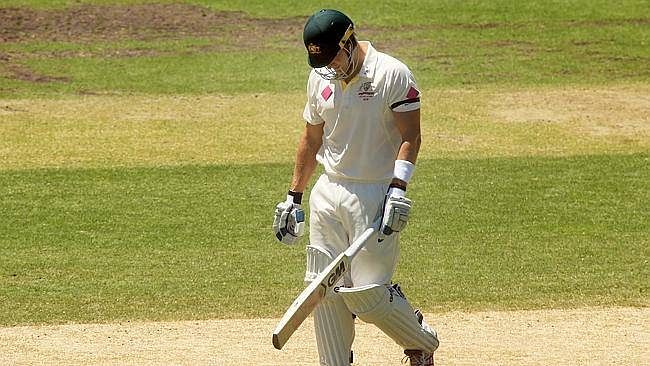 Watto...a dejected figure in Cardiff
Starc has a heel problem, and these do not heal easily or quickly. Asking him to bowl forty or fifty overs in a game in a five match series played over the course of only eight weeks is also a huge ask.
They have other problems, and some are technical. The batsmen are going way too hard at the ball and in England, with James Anderson with a new cherry in his hand this amounts to catching practice for the slips. Some of the shots in Cardiff, especially those of Smith and Clarke were not necessary in Test cricket and this need to dominate the likes of Moeen Ali could be their undoing. Small battles are being played out here yet the most macho sides don't always win the war. The fielding and catching was not of the standard set by their predecessors and was simply, un Australian. I know they said their preparation was spot on, but to me they looked as cooked as a snag that had been on the barbie for thirty seconds, as they say Down Under. They also seemed to be quite amiable, non aggressive and without the usual sledging. Again, most un Australian.
Bannister
The Aussies have been here before though, and bounced back to stuff England. Darren Lehmann is one of the best influences in a dressing room according to our sources who have shared one with him, and is a calming influence. They will also be hurting badly and a wounded Australian is one to beware. The psyche of Australian sport means they will come out fighting hard, and the Lord's pitch will suit them a lot more than the one they found in the Welsh capital. They will want to ram the Dad's Army jibes down the throats of the gloating English fans and I expect to see a nastier, more 'in your face' performance. Clarke, I am sure has one last innings left in him and Steve Smith is the number one batsman in the world according to the rankings.
If they go 2-0 down though, they do indeed have some serious problems.