Mitchell Johnson has come out in the Telegraph this morning and said that he doesn't think that the heat that he is absorbing from the English crowd affects his game. I most certainly disagree. He also said that it takes the heat off of his team mates. Yet again, I disagree. He said that it used to get to him, but doesn't any more. Yet again I disagree. Here's why...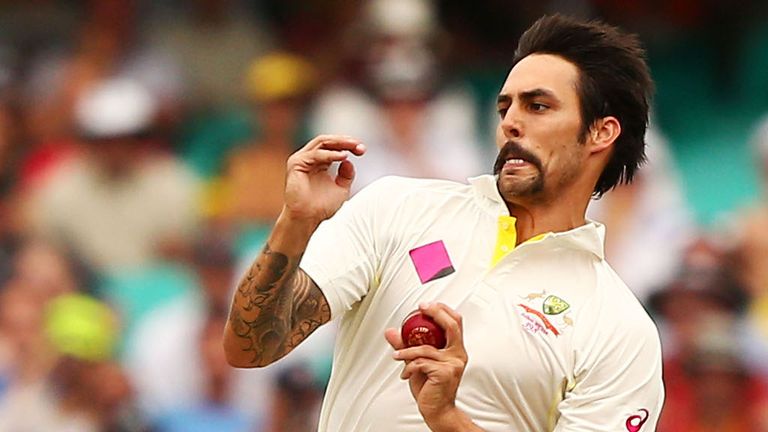 Mitch

English fans have always had an Australian pantomime villain. Lennie Pascoe, Jeff Thomson, Dennis Lillee, Captain Grumpy Allan Border (the 89 version not the 85 one), Shane Warne, Glenn McGrath, Steve Waugh, Ricky Ponting, David Warner and others have all felt the heat from the English crowds at some point in their career. One person though has copped more than any of them put together, and that is Mitchell Johnson.
I was there at Edgbaston last week on the first day, and have never heard a cricket crowd quite like it. He was booed all the way to the wicket when he batted, was booed all the way around the field and then when he bowled you can guess what happened. Like over here in 2013, Mitch went to pieces.
The reason why is that Mitch bites back. After a well publicised tabloid story where it was revealed that his girlfriend and mother weren't on speaking terms during the 2009 tour, the Barmy Army penned their own little ditty to the tune of the Addams Family theme tune which went along the lines of,
"His mother hates his missus,
his missus hates his mother,
they all hate one another,
the Johnson family".
This led Mitch to stop mid run up and scream out from fifty yards away that he thought that they indulged not only in the art of fornication but that they masturbated as well.
The Barmy Army suggesting Mitch bowls to the right here
Later on that tour came the famous song, you know the one that questions his ability to bowl the ball in a straight line, followed by the fact that his ability is not rated particularly highly. At Edgbaston last week, as England were about to win it reached a crescendo. And Mitch did some very strange things.
He lost the ability to bowl.
He lost his run up, he then delivered one from next to the umpire from twenty four yards and the crowd had got inside his head. He had mentally gone. Despite 300 Test wickets, he is only a human being and the baying English crowd had got to him. He was suffering from the equivalent of the yips. Mitch claimed in the Telegraph, "that I was only having a bit of fun. It got quite loud out there so I thought I would take my time". If I was in that position I would want to get out of Birmingham quicker than David Unsworth in 1998!
There is also the little matter of taking the heat of his team mates. I think it gets the crowd going even more. Starc certainly seemed to have his radar askew towards the end. With Johnson it is a combination of the tattoos, that moustache, the fact he does bite back, the fact that it does seem to put him off his game, and the fact that he is a bloody good bowler. He likes to dish out a bit to our batsmen, although what Aussie doesn't, but the reason why I think he cops the most abuse? The fact that when it goes wrong for him, it goes spectacularly wrong. Not just a little, but grade A, vintage. The crowd in the third Test spotted this, and you could see the Queenslander visibly wilting in front of the Hollies Stand. I almost felt sorry for him, until I remembered what he did to our batting over there. Edgbaston is our noisiest venue, but Nottingham isn't too far behind it.
Johnson and Broad...the men they love to hate
It has reached boiling point. Cricketers such as Johnson and Stuart Broad when he is in Australia deserve better, although it isn't going to happen in either hemisphere. As two players who have taken 600 Test wickets, their bowling is certainly not shite, and they are proud competitors. Mitchell is a very good player, and I am sure that Stuart Broad is quite a decent human being despite what the Aussies say. One thing is for certain though...
Mitch is going to cop another load at Trent Bridge tomorrow. How he copes with it, could be series defining.