Yorkshire today wrapped up their 33rd County Championship trophy. As predicted on these pages back in April and last year, Jason Gillespie has put together one of the finest sides in the club's history. It's easy to say that Yorkshire will win the title, it's on a par with saying Celtic have a sniff of the Scottish Premier League, but could this be the finest side ever in the history of the White Rose? Possibly...
Dizzy...top record

In the twenties and thirties Yorkshire ruled the roost. The likes of Herbert Sutcliffe and Wilfred Rhodes ensured that the title went there more often than not between the Wars. Then came the swinging sixties and they were supreme. I know they have only won this two years on the bounce but they look head and shoulders above the rest. Since Jason Gillespie went there, they have become unstoppable. Dizzy was a member of one of the finest sides to ever play Test cricket and a phone call from Africa where Gillespie was coaching, was one of the finest bits of business that Martyn Moxon has ever done. Is this the best ever Yorkshire side? Who knows but they have got to be up there. Google how many games Gillespie has lost in his years as Yorkshire coach? It is a proud record.
Yorkshire walked the title last year and despite losses to England in the early season, and the loss of Ryan Sidebottom through injury they were still too good for the rest. Lyth, Ballance, Root, Plunkett and Bairstow were all missing at some point for England duty yet the depth in their squad was enough for them to clinch the title today at Lord's.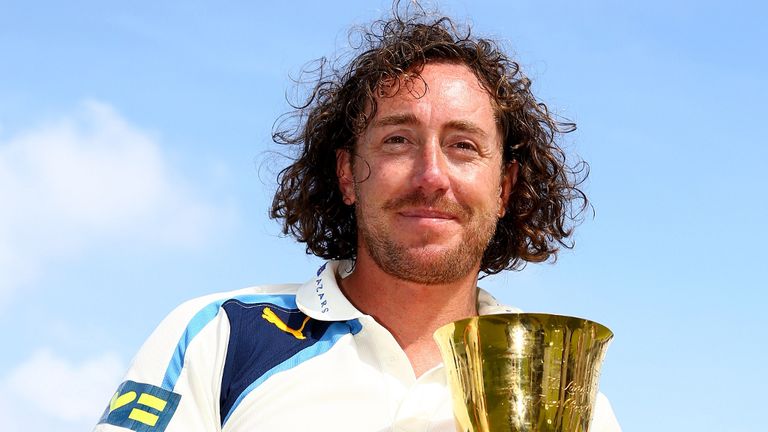 Sid...still a class act
Talent Pooling it is called in professional circles, but Yorkshire have options all over the park. Should Lyth be away on international duty, Rhodes comes in or Leaning scores his runs. Bairstow has been outstanding yet Hodd is a great substitute keeper. Sidebottom has another left armer to push him now in Willey. They have options all over the pitch. Their attack has variety, the left arm of Ryan, the aggression and strike bowling of Brooks, the discipline of Patterson, the nip of Bresnan. And then Rashid, you forget about him.
One man who has been there with Dizzy is Andrew Gale. Ridiculously denied lifting the title last year, he was there where it mattered today and is one of the finest skippers in the game. Prepared to put the team before him, the Dewsbury bred Gale is Yorkshire through and through. Although I reckon he might buy the odd round tonight...
Gale...deserved
It is typical that when he hasn't been there Alex Lees has stepped seamlessly into the breach. That sums up what Yorkshire are about. Depth in every department.
Yorkshire have talent, youngsters coming through and twenty top class players vying for places. Jason Gillespie has transferred that successful Aussie team to Headingley and he is a winner.
The sound of kegs popping will be heard all over Yorkshire as they bask in another title.
I can't see anything different for a few years...