It's not often these pages get political. However, there is something I would urgently ask all Stump fans to get behind and that is to sign a petition to keep the two divisions of nine sides in the County Championship. England have become significantly better at Test cricket since the two division format has come in, as those with memories stretching back to the 80's and 90's will testify. I love the County Championship and this is something serious that needs sorting. And pronto...
Root...a product of the 16 game LVCC

This petition isn't about a load of middle class kids railing against the establishment wanting to change the world. It is signed by the bread and butter of English cricket, the guys who attend LVCC four day matches and are the heartbeat of the game in this country. There are members of counties who have been going for thirty years or more, and they want this to continue. The members like the current format and the majority don't want change. The County Chairmen have voted for this, many without consulting their membership and in layman's terms, the shit is about to hit the fan in the domestic game.
Less four day cricket will open up time in the schedule for a city or franchise based T20 tournament. This will bring in more money, and will cheapen the current NatWest T20 Blast; a tournament where crowds are on the rise and is growing in popularity according to respected journalists Freddie Wilde and George Dobell. We are only two years into the current experiment and it seems to be working.
The people of the United Kingdom seem to like their Friday night cricket, but like Monday Night Football is television going to outweigh the paying customer?
The ECB cannot be dictated to by television companies. These guys bring the money in, and like most sports, it is not so much about how many spectators you get through the gate any more but how big the three or five year deal is with certain media outlets. In my view, this damages the sport. A myopic, short term view which could all be over after their contract finishes anyway. Remember Johnny Vegas and the monkey for ITV Digital anyone? Well that almost put a number of football league clubs out of business.
A failed experiment
The clubs who have relied on loyal membership for years in the bleak recessions that have blighted the country are now milking other sources of revenue. Like the banks a few years ago running to the governments for bail outs, yet happy to share their wealth amongst a privileged few (i.e. the shareholders) in the good times, you cannot just cut off the members of counties when it suits you. Years of loyalty and goodwill could be about to go out of the window here, for an experiment which may or may not work.
So a 14 match Championship would do what? Firstly, outground and festival cricket which is loved by the people of the UK would probably get the chop. Secondly, the England cricket team is doing well in my opinion. Gone are the days of us being bottom of the rankings as we were in 1999, or getting whitewashed or blackwashed at home by opposition. Where did these England players come from? Did the stork appear and just plonk them into the England side? Or did the two division sixteen match format not only develop them but also develop the England side into one which is respected in Test cricket.
Did the sixteen match format not produce one of the best batsmen in the world in Joe Root? He learned his trade at Yorkshire. Less cricket might mean less opportunity given to young players, such as the opportunity that was presented to Joe when he was a teenager.
T20 is not the be all and end all. It brings money in, but everything is cyclical. What goes around comes around and let's not forget our roots. The season can continue as it is, although planning it differently could make us even stronger. Moving the Royal London Cup to earlier in the year, along with more LVCC games in August would sort out English spin bowler problems. It might also encourage batsmen to be able to play the short pitched ball on harder wickets, something that we have been weak on in recent years. It might even generate an out and out paceman too if we get it right.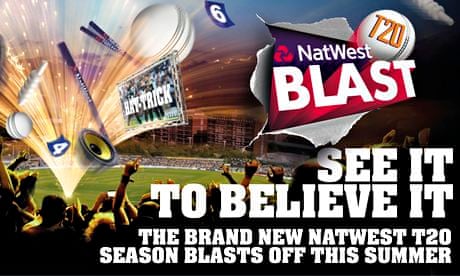 Natwest T20 Blast...a success
Let's not change for what is a current fad. Let's not let years of history and tradition given to us by this beautiful game go to the wayside for the sake of a few quid.
I urge you to sign this petition and get behind cricket fans across the country. The link is below and it will take you thirty seconds to complete. The future of cricket depends on it.
https://www.change.org/p/england-and-wales-cricket-board-to-maintain-a-16-match-county-championship
As one gentleman told me recently, "Cricket is not just a sport but a way of life". You know what is the right thing to do...